How to Watch July 4th Fireworks Online for Free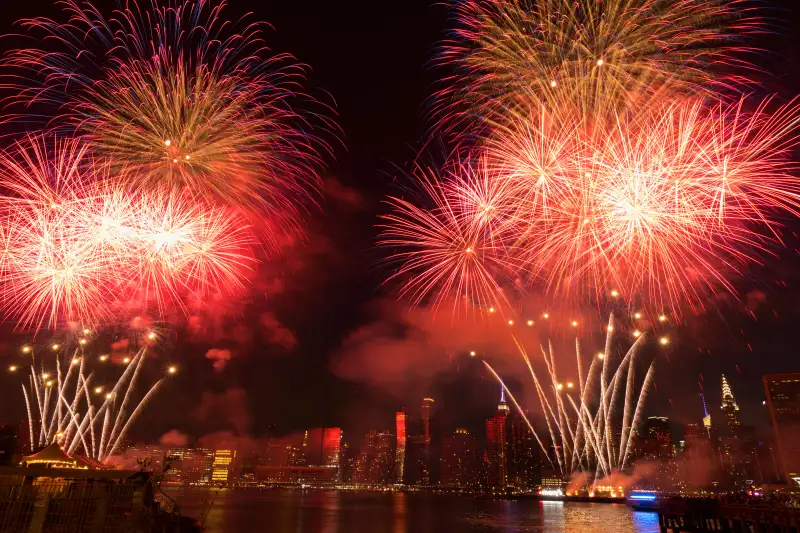 The Fourth of July is here, and the country is feeling extra patriotic thanks to the U.S. Women's National Team's big win in the World Cup semifinals. Now it's time to don stars and stripes and celebrate Independence Day.
Throw some hotdogs on the grill, grab a beer, and watch fireworks the way the forefathers intended: on your laptop with an air conditioner blasting nearby. To point you in the right direction, here are essential details on July Fourth fireworks shows streaming online for free.
Washington, D.C.
The nation's capital has competing events happening for Independence Day 2019.
First, there's A Capitol Fourth, an annual concert broadcast live from the west lawn of the U.S. Capitol. This year's celebration will be hosted by actor John Stamos and feature music from Carole King, Vanessa Carlton, Colbie Caillat, the National Symphony Orchestra, Sesame Street characters, and more. The concert wraps up with a fireworks show captured by more than 20 cameras located around D.C.
You can live stream A Capitol Fourth on the PBS website, YouTube or below. The show runs from 8 p.m. to 9:30 p.m. EDT.
President Donald Trump has also promised to feature the "biggest ever fireworks" at his Salute to America celebration on the nearby National Mall. Companies Phantom Fireworks and Fireworks by Gucci have donated nearly $1 million worth of pyrotechnics for the occasion, according to WTOP.
The fireworks are set to go off between 9:07 p.m. and 9:42 p.m. EDT. There doesn't appear to be a dedicated live stream for them, but both C-SPAN and Fox News are planning to cover the Trump event. CBS News is live streaming Salute to America on YouTube, as seen below.
New York City
In the Big Apple, Macy's is launching fireworks from the Brooklyn Bridge and East River in what a spokeswoman called "the nation's best and largest Independence Day celebration." The 25-minute show will be Macy's 43rd annual Independence Day display and feature more than 70,000 shells producing 28 colors. This year's theme is American Cinema.
Guests including Luke Bryan, Ciara, Derek Hough, Khalid, Maren Morris, and Brad Paisley will appear during NBC's broadcast of the show, which runs from 8 p.m. to 10 p.m. EDT. The fireworks themselves start at 9:20 p.m.
You can live stream the NYC July Fourth fireworks on NBCNewYork.com, but you'll need a cable login. A free alternative is Locast, which broadcasts local TV channels over the internet and works on Roku, Apple TV, Android TV, and more.
Boston
What's more American than fireworks in the city where Paul Revere and Samuel Adams once lived? The Boston Pops Fireworks Spectacular will feature Queen Latifah, Arlo Guthrie, Amanda Mena, and the Texas Tenors alongside the famous Boston Pops Orchestra. And, of course, there will be an insane fireworks display.
The concert starts at 8 p.m. EDT, but the fireworks don't begin until 10:30 p.m. You can live stream the Boston July Fourth fireworks on Bloomberg.com and its mobile apps. Local news channel WHDH-TV will also broadcast the Boston Pops Fireworks Spectacular online.
Disney
There's nothing quite like seeing fireworks over Cinderella's Castle, and the experience is even better on the Fourth of July. Luckily, you don't have to be in Orlando, Florida, to check out Disney World's Celebrate America! A Fourth of July Concert in the Sky event.
You can live stream Disney's July Fourth fireworks from the Magic Kingdom starting at 9:10 p.m. EDT on the Disney Parks Blog.
San Diego
Finally, on the other side the country, you can catch what's described as "the largest fireworks show on the west coast" by tuning into the San Diego Big Bay Boom. As many as 500,000 people will catch the 18-minute masterpiece of pyrotechnics in real life, but you can watch it from the comfort of your home beginning at 9 p.m. PDT.
Live stream San Diego's July Fourth fireworks on fox5sandiego.com.