'It's a Good Check.' 'Real Housewife' Kandi Burruss Is Still Making Money Off 'No Scrubs' and Now Has Her Own Sex Toy Business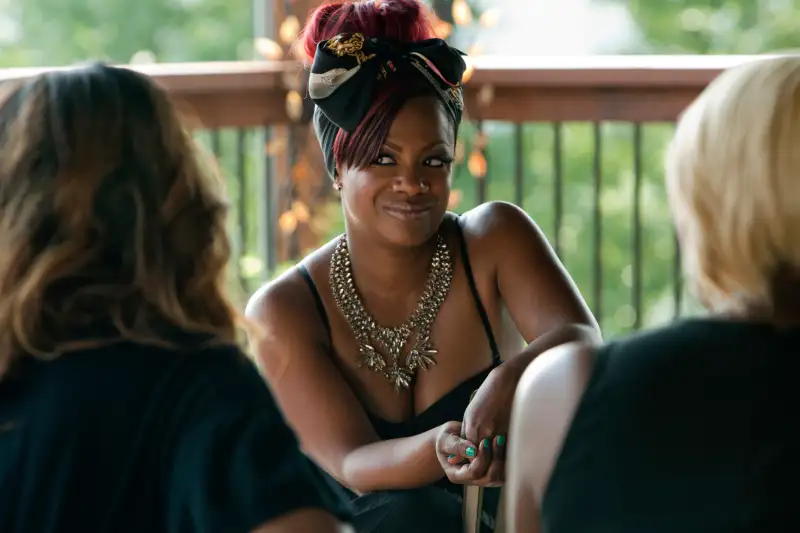 Wilford Harewood—Bravo/NBCU Photo Bank/Getty Images
Kandi Burruss is so much more than a housewife — she's a bona fide businesswoman.
Sure, she's in her 10th season as cast member on the ever-dramatic Bravo show Real Housewives of Atlanta. But she's also a Grammy winner who co-wrote the TLC girl power anthem "No Scrubs." She runs a sex toy company, a boutique and a unisex children's lifestyle brand. She has 5.8 million Instagram followers. Last year, she went on a reunion tour with her band, Xscape; earlier this year, she performed in Chicago on Broadway. In the past two months alone, she opened a new location of her Southern restaurant Old Lady Gang, dropped a single called "Ready for This" — complete with a parental advisory sticker — and hosted a dungeon party.
"What's the point of having this huge platform if you are not benefiting off of it?" she says about her multifaceted empire.
Burruss sat down with Money on a recent trip to New York City. She talked about her childhood spending habits, the royalties she's earning from Ed Sheeran and why she's determined to have a better financial strategy than most entertainers.
How did you think about money when you were growing up?
I was a saver as a kid. That was my thing — I always wanted to make sure I had something [stashed away], you know?
My mom used to drive me to the neighborhoods with big fancy houses and stuff. We'd ride around all the time and dream — like, "Oh, one day we're going to have a house like that." It's really crazy to me now that I can afford any of those houses.
Did you make a big purchase with your first paycheck?
[Xscape] signed our first record deal when I was 16. I only got a few thousand dollars, but my mom was like, 'OK, we'll put this with my money' and we purchased the house across the street from where we lived. That was my first investment — with my mom.
After that, I just really wanted to save. As soon as we had our first hit record and we started doing shows, all my other group members went and bought Benzes and different things. But I wanted to see a certain amount of money in my bank account. I remember I was like, "I will not spend a dollar until I can see $100,000 in my account."
[Then] I finally purchased a car. I put some money down on it so that I could establish credit.
What kind of car was it?
It was a BMW 325i. It was blue, and I had painted all my trimming to match. I wanted it to look like the M class, even though it wasn't. So I just painted it and got the rims that matched it. You couldn't tell the difference.
You've said before that you once got a great money tip from LL Cool J. What was it?
When I was 19, I put a downpayment on my first home [after moving out]. Shortly after that, our group went on tour with LL Cool J. He gave us advice: Always have at least one house and one car that you own. He was like, "Every time you get a check, put a little bit down on the principal. It doesn't matter how much — put something. Because then it will cut years off the loan."
I never really thought about it before then. When I got back home, I looked at my payment statement. I [saw] all the money that went toward interest, and only a little bit every month was going toward the notes. I was like, "OK, he's onto something."
When you're in the entertainment business, it's very unpredictable. You could be hot right now, and for the next 10 years a person could be making millions of dollars, right? So they start basing their life off of what they're making at that moment.
But a lot of people are getting 30-year mortgages, 15-year mortgages. Fifteen years from now, you may not be poppin' like that no more. In 30 years, you definitely will not. How often are people hot for that long? If you don't set yourself up, you will just find yourself in a position of a lot of other entertainers we see: going bankrupt, losing their homes, not being able to afford their lifestyle. If you set yourself up in the beginning, later on down the line you'll be better off.
And now you have several diverse income streams.
It was intentional. I wanted to have businesses outside of music that were still poppin'.
I had a friend who had clothing stores that were successful, so I kept bugging her about partnering up to do TAGS [Boutique]. Before that, I managed other artists. Later on, [for] Bedroom Kandi... I partnered up with a company that had a toy that could vibrate to music. I was like, "I do music, and I want adult products — heeey!" Now it's a whole line. We've moved into bath and body products and makeup.
How do you leverage Real Housewives of Atlanta to make money?
When you're first starting on reality TV, they're not really trying to pay you much. I was like, "It's not like I need them to be popular. I've already been on TV and in music before." I didn't think it was going to do anything for my career. I did it on a fluke.
I gained a lot of fans that year, but my thoughts were [that] the money has to match my popularity. I had to make it bigger than the show.
So I was like, "OK, every year when they see me on the show, they will see me accomplish something." It's my timeline. If I speak anything on that show and say it's something I want to do, it is a rule of thumb for me and my team — it has to happen. I am going to be a person of my word. You know how you joke about a lot of reality stars — they're always talking about something and you never see the product? I won't be that girl. I don't get a kick out of just arguing with people all day. That doesn't do me any good. You have to find other ways to make it make sense for you.
Are you still getting a lot of money from "No Scrubs"?
Uh, yeah. Ed Sheeran used "No Scrubs" in his song ["Shape of You"], so we now are co-writers on his song. Because you can't just use somebody's song — it doesn't work like that. So basically he uses our song, we got a percentage of his. It ended up getting awards; it was huge. It was like the most streamed song. There are some nice royalties.
Besides that, I constantly get royalties off my old songs. "No Scrubs," [Destiny's Child's] "Bills, Bills, Bills" — people still play them a lot in movies, television, and I get license fees. It's a good check every year.
You recently threw a star-studded dungeon party with tickets starting at $35, and it sold out in four days. Are there more coming?
We plan on taking it on tour. Right now we are researching venues and cities. Hopefully we can do that in early 2019.
[Also,] we're going to get another restaurant, which is not going to be just Old Lady Gang, it's going to be different. I haven't told anybody.
Are you passing any money lessons onto your kids?
I need to do a better job of passing it on, because my daughter is spending way too much money right now. Before she was driving, Uber was connected to my credit card; UberEATS was connected to my credit card. She was randomly ordering stuff everyday. I put a little bit of money in her account, and one day she was down to a dollar. I was like, "Girl, you can't do that."
This interview has been edited and condensed.