Karl Lagerfeld Lived in Extravagant Mansions, Sold $1,800 Keychains and Owned a Wealthy Cat. Here's What We Know About His Money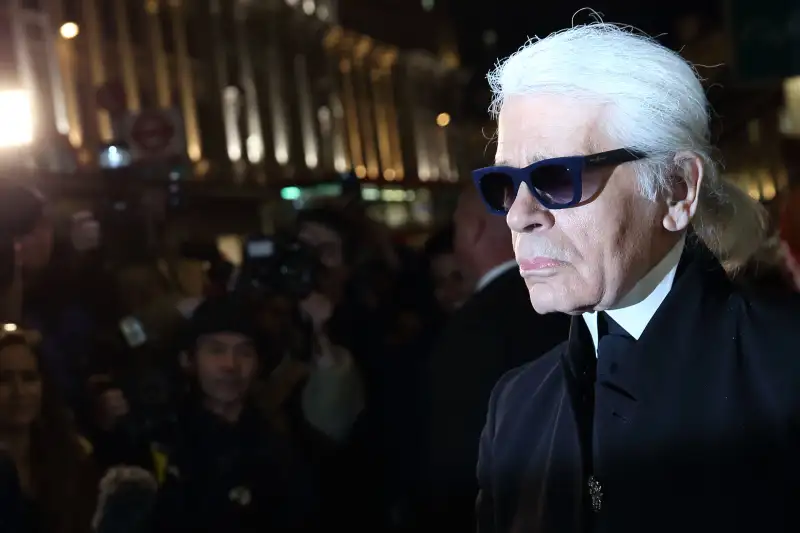 When fashion icon Karl Lagerfeld died Tuesday in Paris, he left behind an impressive legacy — and a sizable fortune.
The German may have been famous for his creative direction at brands like Chanel and Fendi and his white-hair-black-sunglasses uniform, but he also stood out for his wealth. Celebrity Net Worth estimates Karl Lagerfeld's net worth was $200 million, a sum the site likely reached by looking at his high-profile jobs, lengthy career and successful retail collections.
Lagerfeld was about 85 years old (he spent his life evading questions about his actual birthday, so we can't be certain). He is survived by Choupette, who has been called the most famous cat in the world.
Here's everything we know about how Lagerfeld made, and spent, his money.
He Had a Great Origin Story
Lagerfeld grew up during World War II but wasn't affected much by it, according to New York magazine. Rather, he was the son of a condensed milk company executive and acted like it: He once asked his mom for a valet to help him with outfit changes.
His ascent to stardom truly started in 1954. After years of studying fashion illustrations, he won a design competition, beating out 200,000 other people, according to the Washington Post. Pierre Balmain, who had helped judge the contest, fell in love with the coat he sketched. Balmain hired Lagerfeld.
After a few failures, Lagerfeld linked up with Fendi in 1965. He then became creative director for Chanel in 1983 and debuted his own line in 1984.
Over the years, he amassed a passionate fanbase. Vogue reports Lagerfeld designed a line for H&M in 2004 that sold out in a day. In 2014, he created a $1,750 bag charm/keychain called the Karlito, and in 2016 he sold a $2,850 box of colored pencils.
He Mastered the Side Hustle
Lagerfeld, who once said he had a "fatal attraction for books," opened his own store in Paris in 1999. Called 7L, the store specializes in works about design, architecture, photos, fashion, landscaping and cooking, according to its website.
(7L was also at the center of a tax evasion investigation in 2016. Authorities accused Lagerfeld of using foreign tax havens to hide $21.5 million he generated from a photo studio in 7L.)
Lagerfeld himself also penned a bestseller. His 2005 book The Karl Lagerfeld Diet, which he wrote with doctor Jean-Claude Houdret, sold more than 200,000 copies worldwide.
On the side, Lagerfeld sold art and antiques. Reuters reports that in 2000, he tapped Christie's to auction off more than 150 paintings and 400 pieces of French furniture. The collection sold for nearly $30 million total, according to artnet.
He Knew His Clothes Were Pricey — and Didn't Care
In 2016, Lagerfeld spoke with the Telegraph about how the fashion industry had seen an influx of couture clients. He explained that those customers weren't necessarily the ones you see on the sidelines at runway shows. Instead, they got the pieces shipped directly to their houses.
"These are new fortunes, you know? They make the rich of the past look poor," he said. "In the old days, when an American bought five couture dresses, she was a good client — now, a client will buy 20 dresses in five minutes."
But Lagerfeld made it clear he wasn't judging their spending habits.
"Somebody said to me about a coat in a Fendi collection that cost a million pounds, 'Don't you think it's a shame?'" he said. "I replied, 'In your eyes, perhaps, but for other people, it's a joy.'"
He Lived in a $12 Million House
Lagerfeld was a globe trotter, with homes in places like Berlin, Rome and Vermont, according to Bloomberg. Several of those residences have made headlines in recent years.
For example, the designer's former house in Hamburg, Germany, went on sale for $11.7 million last year. Lagerfeld owned it from 1991 to 1998; he called it Villa Jako after his late partner, Jacques de Bascher.
The classical house has three bedrooms, an indoor pool, skylights, gold-leaf ceilings and a library, according to Mansion Global.
Lagerfeld also had a three-story mansion in Monaco. Lagerfeld restored the house, named it La Vigie and sold in the '90s. La Vigie is said to have 40 bedrooms, a ballroom and a billiards room. It's now a hotel that recently opened to the public.
"It's the safest place in the world," Lagerfeld told W magazine in 1988. "It's impossible to get near the place. No public road passes by and you have to go through two gates to get inside. It doesn't even have an address, so no one can write to me here."
His Cat Is Super Rich
You can't talk about Lagerfeld without mentioning his cat, Choupette. She's a princess with over 49,000 Twitter followers, a makeup line and a blossoming career.
"She did two jobs and made 3 million euros last year," Lagerfeld told The Cut in 2015. "One was for cars in Germany and the other was for a Japanese beauty product. I don't allow her to do foodstuffs and things like this. She's too sophisticated for that."
Choupette has two maids. She does not want to talk about how much she's worth.
"My annual salary and net worth are none of your business unless it's @forbes calling to put me on their next cover," she wrote on Instagram last year. "Move over @kyliejenner!"