Here's How Much Rihanna Is Worth — And How She Built an Empire of Music and Makeup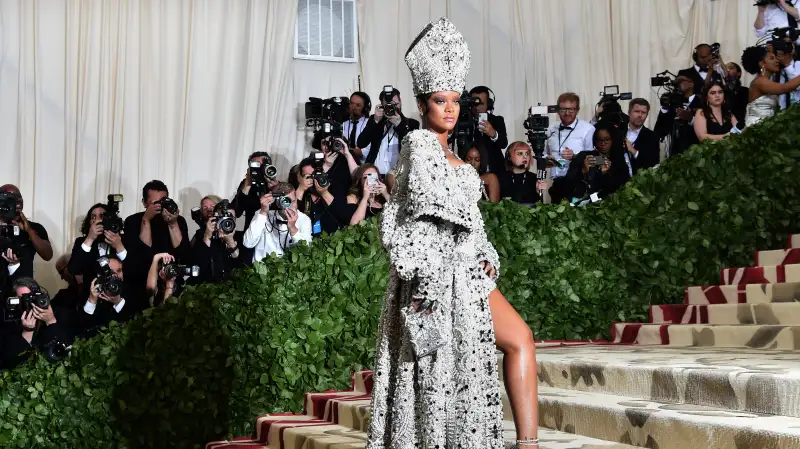 Hector Retamal—AFP/Getty Images
Rihanna first sang "all I see is dollar signs" in 2012, but six years later, nothing has changed.
The "Pon de Replay" star is preparing to launch her latest business venture, a lingerie line called Savage X Fenty today — a power move that's sure to not only break the internet but to also pump up her profits. And forget not-so-casually reminding people they'd "better have [her] money" — if last year's Fenty Beauty debut was any indication, the lingerie collection will be a huge seller.
Not that Rihanna needs the extra cash: According to Celebrity Net Worth, Rihanna's net worth is estimated at about $245 million. As of 2016, she was Forbes' fourth-highest paid woman in music, pocketing more than $70 million a year.
Oh, and by the way, she's only 30.
Wondering how Rihanna pulled off such a seamless pivot from singer to businesswoman? Here's everything we know about Robyn Fenty's finances.
Her Music Is a Major Moneymaker
Rihanna is first and foremost a musician, and a popular one at that. Roc Nation's website brags that Rihanna is the "top-selling digital artist of all time," having sold more than 60 million albums and 215 million digital tracks. That buzz translates to profit: Billboard reported in 2016 that she earned $7.6 million from streaming, $2.5 million from sales and $10.1 million in recording royalties. (The figures haven't been updated yet for 2017.)
Rihanna does a lot of work, work, work, work, work live, too. Even back in 2011, her "Loud" tour grossed over $90 million (for comparison, Jay-Z and Kanye's tour that same year made just over $48 million). In 2013, her "Diamonds" World Tour brought in more than $137 million.
She's also a part-owner of the streaming service Tidal, which has recently been having issues but was at one point valued at $600 million.
Christopher Polk—Getty Images for NARAS
Rihanna Stacks Endorsement Deals
When it comes to teaming up with other companies, Rihanna is an expert — she's the world's most marketable celebrity.
The bio on her website contains a laundry list of her partnerships with Mac, Armani, River Island, Balmain, Dior and more. A quick Google search turns up even more brand deals. She inspired a $25 million agreement with Samsung in 2015; she designed three collections for Manolo Blahnik in 2016. She even created bejeweled socks for Stance.
One of her most prominent sponsorships is with Puma, where she became creative director in 2014 in a deal rumored to be over $1 million. It almost immediately paid off for the brand — within six months, footwear sales had increased by about 16 percent. Sneakerheads seem to truly love RiRi designs: In September 2015, a drop of The Creeper shoes sold out in three hours; in May 2016, another Creeper installment sold out online within 35 minutes.
She's a Beauty (Business) Queen
Perhaps Rihanna's most well-known side hustle is Fenty Beauty, a makeup brand she named after herself. It launched last September to much fanfare — within days, several of the dark foundation shades had sold out.
There aren't concrete numbers publicly available on how much cash Rihanna has raked in so far from Fenty Beauty, but we do have a few clues as to how the launch went. In the first month, according to People, the brand earned $72 million worth of earned media value, or online publicity. WWD reported that initial sales were five times those of Kylie Jenner's official cosmetic company. And a Vogue cover story from this month had the most specific estimate so far, reporting that Rihanna's makeup line brought in "a staggering $100 million in sales within 40 days."
Fenty Beauty is linked with the incubator Kendo Holdings under LVMH Moët Hennessy Louis Vuitton. In a news release from April, the company said the collection's launch was "an exceptional success," contributing to the 10 percent growth the company saw in the first quarter of 2018. LVMH called Fenty Beauty's debut "the first-ever global beauty launch in history," noting that it became available both online and in 1,620 stores in over 17 countries.
Separately, Rihanna has created at least six fragrances; one of them, Reb'l Fleur, brought in an estimated $80 million in sales in 2011.
Vittorio Zunino Celotto—Getty Images for Sephora
Rihanna Turns Financial Failures into Victories
Rihanna hasn't always been financially savvy, but she seems to learn from her money mistakes. Case in point: A few years ago, she settled a lawsuit against her ex-accountants, whom she accused of making her "effectively bankrupt" by giving her bad guidance back in 2009.
She also may be in the process of becoming a house flipper. Despite taking a loss on an eight-bedroom house with water issues back in 2012, the singer has recently expanded into real estate. She bought a Spanish-style West Hollywood home for $2.75 million in August 2017 and put it on the market for $2.85 million in October. The Observer reported that it hasn't sold yet, so in the meantime she's renting it — for a cool $16,500 a month.
And for all of that, she certainly deserves to take a bow.