'You Are Not Going to Disrespect Her': Why Aretha Franklin Insisted on Being Paid in Cash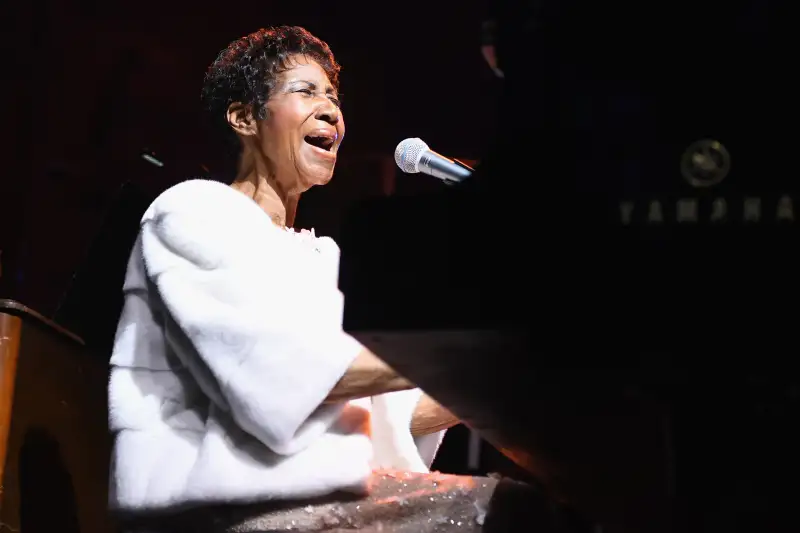 Dimitrios Kambouris—Getty Images
Legendary singer Aretha Franklin—who earned 18 Grammy Awards and the nickname the "Queen of Soul" over her six-decade career—died on Thursday. She was 76, and the cause was reportedly advanced pancreatic cancer.
The first woman to ever land 100 hits on Billboard's Hot R&B/Hip-Hop Songs chart, Franklin had a global reputation for her rich, powerhouse vocals and rousing lyrics in hits like "Respect" and "(You Make Me Feel Like) A Natural Woman." But among club owners, she was known for having a money quirk: She demanded to be paid in cash.
The policy was well-documented. In 2016, The New Yorker's David Remnick went backstage at a Franklin gig and noticed that there were stacks of cash near her hairbrush and mirror. He soon learned that Franklin had a rule: "She collects on the spot or she does not sing." She would stash the money in her purse, then give it to her security guards or keep it with her onstage for the duration of her performance.
According to Franklin's friend Tavis Smiley, there was a reason for this. Franklin's cash-only process stemmed from her observations of the music business during her early days, when black singers were underpaid and often cheated out of royalties.
"It's the era she grew up in—she saw so many people, like Ray Charles and B. B. King, get ripped off," Smiley told The New Yorker. "There is the sense in her very often that people are out to harm you. And she won't have it. You are not going to disrespect her."
In fact, the songwriter even had demands for how she was to get the money. In a contract published by The Smoking Gun dating back to 2010, Franklin's team requested that promoters physically hand her $25,000 in cash. It was fine for them to write a check for the rest of her fee.
"It is understood that this money shall be presented by the promoter or the designated person, directly to Ms. Franklin," the rider states. "No one other than Ms. Franklin is to be given payment in any form on her behalf unless prior written authorization is received."
But Franklin didn't simply pocket the cash. In the 2014 book Respect: The Life of Aretha Franklin, talent agent Dick Alen revealed that she used the money delivered at her shows to pay her staff. And he said it happened off the books.
"She deducted no taxes and made no records. I'd beg her to implement some system of documentation, but she refused," he added. "I knew that eventually there'd be hell to pay from the IRS."
He was right. As the IRS makes clear, employers are legally required to report income and employment taxes withheld from workers, and those taxes must be properly deposited. But Franklin had a history of landing in legal trouble for allegedly dodging bills.
In 1993, the IRS disputed her tax deductions, including nearly $237,000 paid as part of a judgment for failing to perform at a concert. The IRS said the payment could not be counted as a business expense, as Franklin had reported it. The same year, she reportedly paid more than $225,000 in back taxes. Two years later, the IRS put a roughly $490,000 tax lien on her Michigan house due to unpaid taxes.
In 1999, the The Detroit Free Press found that she was named in about 30 lawsuits alleging that she had skipped payments on everything from plumbing services to limo rides and flowers. (She called the story "malicious and vicious," and blamed missed payments on her "travel and performance schedule and lack of a secretary in place during that period of time.")
Then, in 2014, her condo association sued her, charging that she had not paid about $11,600 in homeowner fees. (Franklin responded that she felt she'd been overcharged and paid an amount she thought "was credible and legitimate.")
At the time of her death, Franklin had an estimated net worth of $60 million.