Crazy Long Shot March Madness Bet Looks to Pay Off Big Time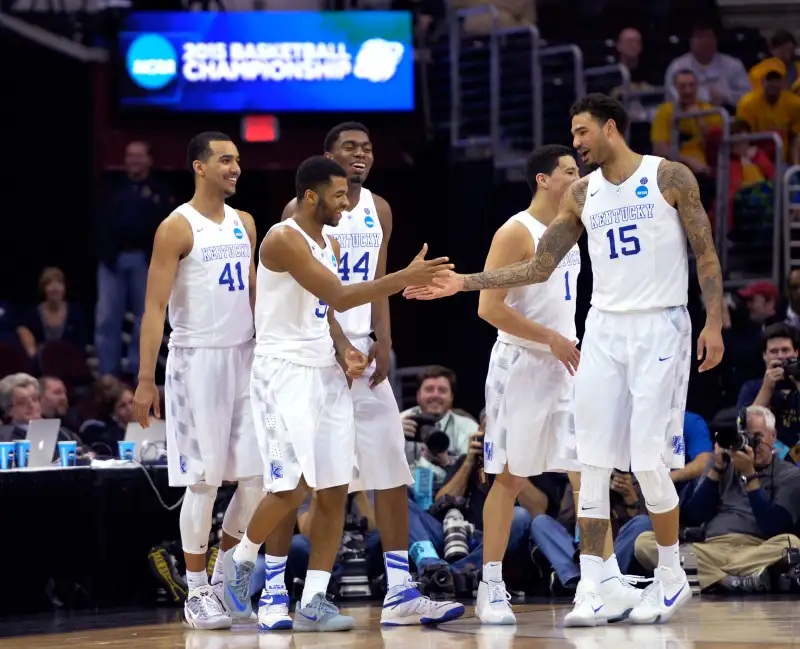 The bet in question is that the University of Kentucky would go undefeated through the entire season and win the national championship in the NCAA March Madness tournament. After Kentucky completely dominated West Virginia in a 78-39 rout on Thursday night, the Wildcats stand at 37-0. All they need is three more wins and they'll go down in history as the best college basketball team ever, or at least the one that had the best season ever.
There have been teams that have run the table in the past, with undefeated regular seasons followed by national championships. But it hasn't happened in decades. The last squad to do so was Indiana in 1975-1976. Teams played fewer games back then—Indiana's record was 32-0, including the tournament—so Kentucky has already won more games this year. The great John Wooden-coached UCLA Bruins teams of the 1960s and '70s had four undefeated seasons and won an amazing 88 games in a row, but again, times have changed and teams play more games nowadays.
Because the season is so long, and because no team has gone undefeated in nearly four decades, gamblers were initially given long-shot odds that Kentucky could accomplish the feat in 2014-2015. Last summer, the William Hill sportsbook in Nevada began accepting bets that would pay off 50-to-1 if Kentucky won every game, including the tournament. According to ESPN, at least 39 people took those odds, including one $500 bet that will pay off to the tune of $25,000 if Kentucky wins its final three games.
Another gambler bet $2,550 on Kentucky to zip through this year with zero losses, but that wager was placed in September, when the odds had shrunk to 20:1. That bet will pay off $51,000 if Kentucky comes through.
Kentucky has had some close games this year, including back-to-back overtime games in January, against Ole Miss and Texas A&M. So it's indeed possible that John Calipari's super-talented squad could lose. But as NCAA March Madness entered the Sweet Sixteen this week, sportsbooks listed Kentucky as the overwhelming favorite, with 1:1 odds. Arizona was a distant second at 13:2, and all the other contenders were even bigger long shots. In other words, casinos have been practically begging gamblers to bet on any team other than Kentucky.
Yet even if Kentucky does run the table, there are those who will argue—fairly convincingly—that this year's team is not the best ever. Not by a long shot. In fact, Vegas oddsmakers say that the 2014-15 Kentucky team would be the underdog in theoretical matchups against several notable college squads from the past, including the undefeated 1976 Indiana team, UNLV circa 1991 with Larry Johnson, Stacey Augmon, and Greg Anthony, and even the 2012 Kentucky team that won the national championship and had six players drafted into the NBA—but that didn't go undefeated for the entire season.