How Many Jobs Will the Keystone Pipeline Actually Create? It Could Be As Few as 35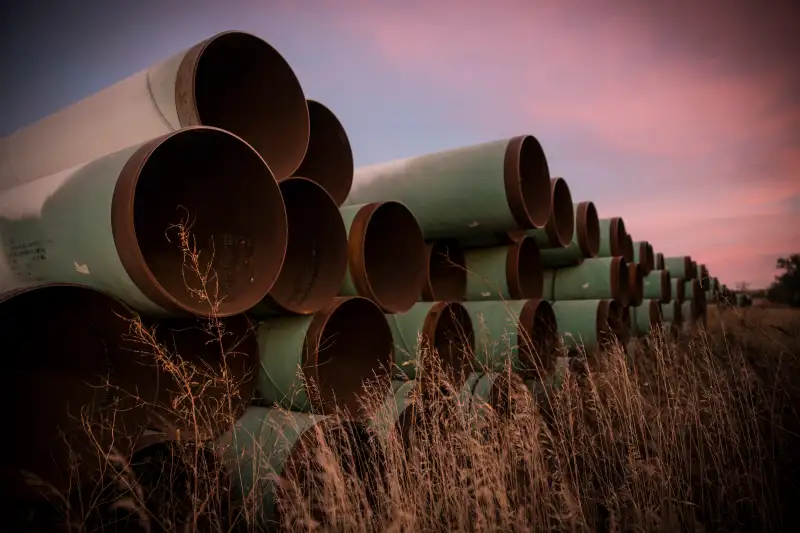 Andrew Burton,Getty Images
President Donald Trump promises to create of "thousands of jobs" for Americans as a result of his official approval for construction of the Keystone XL pipeline.
To be exact, that's 42,000 direct and indirect jobs over a two-year period, with 16,100 of them directly related to the project and 3,900 construction jobs, according to the State Department.
"It's a great day for American jobs, and a historic moment for North America," Trump said from the Oval Office on Friday.
But "the majority of these jobs would be short-term in nature," the State Department told Money.
In fact, when the construction on the pipeline is complete, there will only be 50 jobs available related to the pipeline — 35 permanent ones, and 15 ones for temporary contractors, the State Department said.
The Trump administration on Friday issued a presidential permit to TransCanada to complete the pipeline project after almost a decade since the company first applied for a permit in 2008. In the company's application for a presidential permit, they said the U.S. would see "significant employment benefits" as a result of the pipeline.
The $8 billion project will move around 800,000 barrels of oil each day from Canada through the United States. The 1,700-mile pipeline will span from Alberta, Canada, to the Texas Gulf Coast.
The new estimates for construction jobs are consistent with the ones provided by the State Department three years ago in a 2014 report.
However, when Trump signed an executive order in January reviving the construction of the pipeline, he suggested it would create 28,000 new construction jobs. That's a large jump from the 3,900 construction jobs the State Department estimates will be available.
His inflation of the number of construction jobs was quickly called out by critics, and it's possible he could have been factoring a number of indirect jobs available in his announcement.
Parts of the pipeline have already been built, and construction on the project will continue in several months, Russ Girling, president and CEO of TransCanada, said at the White House on Friday.
But construction for the project isn't set in stone.
TransCanada said it "will continue to engage key stakeholders and neighbors throughout Nebraska, Montana and South Dakota to obtain the necessary permits and approvals to advance this project to construction."
Environmentalists have long-protested the continuation of construction on the pipeline. Annie Leonard, the U.S. director of Greenpeace, told the Associated Press the "Keystone was stopped once before, and it will be stopped again."
Trump's support for the pipeline is a complete reversal from former President Barack Obama's stance on the issue. After years of consideration, in November 2015, Obama rejected a TransCanada application for the completion of the project.
"The pipeline would not have made a serious impact on … the American people's prospects for the future," Obama said at the time. "The pipeline would not make a meaningful, long0term contribution to our economy."