Krispy Kreme Has Free Coffee All Weekend for National Coffee Day 2017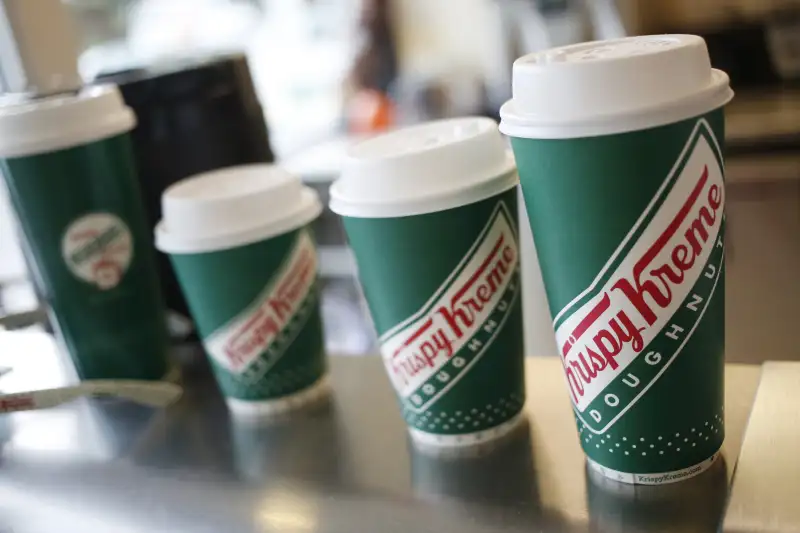 Bloomberg—Bloomberg via Getty Images
Krispy Kreme has thrown down the gauntlet for faux holiday promotions, with giveaways for the upcoming National Coffee Day festivities like we've never seen.
Instead of simply giving all customers free coffee on National Coffee Day itself, which takes place on Sept. 29, Krispy Kreme has decided to give everyone free coffee for a whole weekend. From Friday, Sept. 29, through Sunday, Oct. 1, the coffee-and-doughnuts chain is offering free coffee at participating locations all over the U.S. and Canada.
No purchase is required. No special coupons are needed either. Just stroll into a Krispy Kreme shop and ask for a coffee anytime during the three-day National Coffee Day giveaway. You'll then get one small-size coffee—either hot brewed or iced, your choice—on the house. Note that the promotion is valid only in Krispy Kreme shops; it's not available in supermarkets or convenience stores that sell Krispy Kreme goods.
While Krispy Kreme's National Coffee Day deal is unusually generous and will surely please customers, the chain might still be reeling from complaints over another made-up holiday. In the past, Krispy Kreme has given away free doughnuts to customers who talk or dress like a pirate on Talk Like a Pirate Day, which is celebrated on Sept. 19 each year.
For that faux holiday, however, Krispy Kreme dropped its usual free-doughnut promotion in North America (though, oddly, still had freebies in Australia). Unsurprisingly, angry buccaneers took to Twitter to proclaim they'd been unfairly scalliwagged by Krispy Kreme's decision to pull the plug on the traditional Talk Like a Pirate giveaways.
Perhaps the prospect of three days of Krispy Kreme free coffee on the horizon will stop critics from pillaging Krispy Kreme on social media.