Krispy Kreme Is Giving Away FREE Donuts Today. Here's How to Take Advantage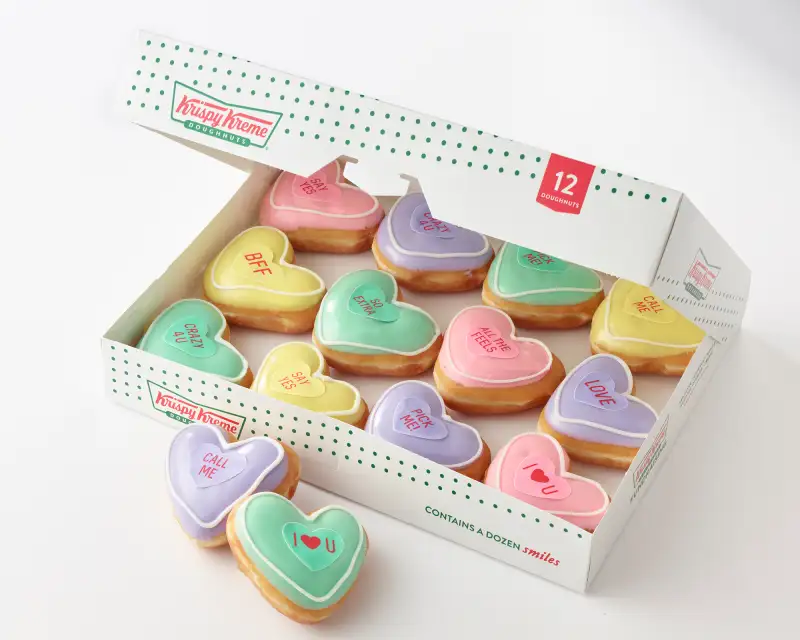 Courtesy of Krispy Kreme Doughnuts
You'll LOVE this deal: Krispy Kreme is giving away special Valentine's Day themed doughnuts for free, today only (Wednesday, February 6).
But before running off to get your free Krispy Kreme donut, take note that there is a catch. Actually, there are two catches, but they're small ones and simple to navigate.
All you have to do to get a free Krispy Kreme doughnut today is be a member of its rewards club — becoming a member is quick, easy, and free — and also make any purchase at a participating Krispy Kreme location.
Krispy Kreme rewards members will get a message offering a special free Valentine's Day donut with any purchase on Wednesday, February 6. Just show the offer in your email or on the Krispy Kreme app when placing your order to get your free donut.
Today's free doughnut deal from Krispy Kreme features a special collection of Valentine's Doughnuts with a variety of frosted messages like "Love" and "Be Mine."
Krispy Kreme's free Valentine doughnut deal is valid for today only, and to take advantage customers must make some other purchase in the store — perhaps another donut (about $1) or a cup of coffee (about $1.50).