Krispy Kreme Is Giving Away FREE Donuts on Saturday. Here's How to Get One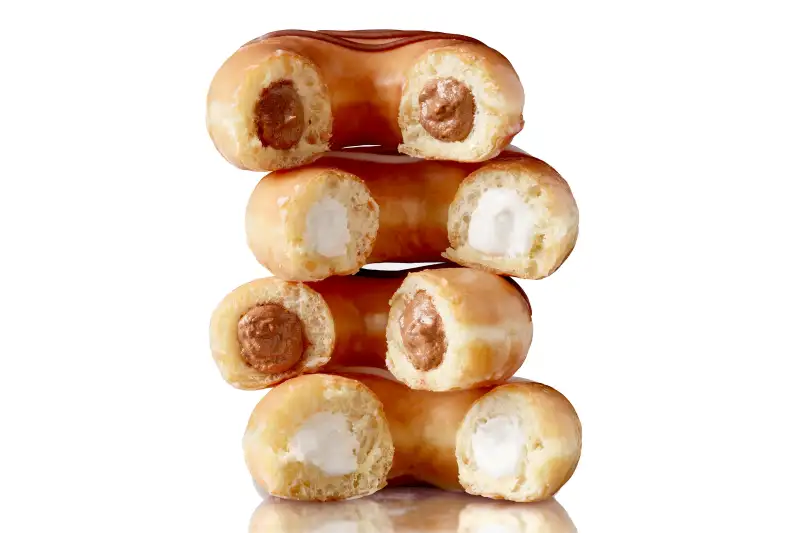 Courtesy of Krispy Kreme Doughnuts
Krispy Kreme has found a way to make its donuts tastier — and creamier — by launching a brand new kind of donut. And you have an extra reason to sample the new creation on Saturday, June 22, when Krispy Kreme is giving away free doughnuts.
This summer, Krispy Kreme Doughnuts is commemorating the 50th anniversary of the moon landing, of all things, by introducing its new Original Filled Doughnuts.
Krispy Kreme "Filled" doughnuts consist of an original glazed doughnut that's been hollowed out and filled with one of two creams — "Classic Kreme" or "Chocolate Kreme." Krispy Kreme shops began selling Original Filled Doughnuts this week, and everyone can try one of these donuts free on Saturday, with no purchase or coupon required.
How to Get a Free Krispy Kreme Doughnut
It's super easy to get a free doughnut at Krispy Kreme this week. Simply head to a participating Krispy Kreme shop (nearly all are participating) on Saturday, June 22, and ask for your freebie. There is a limit of one free Krispy Kreme donut per customer.
The only choice you have to make is what kind of free Krispy Kreme Original Filled Doughnut you want. Again, your options are chocolate or classic.
Be warned: You can get a free Krispy Kreme doughnut on Saturday only while supplies or Original Filled Doughnuts last (they could sell out). And be prepared for long lines — because you're not the only one who loves free donuts (or doughnuts, depending on your preferred spelling).