Labor Day Sale Prices Are Here—a Week Before Labor Day Weekend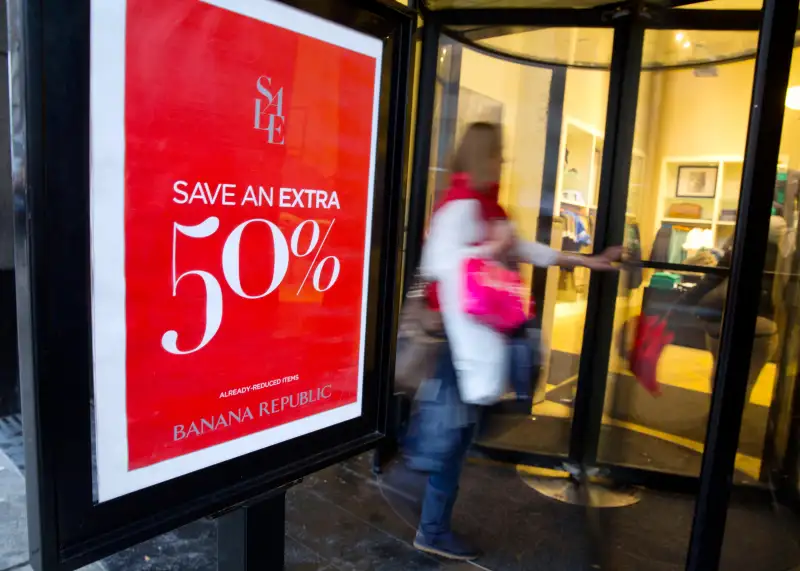 Jin Lee—Bloomberg via Getty Images
Check out some of the impressive sales taking place right now:
Abercrombie & Fitch: 40% off everything in stores and on the web;
American Eagle: extra 50% off items already on clearance;
Ann Taylor: 50% off a broad range of merchandise;
Banana Republic: 40% off your entire purchase online with the code BRGET40, or $50 off when you spend at least $100 in stores;
Gap: 30% off for everyone (use code AUGUST), or 40% if you have a Gap credit card (code: $40STYLE) now through August 24, plus $25 in Gap Cash for every $50 you spend now through September 1.
If you didn't know any better, you might have assumed that these big, across-the-board discounts are for Labor Day sales, or for post-back-to-school clearance sales. Heck, 40% off everything has more or less been the standard markdown level to get shoppers to bite on Black Friday and Cyber Monday, renowned as the best sales days of the year.
So why are retailers pushing such hefty discounts at such a seemingly odd time? One reason is that right now is an especially competitive, arguably desperate moment for apparel stores in particular. Iconic retailers like Target, Walmart, and Sears have been struggling mightily of late, and a wide range of clothing stores are trying to cope with consumers' shifting fashion (and shrinking household budgets) that have brought about the need for deals like $10 jeans.
According to the National Retail Federation (NRF), household spending on clothes during the back-to-school period is basically flat compared with last year. Shoppers said they planned on spending $231.30 on clothes this season, versus $230.85 a year ago. What's more, more parents seem to be taking the slacker approach to back-to-school shopping, procrastinating on purchases rather than prudently completing shopping lists long before school starts. As of August 12, an NRF poll indicates, 24% of families hadn't done any back-to-school shopping yet, compared with 21% at the same time last year. Though fashionistas would disagree, trendy clothing is less of an essential for the start of the school year—kids need notebooks and markers more than new outfits—so it's a safe assumption that procrastinators have been shying away in particular from clothing purchases, especially if they've been avoiding back-to-school shopping because of a tight household budget.
All of these factors add up to a situation in which stores simply haven't been able to convince shoppers to buy enough clothing yet during the end-of-summer, back-to-school period. They could have waited to drop their big discounts on Labor Day Weekend, but because stores are constantly trying to beat competitors to the punch nowadays, sales tend to start earlier and last longer than ever—hence back-to-school deals beginning in June and Christmas advertising starting just after Labor Day.
Speaking of the winter holidays, they're a major reason why retailers are being especially aggressive in clearing out summer and fall inventory right now. The November–December period is by far the most important time of year for all of the retailers mentioned above, and to make the most of it, stores want to start with a clean slate (and cleaned-out stores) as early as possible, to prep for the busy months ahead.
In fact, the world's largest retailer already announced the launching of a holiday season initiative two weeks before Labor Day. "At Walmart, we never stop thinking about the holidays," a post from Walmart's Duncan Mac Naughton, chief merchandising and marketing officer, stated in mid-August. And yes, he was referring to the winter holidays: Starting around Black Friday, Walmart plans to have all of its store registers open during peak shopping times, according to a new Checkout Promise introduced by Mac Naughton.
All of which is a roundabout way of explaining why stores are resorting to big, broad markdowns at a seemingly strange time. But before you bite, bear in mind that next week, the sales will probably be even better on whatever merchandise hasn't already been snatched up. The folks at dealnews anticipate that many stores will offer deeply discounted clothing during Labor Day clearance sales, sometimes with markdowns or 70% or even 80% off.
MORE: Why Parents Should Procrastinate on Back-to-School Purchases