Letter From George H.W. Bush Is a Lesson in How to Step Away Gracefully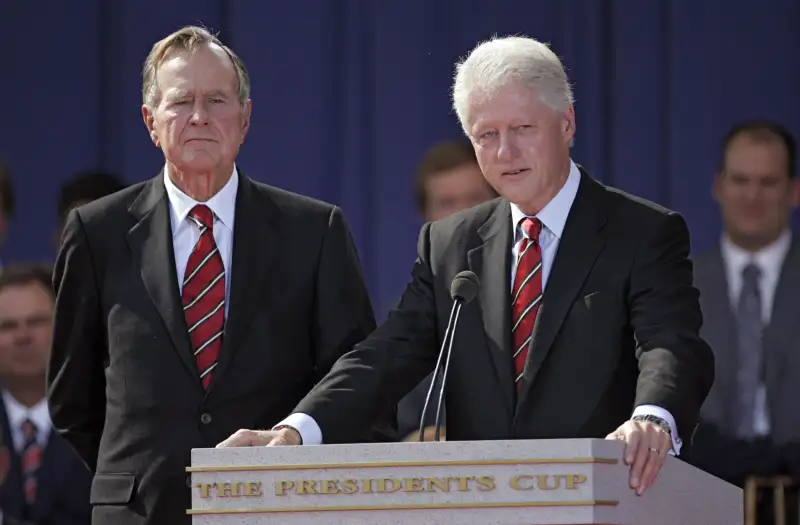 Sam Greenwood—Getty Images
As a 1993 letter by former President George H.W. Bush to former President Bill Clinton snakes its way through social media, its gracious, affable message has quickly become a symbol of everything that's wrong with the current political climate.
The note couldn't have resurfaced at a better time — hours before it made the rounds on Twitter, a tired electorate watched a major party candidate call his opponent "a nasty woman," and hint at the possibility of rejecting election results, in one 90-minute debate.
In the letter, Bush, who lost to Clinton in the 1992 election, welcomes his successor to the White House with "great happiness."
There are lessons here for politicians and regular folk alike. We asked career experts to unpack the 23-year-old note, and share some thoughts about its much-needed lesson in grace.
If you're ever replaced, here's how to respectfully step away from a position in George H.W. Bush style -- like a class act.
Express Your Gratitude
If the decision to vacate the position wasn't yours, you're probably disappointed. That's OK -- but acting like a petulant child isn't. Let your boss know that you've enjoyed working for him or her -- both vocally and in writing.
"Even if you don't necessarily think the decision is fair, you have to thank the folks who gave you an experience that has helped round you out as a professional," says Roy Cohen, career coach and author of The Wall Street Professional's Survival Guide. "Think of it as reputation management — people take care of the folks who are easy, kind, who demonstrate an understanding of the situation. If you're relying on them for references, you need to control your image."
Be Cordial and Accommodating to Your Successor
Offer to be a resource to the person taking over for you. This helps ease your successor into a new role, and it makes you look like a good sport, says Allen Wass, president of the Hudson, Ohio, branch of executive search firm Sanford Rose.
"Let your replacement know that they should feel free to call you for guidance," he says. "Having that correspondence with a person who sat in the same seat, who knows exactly what they're facing, is going to mean a lot to them. And by making that good-will gesture, you're demonstrating your commitment to the organization."
Any knowledge you can give them -- like a Rolodex of contacts or a detailed schedule of important dates -- will help your successor transition to the new role, experts say. It's easy to be bitter, Wass says, but don't direct your anger at your replacement.
"If you've been with a company for a long time, you want it to succeed," he says. "Giving [your successor] inside knowledge will only serve you in the long run … and it will help you move on."
Leave on a Positive Note
"Nobody likes the feeling of handing over the reigns to their success, but it's important to handle a turnover with dignity and grace -- just like President Bush did," says Jennifer Yeko, founder of Ninja Recruiting. "That letter is going viral because it dealt with a tough situation in a classy manner. Whether you're leaving on your own accord or not, you have to be professional."
Cohen agrees. Keep your composure even if you're fuming inside -- for the sake of your severance negotiation and future references and job prospects, if nothing else.
"We're all documented in perpetuity, thanks to LinkedIn, Glassdoor, and other social media sites," Cohen says. "The web has a long memory. If you act like a jerk, people will think about you as a jerk for a long time. Maybe even indefinitely."