People Are Selling Luke's Diner Coffee Cups for $99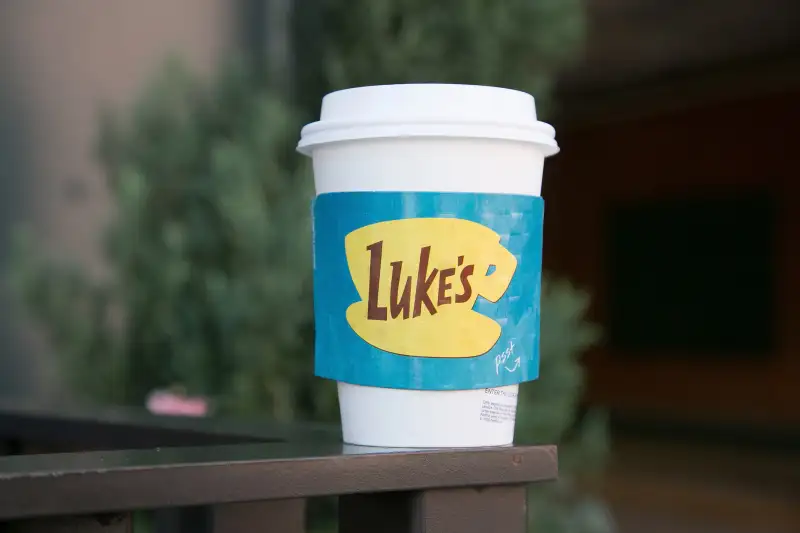 Gabriel Olsen—Getty Images
Lorelai and Rory Gilmore will tell you Luke's coffee is the best in town, but even they might question whether an empty paper cup is worth $99.
On Wednesday, thousands of Gilmore Girls super fans (full disclosure: myself included) gathered at coffee shops around the country that Netflix had turned into pop-up Luke's Diners for the day. In honor of the 16th anniversary of the premiere of the popular TV series -- which will return for a revival on Netflix on November 25 -- the streaming service sponsored a nationwide homage to the greasy spoon where the Gilmore Girls spent much of their time on the show, complete with free coffee and baristas dressed like proprietor Luke Danes.
Read More: How Can Lorelai Gilmore Afford a $2.8 Million Home?
After Gilmore Girls fans were served their coffee, coffee, coffee, they walked away with paper cups with a Luke's sleeve and bearing a caffeine-related quote from java junkies Lorelai or Rory. And as any entrepreneurial fan would do, some are now selling their free coffee cups online for as high as $99.99, Eater.com reported.
Luckily, you might not have to shell out nearly $100 for a paper cup. If you missed out on visiting a pop-up diner on Wednesday, and desperately want a used coffee cup with the Luke's logo, you can still find them online for as low as 99 cents. A coffee cup sleeve -- which allegedly features the signature of actor Scott Patterson, who plays Luke and who appeared at Los Angeles pop-up -- is also selling for $53 on eBay.
Fans are also trying to make a buck off other merchandise from the pop-ups, including a blue Luke's apron, which is being marketed for $250. "The apron is a polyester cotton blend," the seller reports, featuring "two spacious front pocket."