It's Surprisingly Cheap to Make Coffee Like a World Barista Champion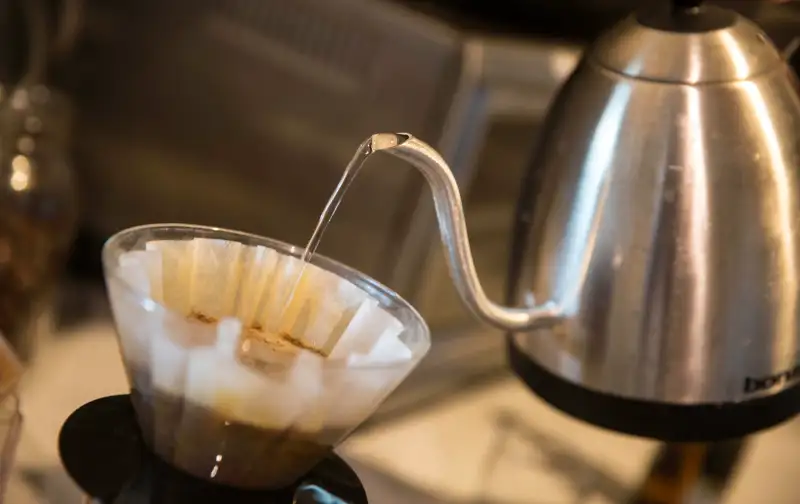 Brian van der Brug—LA Times/Getty Images
Coffee geeks from around the globe converged on Dublin last week for this year's World Barista Championships. With a name like that, it's safe to say some of the best coffee in the universe was brewed and consumed.
Comparing that coffee to whatever you made this morning might seem unfair, but in reality, bridging the gap—at least somewhat—is well within your power and surprisingly affordable.
First, though, out of respect to the baristas, you're not going to go all the way there—to the Championships, that is—unless you devote years to this and get very lucky. But there's no reason you can't easily get up to par with your local coffee shop's quality, with some practice. After all, you are your own customer and can take your sweet time in a pressure-free environment to nail the process.
According to Sprudge, a popular coffee website, the six "Brewer's Cup" finalists used either the Hario V60, the Kalita Wave, or a Melitta Porcelain One Cup Brewer, the latter of which is the classic drip brewer you may already have.
All of these are inexpensive. Like, really inexpensive. The Hario V60 is $16 on Amazon. The Kalita Wave is also $16. The Melitta is there too—or cheaper, since there are plenty of white-label generic versions.
A few other things are required to approximate the setup besides a $16 dripper and filters. One of them might seem like overkill: a scale. For around $15, a small electronic scale allows you to weigh beans, which is important because scoops aren't a very accurate measure, and consistency is key to refine pour-over technique (demonstrated in the video at the bottom of the page) so you know the problems don't stem from recipe differences.
The other reason to use a scale is for convenience. Zeroing the scale when your mug or server is sitting on it with the dripper, filter, and coffee lets you easily measure how much water you've put in. Not only will you nail your desired coffee to water ratio, but if you have an opaque mug, you don't have to keep checking to make sure you're not about to overflow.
The last important element to the brewing process is a kettle. A standard kettle might be fine for a tea bag, but coaxing the desirable flavors out of your coffee means making sure the water to coffee contact is even, and the greater control of a goose-neck kettle helps by letting you distribute water evenly and without agitating the grounds.
Agitation and uneven pouring can over-extract some of the coffee and under-extract others, which creates undesirable flavors. Like the scale and dripper, this type of kettle need not be expensive. The pros might use an $80 Takahiro or a digital Bonavita, but there are plenty of cheaper options. The $25 Fino works very well.
The last, but most important thing here is to start with good coffee grounds, meaning good coffee beans and a grinder—which should hog most of your budget, because it's the most important thing. For all of the baristas in the World Championships, the latter is the biggest expense by a spectacular margin—some of them use $2,400 grinders. For a consumer, this is total overkill, and coffee nerds agree that Baratza's $130 Encore and even Capresso's $92 Infinity do a great job. Both are entry level "burr" grinders, which work like pepper mills rather than blenders to create particles of a uniform size, thereby facilitating uniform extraction.
And if you only want to pretend to be a World Champion Barista or just try it out? You can get a hand-cranked option for $20 and bring your total costs to just $80 before consumables. It just takes a little longer and you'll work up a sweat.
Roughly $80 to $190 might not seem that cheap, but considering that it can help you approximate the best coffee setups in the galaxy, it's not too bad. Of course, you could see this another way: You can't buy your way to incredible coffee skills, even if you get a fancy coffee subscription, though it will help. In the end, the skills come from practice. But for a daily drinker, there's absolutely no shortage of opportunities.
Here's what that skill looks like, demonstrated with a Kalita Wave by Nicholas Cho, former member of the World Barista Championship's board of directors.