Inflation Cools More Than Expected. What Does It Mean for Interest Rates and the Stock Market?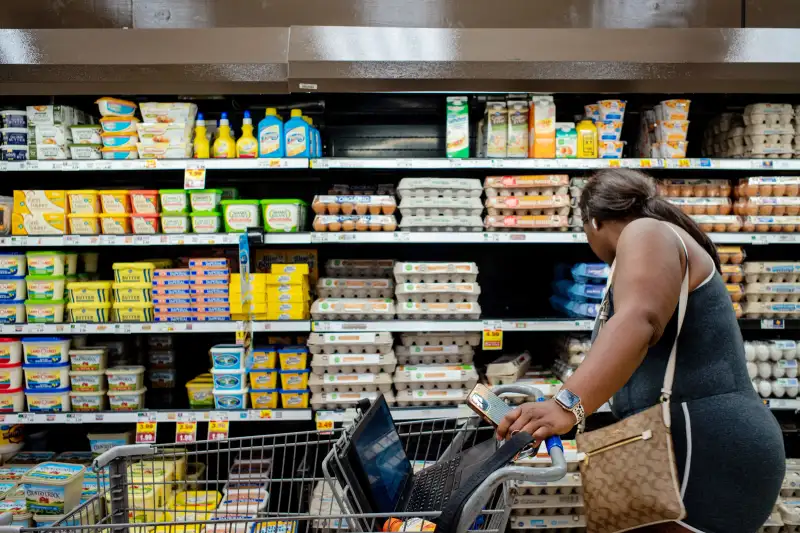 New data shows inflation is showing signs of cooling, though prices remain elevated starkly above levels the Federal Reserve prefers to see.
In March, inflation rose 5% from the year prior, the U.S. Labor Department reported Wednesday, coming in a hair lower than the 5.1% prediction from many financial firms. Compared to the month before, prices increased 0.1%.
"This number was a little bit better than what markets were thinking," Jason Furman, an economics professor at Harvard University, said during a panel hosted by the Brookings Institution Wednesday.
Inflation continues to fall from its peak of 9.1% last summer, and the March report belies a big dip in inflation compared to February's report, which pegged annual price growth at 6%. However, a closer look suggests it may be too soon to celebrate. Furman noted that the big picture isn't as cheery when it comes to core inflation.
So-called "core inflation" — the Fed's preferred measure of consumer prices that strips out the volatile costs of energy and food — has outpaced the overall inflation rate for the first time since 2020. In March, the annual core inflation rate was 5.6%, compared to the headline inflation rate of 5%.
A key reason for this switch is that the overall inflation rate, which includes energy prices, is being compared to March 2022, just after Russia invaded Ukraine, sending oil prices through the roof. But the new data still has major implications for the U.S. central banking system's battle to bring down prices.
Where prices are rising and falling
The Labor Department said housing costs, which rose 0.6% from February, were "by far the largest contributor" to core inflation. The annual inflation rate for shelter was 8.2%.
Food costs — in particular, those for groceries — are finally starting to cool off. "That is by far and away the best news we've seen since 2020, when food prices started to take off," Wendy Edelberg, a senior economic studies fellow at the Brookings Institution, said during the panel.
Overall, food inflation was flat compared to February. In other words, its monthly inflation rate was zero. Grocery prices fell 0.3% from February, though the costs of dining out ticked up 0.6%. However, compared to March 2022, food prices were up 8.5% for the year.
Energy prices are down sharply from March 2022, falling 6.4% over the year. Specifically, gas prices plummeted 17.4%. Again, these large annual price drops are compared to historically high energy costs last year. That said, energy and gas costs dipped notably from February, a drop of 3.5% and 4.6% respectively.
What's next
While headline inflation came in slightly cooler than expected, Wall Street is largely expecting the Fed to continue its fight against inflation.
"Though inflation has moderated, the March consumer price data keeps a 25 [basis-point] rate hike by the Fed clearly on the table for May," Ryan Sweet, chief U.S. economist at Oxford Economics, wrote in commentary shared with Money.
Oxford Economics predicts the Fed to raise rates by another 25 basis points in June as well, before pausing for the remainder of the year. This would put the target federal funds rate at 5.25% to 5.5% by June. (For comparison, in May 2022, the rate was 0.75% to 1%.)

The Federal Reserve will ultimately decide its next move at the Federal Open Market Committee (FOMC) meeting starting May 2.
The markets are having mixed reactions to the Labor Department's cooler-than-expected report. The Dow Jones Industrial Average rose about 10 points, while the S&P 500 dipped 0.1% Wednesday morning.
"All that says to me is that the Fed still has more to do," Edelberg said. "And that's OK. That's how monetary policy works."
More from Money:
The 7 Most Popular Ways People Are Saving Money on Groceries Now
Should You Invest in CDs Now? Time May Be Running Out to Lock in a High APY
Here's How Much Your Home Insurance Will Rise This Year, According to a New Forecast