Where to Score the Best March Madness Hotel Deals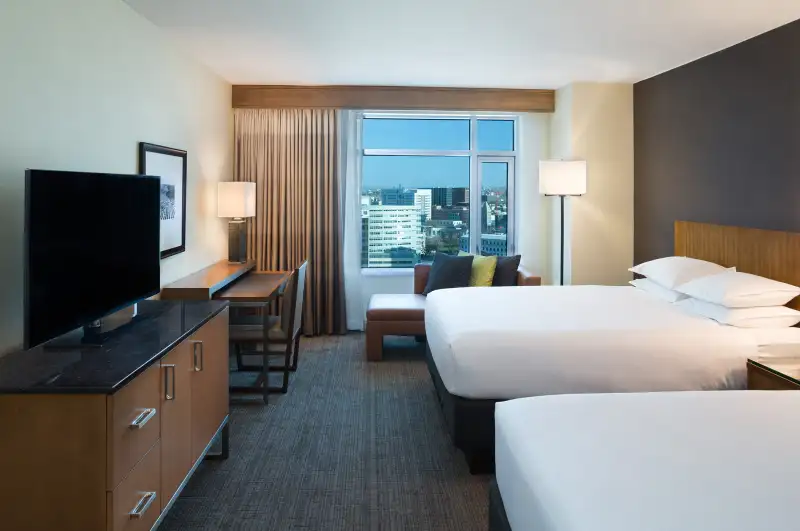 March Madness is almost upon us, and you want to be there in person to root for your team. The problem: We won't know until March 13 which teams will make the tournament, not to mention where they'll be playing. If you wait until Selection Sunday, you might end up paying a ton for a hotel room—or sleeping in your car.
One solution: reserve your rooms now. Yes, we said rooms. There's no harm in booking a room in every tournament site just to be on the safe side. At most hotels, you lose no money if you cancel 24 to 48 hours before your stay is set to begin.
Of course, that would require a lot of logistics. The first-round games are played in nine different venues, if you include the play-in contests in Dayton, Ohio. That's where our March Madness Hotel Guide comes in.
We've researched each region and selected a hotel close to each venue. They aren't fancy places; most are between $100 and $200 a night. But they're all well-respected chains or inns, and most are within five or so miles from the local arena, which means you'll probably be able to take a cab or walk to the game and therefore avoid having to rent a car.
Remember—you need to do this now. Some hotels we had hoped to include on our list sold out before we could even go live. If a destination we have here is no longer available, try the Stadium Hotel Network, which offers a comprehensive, clickable guide to sports-minded stays.
March 15-16

University of Dayton Arena, 
Dayton, Ohio
Crowne Plaza Dayton, $161/night
March 17-19

Pepsi Center, Denver
Hyatt Regency, $180/night
Wells Fargo Arena, Des Moines
Holiday Inn Downtown, $173/night
Dunkin Donuts Center, Providence
Ramada Inn Seekonk/Providence, $124/night
PNC Arena, Raleigh, N.C.
Wingate by Wyndham, $144/night
March 18-20
Barclay's Center, Brooklyn
Union Hotel, $152/night
Chesapeake Energy Arena, Oklahoma City
Embassy Suites Downtown, $199/night
Download Your Printable March Madness Bracket Here
Scottrade Center, St. Louis
Peartree Inn, $139/night
Veterans' Memorial Stadium, Spokane
Apple Tree Inn, $75/night