Marie Kondo Is Charging People $2,700 to Get Certified in Her KonMari Method. Here's How It Works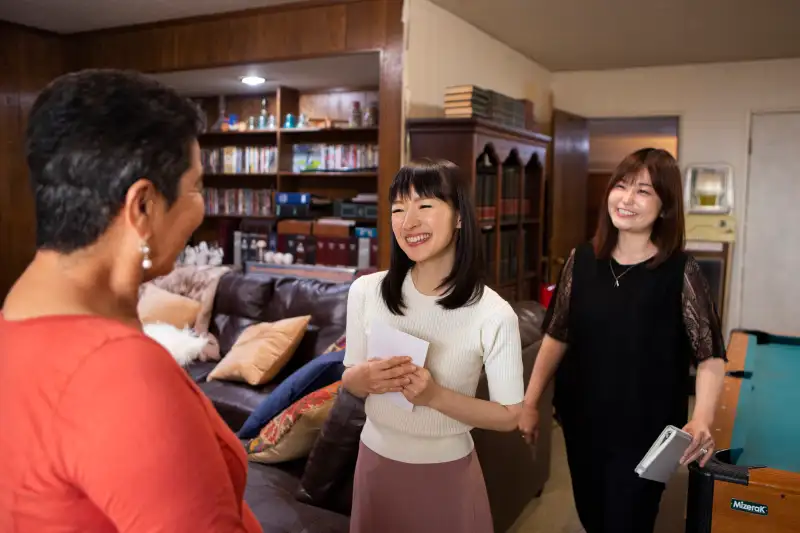 Each product we feature has been independently selected and reviewed by our editorial team. If you make a purchase using the links included, we may earn commission.
If you just binge-watched the new Netflix show Tidying Up With Marie Kondo, you may be feeling the sudden urge to pile all your clothes onto your bed and organize them until you hit mattress.
You probably can't get Kondo herself to help. But you can book one of her certified consultants. Or better yet—become one.
While Tidying Up has the internet obsessing over Kondo, what it really showcases is her KonMari Method. Created by the Japanese organizing guru years ago, the strategy encourages cleaning in five categories, focusing on items that spark joy and tossing things that are no longer needed.
And for about $2,700, you can become a recognized expert.
When she's not flitting from room to messy room with a patient smile and folding tips, Kondo leads serious cleaners in a seven-step KonMari certification process. It's rigorous but pays off: KonMari consultants are allowed to start their own businesses with Kondo's blessing—and make hundreds of dollars a day from tidying.
Here's how it works.
Learning the KonMari Method
It's not easy to become a KonMari expert. There are only 215 consultants listed on Kondo's website, and only one is certified at the master level: Karin Socci. She's held more than 500 sessions with 50 clients.
Socci, whose background is in clinical psychotherapy and health care finance, started her tidying journey in 2014 when she picked up one of Kondo's books in preparation for a move. Reading Kondo's books, The Life-Changing Magic of Tidying Up and Spark Joy, is the first step in the certification process.
Socci immediately benefited from Kondo's advice and tidied her home, completing the second step.
"I ended up getting rid of half of everything I owned," says Socci, who is also the co-host of the Spark Joy podcast. "The move to a new apartment was so smooth, so peaceful, so relaxing. It was so easy to find a place for everything I actually needed as opposed to everything I thought I might need someday."
Intrigued, Socci searched online for Kondo news and discovered she was bringing KonMari seminars from Japan to the U.S. Consultants are required to attend one such seminar to satisfy step three, but it's not as simple as registering and showing up.
First, you have to find a spot. The next two seminars, scheduled for March 29-31 in New York City and April 5-7 in London, are already sold out, and they're expensive, costing $2,200 and $2,400, respectively. Then you have to send in pictures of your home to prove your cleanliness.
If you make the cut, you get to hear organizing experts talk about the importance of the method and how to implement it with clients. In Q&As, lectures and discussion sessions, participants hone soft skills like listening and learn to guide customers.
And, yes, Kondo does make an appearance at seminars. She gives opening and closing speeches and is available for autographs and photos.
Train to Be a Marie Kondo Method Expert
After a seminar, trainees are officially adopted as part of the KonMari community, which includes a private Facebook group. They must conduct practice sessions, turn in reports to the company and pass an exam before applying for certification.
From there, membership costs $500 a year. But Socci, who charges roughly $100 an hour for her sessions, has certainly earned back that initial investment. When she set up the website for her company, The Serene Home, she says "there was an enormous explosion of interest."
"In New York, people have very small apartments and a lot of stuff—they're very busy, very accomplished people who have no time to do this without someone who can sit down and put them through the process," she says.
A consultant's KonMari certification depends on how many clients they've seen. Socci operates at the highest level, but lower ones include platinum (300 sessions with 30 people), gold (200 sessions with 20 people) and bronze (50 sessions with 5 people).
Socci says she's worked with "college students, people in their '80s getting ready to downsize to assisted living, couples, single men, single women, [and] families of every size and age in every single economic group."
Organizing is now her full-time job—and she loves it.
"When I was a clinical psychotherapist and I was sitting across the desk from my client, I knew I was helping them, but often I didn't get to see any tangible results," Socci says. "With this method, I get to see it materialize in their homes."
How to Make Money as a KonMari Consultant
The process is tough but can be fruitful. Consultants do not have to give the company any of their earnings, according to Quartz, and they set their own rates.
Socci offers a variety of options on her website. Customers can book her for a complimentary half-hour phone consultation or a $75 virtual tidy-up program, but the bulk of her businesses comes from traditional sessions that last between three and five hours. Travel is extra.
Socci says she typically has one client every day, six days a week, whom she guides in tidying clothes, books, papers, miscellaneous items and keepsakes. The average client purchases between four and six sessions, though it can vary.
"Sometimes I see clients for one session, and then I have clients I've seen for 30 sessions," she says. "It depends on how much stuff they have and how quickly they're able to make decisions."
That's the part featured in Kondo's Netflix show: the pulling of long-forgotten bins out of closets, the scrutinizing of old T-shirts, and the parceling of items into smaller boxes to keep everything neat. It can be emotional, but Socci's goal is to support people throughout their journeys. ("There's nothing I haven't seen," she adds.)
In fact, Socci says one of the best parts of being a KonMari-certified organizer is that she gets to meet, and help, such a variety of people. Not only does it keep the job interesting, but it also makes it rewarding.
"People really yearn to improve their lives, to make their home more functional or efficient, so that their lives are a little more relaxed," Socci says. "What I want for them is, when they come home at the end of the day, to feel calm instead of, 'Oh, my God, what do I need to do next?'"