Marriott's CEO Just Made a Pretty Good Sales Pitch for … Airbnb?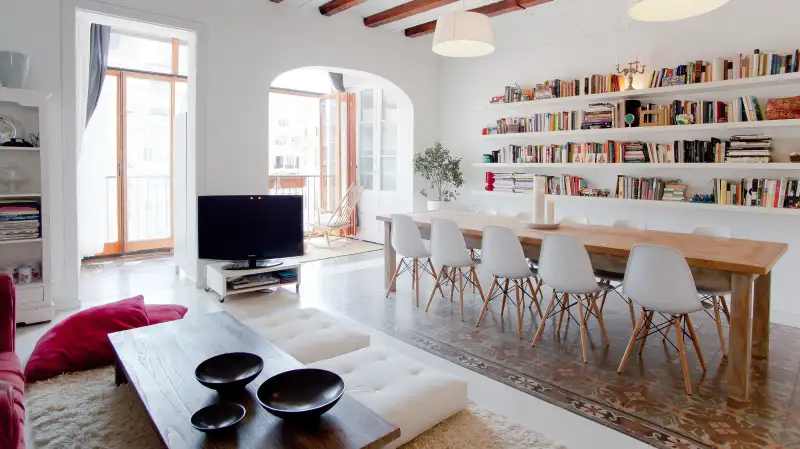 The hotel industry has an uneasy relationship with the peer-to-peer lodging rental giant airbnb. Lawmakers and hotel industry lobbyists have attacked the airbnb model, accusing hosts of operating illegal hotels that don't meet safety code regulations, and that more often than not aren't paying taxes like they should. Data cited recently by The Economist indicates that in cities where airbnb has established a significant presence, the revenues at budget hotels decreased by 5% over a two-year period ending in December 2013. And the amount of business taken away from low-end hotels by airbnb could increase to an estimated 10% by 2016.
At the same time, people in the hotel business—particularly the midlevel and higher-end hotel business—tend to be pretty dismissive of airbnb. If folks in this world talk about airbnb and sharing economy businesses at all, it's generally to argue that these upstarts or "disruptors" are not legitimate threats to established hotel industry players.
That's pretty much what Marriott CEO Arne Sorenson first had to say about airbnb during an appearance on CBS This Morning this week. When asked about airbnb, Sorenson dismissively described the service as an "interesting experiment" that was "fun to watch." It's like what Starbucks would say of a kid who opens up a lemonade stand in front of one of its cafes: cute, but nothing whatsoever to worry about. What Sorenson said airbnb certainly was not was a genuine competitor to Marriott. By extension, he's saying it's not a threat to the rest of the big hotel brands out there either.
As the conversation continued, however, Sorenson wound up pointing out several of airbnb's unique, attractive attributes—features that a regular hotel can't compete with. "They do some things that we can't do," Sorenson said of airbnb. While tourist hotels tend to be found strictly in tourist areas, an airbnb rental is located, by definition, in a neighborhood where real people live. An airbnb rental is a way of trying a neighborhood on for size, without making the commitment of actually renting or buying. Referring to Manhattan, Sorenson said the thinking is, "I want to live in the East Village for a while, or I want to live in the Upper East Side for a while, and see what it feels like."
The attraction of an airbnb rental isn't limited to people curious about living in a given city, Sorenson said. Plenty of travelers visiting cities strictly as tourists want a taste of the authentic neighborhood life as well. "Some people love it, not just millennials but boomers" as well, said Sorenson. The mentality is: "I want to experience a neighborhood, even if I'm on vacation."
There, in a nutshell, is one of the great arguments for skipping a hotel in favor of renting a room, apartment, or entire house from a random stranger. The other big argument, of course, is cost. An airbnb rental will almost always cost significantly less than a hotel offering around the same space for a visitor. A Priceonomics.com study published last summer showed that compared to hotels, on average, you'd save 21% by renting an entire apartment on airbnb, and 50% by renting just a room from an airbnb host.
Despite Sorenson's comments, we probably don't have to worry about him secretly being on airbnb's payroll. After praising some aspects of its "interesting" model, he made it clear that sharing lodging with a stranger "is not everybody's cup of tea," and that many travelers "don't want the creepiness of not knowing who my host will be."
He also gave a plug to Marriott's new hotel brand, Moxy, which the company designed with IKEA for millennial travelers. "We want to make sure that we have brands with increasing levels of affordability," said Sorenson. "One of our newest brands, for instance, is Moxy, a brand we'll open in Milan for the first time this year. It's a reinvention of the economy lodge segment."
The Moxy concept is aimed at young connected travelers who want a social atmosphere. Interestingly, that also happens to be a pretty good description of the typical airbnb traveler. And "a reinvention of the economy lodge segment"? That's a phrase that sounds like it could have been pulled directly from the airbnb website.