Thousands of Marriott Workers Are Protesting Today. Here's Why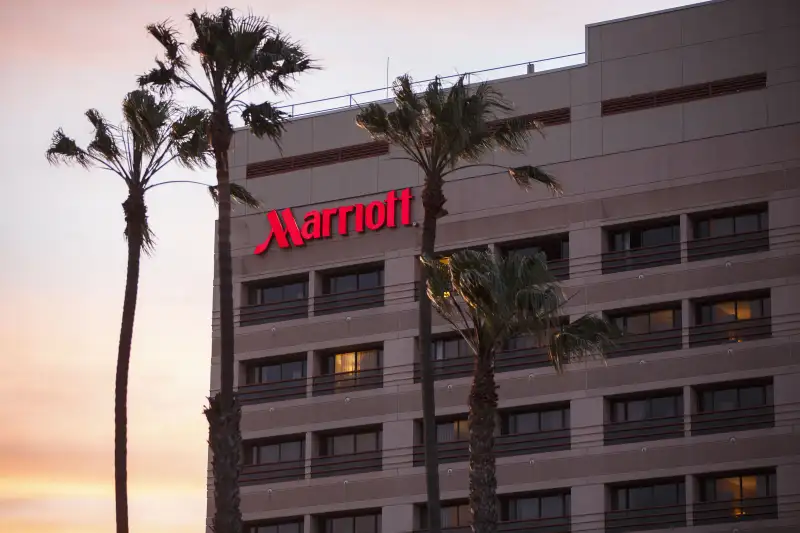 Bloomberg—Bloomberg via Getty Images
Thousands of employees at Marriott International hotels across the country are protesting Wednesday with a wide-ranging list of demands that include safer working conditions, better protections against the sexual harassment and more livable wages.
The call to action comes as the protesters — who work for the largest hotel company in the world that includes brands like Marriott, Ritz-Carlton, W Hotels, Westin and the recently acquired Starwood Hotels — are in the midst of contract negotiations. UNITE HERE, a union that represents thousands of hotel, food service, casino and warehouse employees in the U.S. and Canada, is now negotiating more than 12,000 contracts for Marriott employees, a union spokesperson told Money, with the hope that protests will incite wins and a better deal for these workers. Protests will be held at hotel locations in cities across the country, including Boston, San Francisco, Philadelphia, Seattle and Honolulu.
Marriott International has more than 6,500 properties in 127 countries and drew in more than $22 billion in the 2017 fiscal year, according to the company's website. As a result, union members are hoping the world's largest hotel chain could give employees a bit more so they can afford retirement, avoid further injuries on the job and earn a livable wage so they could live in the city they play host to. Because of Marriott's size and influence, securing a better deal for these employees, Rachel Gumpert, a spokesperson for UNITE HERE told Money, could set a better standard for the hospitality industry as a whole.
"We know that every brand looks to what Marriott is giving workers to set the standard for what they need to do," Gumpert said. "If we're able to secure these changes, not only will it impact more workers, but we'll also be raising standards for the entire industry."
Gumpert detailed how current Marriott employees — some of whom have spent decades in the company's workforce — are often unable to make ends meet, taking second jobs at other Marriott locations to support their families while working physically exhausting jobs that can leave them with chronic injuries. Mei Leung, who has been working at the Sheraton Boston Hotel for three decades, told the Boston Globe she has permanent bruises on her knees from scrubbing toilets and, at age 71, is unable to retire. And BuzzFeed detailed the story of Minh Vuong, a housekeeper at the Westin Seattle location who strained her left shoulder while cleaning 15 rooms a day. That pain is still there, she told BuzzFeed through a translator, and she feels obligated to keep her job out of fear of losing her health insurance.
The last round of contract negotiations for employees happened five years ago — and they now come in a markedly different time in the American workforce. Amid the #MeToo movement, some workplaces across the country have attempted to shift their policies to better protect employees from sexual harassment and assault due to heightened public awareness and demand. In the hotel industry, workers can be vulnerable to hotel guests — particularly housekeepers who may clean hotel rooms on their own — and the union has been fighting sexual harassment issues for years.
And in addition to addressing better pay, many Marriott employees are also hoping for better protections while on the job. Gumpert said current union contracts with Marriott do not include that stipulation that guests who sexually harass or sexually assault employees must be expelled from the hotel. UNITE HERE has won several related battles in recent years in other negotiations. Additionally, the union hopes to provide Marriott employees panic buttons that they can keep on their person, allowing them to alert the hotel immediately if a dangerous situation were to occur.
Marriott did not respond to a request for comment from Money. But last month Marriott executives and shareholders met with several employees who experienced sexual harassment or sexual assault on the job about how the company could improve. At the meeting, J.W. Marriott, Jr., Marriott's executive chairman and chair of the board, told the employees "we're committed to your safety," according to the Washington Post.
Since many of these employees are under union protections, employees at Marriott often earn more than the average hospitality worker in the U.S. — but that doesn't mean they're able to live in the cities where they work. As with many industries, wages have not kept up with the cost of living, particularly in cities like San Francisco and Boston, Gumpert said. She made clear that the union does "not think Marriott is the worst hotel company in the world," but rather wishes to hold the company to a higher standard.
"The reason why we're doing this campaign, though, is that they should be leading the entire industry with the best standards for workers across the board," she said. "We're going to be holding them accountable to be fulfilling the role with the best wages and working conditions for its employees."
This article has been corrected to reflect the spelling of the union's name. It is UNITE HERE, not United Here.