Inside the Fabulous Life of Elon's Mom Maye Musk, a Supermodel Nutritionist Who Spent Her Childhood Exploring the Kalahari Desert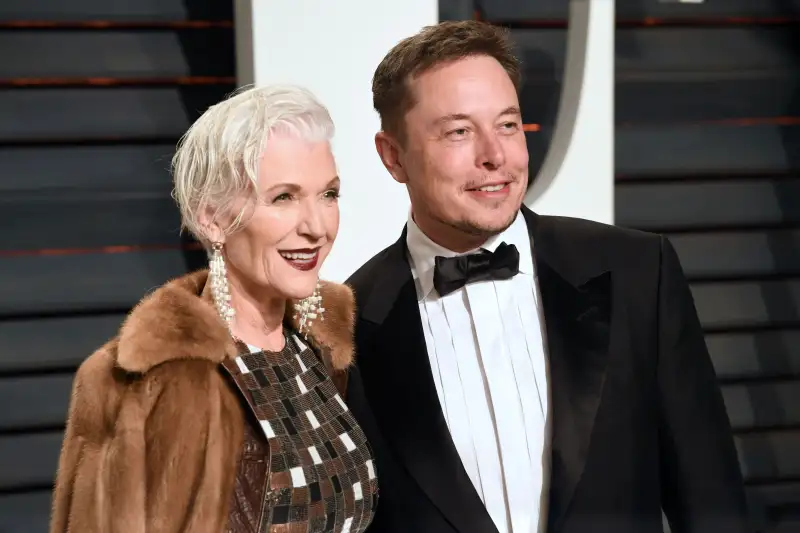 Tyler Boye—WWD/REX/Shutterstock
Tesla and SpaceX founder Elon Musk may be a household name by now, but he isn't the only successful Musk. For more than 50 years, Elon's mother Maye Musk has carved out a multi-dimensional career as a model, nutritionist, and speaker.
Though she's not trying to colonize Mars or build elaborate tunnels underground, Maye Musk has appeared on numerous covers including Time Health and last year became CoverGirl's oldest spokesmodel.
Here's a closer look at the fabulous life of Maye Musk.
Maye Musk's Humble Origins and Early Career
Maye Musk was born in 1948 in Regina, Saskatchewan, Canada. She was a twin and one of five children. Early in her childhood, she and her family moved from Canada to South Africa, where her parents instilled a sense of adventure in her.
In 1952, when Musk was only four years old, her parents flew the family 22,000 miles around the world in a plane her father had brought in pieces from Canada, according to The New York Times. Also during her childhood, she and the family would often explore the Kalahari Desert searching for its mythical 'Lost City.' They retraced the footsteps of Canadian adventurer William Leonard Hunt (alias Guillermo Farini), who claimed he had found the ruins of a massive ancient city while crossing the treacherous desert in 1885. Dozens of expeditions over the following century were launched in vain to find the lost civilization.
At age 12, Musk and her twin sister Kaye worked as receptionists for their dad's chiropractor clinic both before and after school everyday. At 15, she shifted gears and started her career in fashion, which took off during the 1960s with ads for cosmetic brands and companies like Colgate. She won beauty pageants in her hometown, and finished as a finalist in the 1969 Miss South Africa competition.
In 1970, she married Errol Musk, a South African engineer she met in high school. During the '70s, they had three kids – Elon, Kimbal, and Tosca – before getting divorced nine years later.
After 1979, Musk shifted gears and started her dietician practice by cold-calling doctors and sitting in waiting rooms for hours in the hopes that she would get meetings or new clients. Her determination paid off, and once she had fully launched her practice, she often juggled nutrition clients with various fashion shoots.
She has run her own nutrition business for more than 45 years – speaking and consulting as a wellness expert all over the world. She holds two master's degrees in the field – in dietetics from the University of the Orange Free State in South Africa, and in nutritional science from the University of Toronto.
Raising the Musk Kids
Success certainly runs in the Musk family. The mother of "genius boy" Elon emphasizes that all her kids are "brilliant." Today, Maye's younger son Kimbal is a co-founder of The Kitchen, a family of restaurants that sources food directly from local farmers, and Big Green, a complementary nonprofit that builds gardens in schools. Musk's daughter and youngest child, Tosca, is an award-winning filmmaker and TV producer working in Los Angeles.
After finishing high school, Elon chose to leave South Africa and attended Queen's University in Ontario, Canada. In 1989, Musk and the rest of her children followed him by moving from Johannesburg to Toronto according to Business Insider. While raising her three children as a single mother in a small rent-controlled apartment there, Musk worked five jobs at a time to support the family and make ends meet. These included her modeling gigs and working as a research officer for the University of Toronto, so that her children could go to school there for free.
She too attended school at the University of Toronto and earned a Masters degree – working on her practice and attempting to become a registered dietitian, all while running a modeling school and teaching nutrition classes in the evenings, according to her website.
When Elon and Kimbal launched their startup software company, Zip2, Musk would visit her two boys every six weeks, flying from eastern Canada to San Francisco to help keep them afloat financially. In addition to giving them $10,000 (all of her savings from work in Toronto), she would buy them groceries, furniture, paper, and photocopies - "whatever I could afford," as she told Forbes. She eventually moved to San Francisco in 1996 - the year her nutrition book, Feel Fantastic, was published - to be closer to her children.
For Musk's 50th birthday, her two sons gave her a little toy house and car, pledging to buy her the real thing once they became successful – which they did, after selling Zip2 to Compaq in 1999 for $307 million.
Back in the Spotlight
While Elon's net worth is estimated at $22 billion, Maye's is unknown, though she has boosted her income in recent years.
"I was famous until Elon became famous," Musk jokingly told The New York Times in an interview. After living for thirteen years in New York and continuing to split her career between being a model and a dietitian, Musk moved to Los Angeles when Tosca had twins, in order to be closer to her family.
Over the last decade, Musk has graced the covers of New York Magazine and ELLE Canada, not to mention starred in numerous advertising campaigns for companies such as Virgin America, Joe Fresh, Target, Revlon and Clinique.
Her hard work has paid off: she was signed by mega agency IMG Models Worldwide in early 2016, and in September last year, Musk became CoverGirl's oldest model at age 69. Speaking to Vanity Fair about her resurgence, Musk said that she is "living proof that [you can] find work for an older woman...I've never worked so much as I do now."