Meghan Markle and Prince Harry's Baby, Archie, Is Already Royally Rich. Here Are the Numbers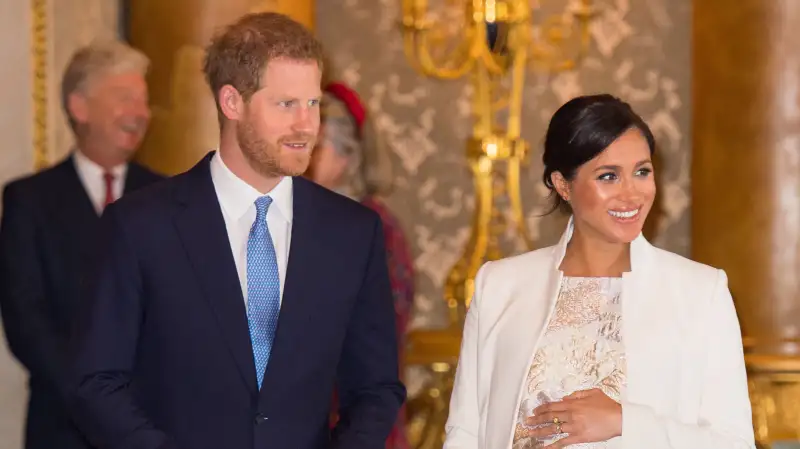 Dominic Lipinski—WPA Pool/Getty Images
As if there weren't enough excitement in the royal family right now, the Duke and Duchess of Sussex confirmed the birth of their son this week. Archie Harrison Mountbatten-Windsor is seventh in line to the throne, behind his grandpa, Prince Charles; uncle, Prince William; cousins, Prince George, Princess Charlotte and Prince Louis; and dad, Prince Harry.
"The Duchess and baby are both healthy and well, and the couple thank members of the public for their shared excitement and support during this very special time in their lives," the palace said in a statement.
Archie's birth was private, but his life will be a public one. Royalty comes with a whole lot of strings attached, and one of those is financial scrutiny.
Here are answers to all your inevitable questions about the Sussex Baby's money.
Archie Is Already Super Rich, Right?
Pretty much. The royal family is valued at about $88 billion, according to Forbes, thanks to assets like the Crown Jewels and the economic power they wield in tourism and fashion.
His parents aren't hurting for cash. When Meghan Markle married into the royal family last year, her net worth was about $5 million. Prince Harry's net worth, on the other hand, is thought to hover somewhere between $25 million and $40 million.
What Is the Sussex Baby Worth?
Well, Archie is only a couple of days old, so let's just take a beat.
OK, now that's done, let's look to Louis as an example. When he was born last year, U.K. consumer research companies told Money the infant was set to generate up to $125 million for the British economy. And that's just in the first couple weeks of life — his siblings, George and Charlotte, were worth $3.6 billion and $5 billion to the economy, respectively. Neither of them have even turned 6 yet.
Joshua Bamfield, the director of the Centre for Retail Research, told Hello Magazine earlier this year that the royal infant could boost spending on baby products by about $1.5 billion over the next couple of years.
So Is Archie an Influencer?
He can't type out #ad in an Instagram caption yet, but yes.
Everything the royal kids wear flies off shelves. When George was born in 2013, the christening shawl he was wrapped in sold out. Then his swaddle blanket. Ditto his sailboat overalls, the dress Charlotte wore to meet Louis, the puppy sweater Louis wore on his first birthday, and so on.
Bamfield told Hello that will likely happen with the newest royal baby, too. "As the child gets older, what he or she wears will be adopted by many other parents, photographed thousands of times and shared with others across the world," Bamfield added. "This pattern will be greatest in the first seven years of the child's life but will continue probably for 20 years."
How Much Will Archie Cost to Raise?
If you're looking to put a price tag on that bundle of joy, you're going to need a lot of zeroes. In 2013, CNN estimated that George's upbringing would cost upwards of $1 million, when care, school, clothing, food, security and more are taken into account.
For comparison's sake, the average cost of raising a non-royal kid in the U.K. is about $300,000, as the Telegraph reported in 2015.
Who's Paying for the Sussex Baby?
Most of the royals' expenses get covered by the Duchy of Cornwall, which is a private estate that dates back to the 1300s. According to its website, the Duchy "is used to fund the public, private and charitable activities" of Prince Charles and his children, William and Harry. The duo also has inheritances from their late mother, Princess Diana.
In general, British taxpayers each pay about 85 cents annually into the Sovereign Grant, which funds Queen Elizabeth II's duties, palace upkeep, royal travel and staff salaries.
What About Archie's Own Taxes?
There's been a lot of buzz around his taxes because the Duchess of Sussex is American, and that makes Archie a U.S. citizen. As such, both the royal baby and his mom are subject to taxes like the rest of us.
The applicable tax policies about income, gifts and trusts are confusing, to say the least.
Did People Make Money Off the Royal Baby?
They sure did.
The New York Times reported that baby-related bets added up to $1.3 million at William Hill, an England-based bookmaker. And that's before you take into account all of the people pulling in profits from merchandise like this $20 Prince Harry, Meghan Markle and Baby Sussex T-shirt or this $395 limited-edition Baby Sussex enamel box.
This story has been updated with the royal baby's name.