You Can Buy a $4,650 Replica of Meghan Markle's Wedding Reception Dress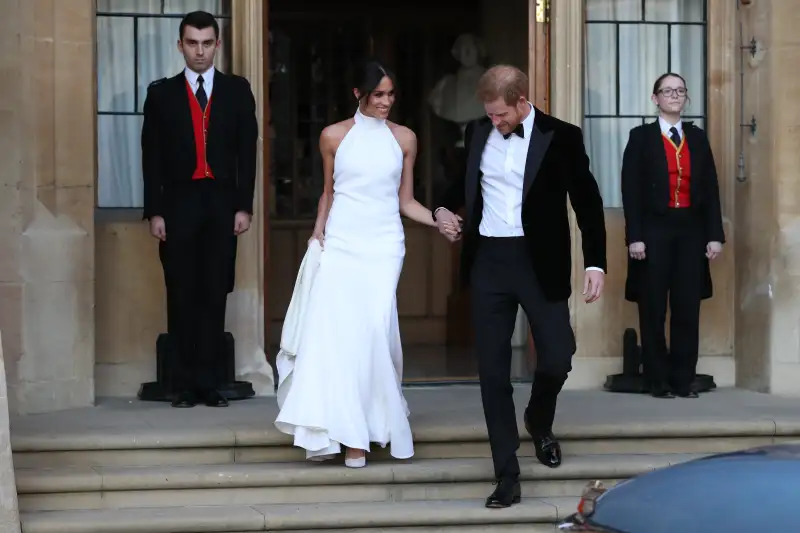 Millions of people watched Meghan Markle walk up the aisle in a Givenchy wedding dress as she married Prince Harry at Windsor Castle last month.
But for many, the fashion highlight of the royal wedding was the long, white Stella McCartney halter dress she wore as the couple rode to their post-wedding reception in a blue Jaguar. And now, a few lucky people will be able to recreate the Duchess of Sussex's wedding reception look, but it won't be cheap.
Designer Stella McCartney announced plans to sell 46 replicas of Markle's reception dress — 23 in white and 23 in black — to celebrate the launch of her new London store at 23 Old Bond Street. The replicas, which are made of sustainable viscose rather than the silk crepe of the original, will cost £3,500, or $4,650. The dresses are part of McCartney's Made With Love mini-collection, which she plans to expand into a full wedding collection in spring 2019, according to The Telegraph.
To be one of the few lucky recipients of the Markle lookalike gown, prospective buyers must apply to come to an in-store viewing by emailing 23oldbond.store@stellamccartney.com. A select few will receive a personal invitation from McCartney herself.
The McCartney dress is much more expensive than the average amount Americans typically spend on their wedding dresses. Most women dole out $1,564 for their wedding dress, according to a survey from the Knot. The average wedding dress cost was a little lower in a 2017 survey conducted by Lyst, which estimated that most women spend about $998 — about $300 less than the 2016 average — on their gowns.