Money is not a client of any investment adviser featured on this page. The information provided on this page is for educational purposes only and is not intended as investment advice. Money does not offer advisory services.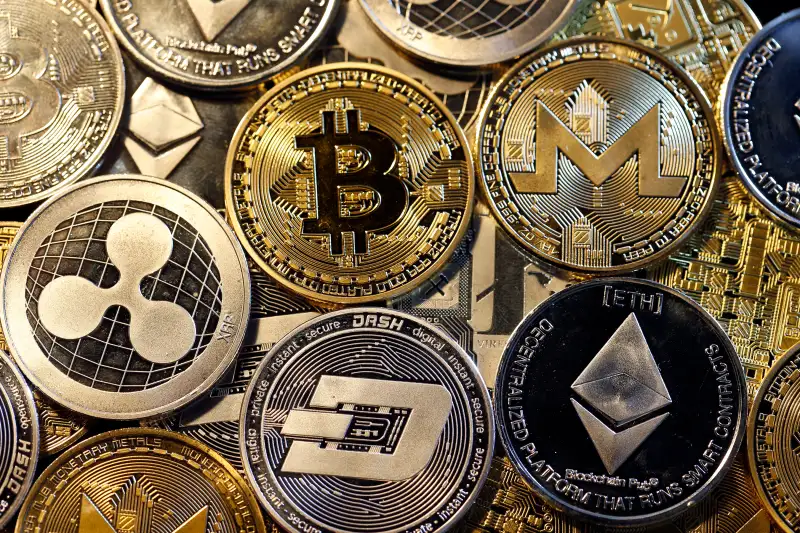 Cryptocurrency wallets come with all kinds of features and abilities. The best crypto wallet for your needs will depend on which tokens you plan to invest in and what you plan to do with them. This article takes a look at the MetaMask crypto wallet to see what sets it apart from the competition and where there's room for improvement.
Best for Ethereum
MetaMask was launched in 2016 by blockchain technology company ConsenSys. The MetaMask wallet allows you to connect your browser to the Ethereum blockchain for buying, selling and trading Ether, Ethereum Request for Comment 20 (ERC-20) tokens and NFTs. It also simplifies access to decentralized applications (dApps), decentralized finance (DeFi) assets, online gaming platforms and decentralized exchanges (DEXs).
If you're new to cryptocurrency and need a brief introduction to crypto wallets, take a look at our breakdown: What is a crypto wallet?
MetaMask Crypto Wallet pros and cons
Pros
Simplified setup process
Easily buy and transfer Ethereum-based tokens
DApps (decentralized applications) access
Cons
No desktop app — must be used on a web browser
Only supports Ethereum and ERC-20 tokens
Pros explained
The MetaMask crypto wallet has a lot of upsides and is one of the best crypto wallets available. It's one of the most popular crypto wallets because of its simplified setup process, how easy it is to buy and transfer Ethereum-based tokens through the wallet and its access to decentralized applications (dApps).
Simplified setup process
Setting up a new MetaMask wallet is a straightforward process. First, you need to download and install the MetaMask browser extension. Make sure to download the extension from the official MetaMask website to prevent any chance of downloading a fake version that hackers can use to scam unsuspecting consumers. The MetaMask extension is compatible with the following web browsers:
Mozilla Firefox
Google Chrome
Microsoft Edge
Brave
Once downloaded, open the MetaMask extension and you will have the option to import an existing crypto wallet or create a new one. If you open a new wallet, you will need to accept the terms of use and create a password for your MetaMask wallet login.
MetaMask will also issue you a 12-word seed phrase as an extra security precaution. This 12-word phrase is a recovery tool for wallets on the blockchain and a type of key that can unlock access to your wallet later on. Remember to write this phrase down and keep it in a safe and private location. Anyone with access to your 12-word seed phrase could potentially steal all the cryptocurrency associated with your wallet.
Once you have written down your phrase, you must verify it on the site. Keep in mind that there is no MetaMask wallet verification email, as accounts are not associated with email addresses. MetaMask has stated through its Twitter support account that if you receive an email that looks to be coming from MetaMask and it's asking you to verify your account, it's a phishing scam.
Easily buy and transfer Ethereum-based tokens
MetaMask wallets were made for the Ethereum network and support all tokens created with the Ethereum blockchain. As Ether (ETH) is the native coin of the Ethereum blockchain, it is supported by MetaMask.
Other tokens made on the Ethereum blockchain are referred to as ERC-20 tokens. Some examples include:
Shiba Inu (SHIB)
USD Coin (USDC)
Tether USD (USDT)
BNB (BNB)
HEX (HEX)
MAKER (MKR)
DAI Stablecoin (DAI)
Binance USD (BUSD)
Bitfinex LEO (LEO)
MetaMask is only able to hold Ethereum-based tokens. As bitcoin is not associated with the Ethereum blockchain, MetaMask wallets can't store bitcoins. You will need to use a different crypto wallet if you are interested in investing in bitcoin.
MetaMask allows you to transfer Ethereum-based tokens to your wallet from some of the best crypto exchanges, like Coinbase and Kraken. You can also add ETH straight to your MetaMask wallet through a direct bank transfer or a credit or debit card.
DApps (decentralized applications) access
One of the main reasons that ConsenSys created MetaMask was to make dApps easier to access. DApps run on decentralized peer-to-peer (P2P) networks, which keeps them more transparent and accountable than traditional apps. With MetaMask, you can access dApps, games and NFTs based on the Ethereum blockchain.
MetaMasks's dApp access makes it easy to find any Ethereum-based dApp and connect it to your personal MetaMask wallet. Some of the more popular categories for dApps include marketplaces, collectibles and DeFi, where you can find some of the best crypto staking platforms.
MetaMask's dApp access is also very convenient, as you can purchase ETH with a credit card and spend it on dApps through your MetaMask wallet. Buying ETH on a centralized exchange and then transferring it to your wallet for dApps can be time-consuming and more expensive.
Cons explained
No cryptocurrency wallet is perfect, and MetaMask is no different. Some of the downsides of the MetaMask wallet are the inability to directly install it on a desktop device and the lack of support for fiat currencies.
No desktop app
Although you can install MetaMask wallets as browser extensions, they are not desktop wallets. MetaMask wallets connect to the internet through your browser extension, so your wallet's data is always online. Desktop wallets, on the other hand, store your crypto data directly on your hard drive, which can only be accessed via the computer where it's installed.
Only supports Ethereum and ERC-20 tokens
This may not be a disadvantage for those who only want to trade on these specific blockchains, but it can be for anyone who wants to branch out to other digital assets at a later point. For example, you can't trade bitcoin or Solana on Metamask since these crypto assets run on entirely different chains.
MetaMask Crypto Wallet offerings
The MetaMask wallet is an open-source, non-custodial wallet that allows you to easily buy, sell and trade ETH and other ERC-20 tokens. Other features of the MegaMask crypto wallet include its blockchain application connection, peer-to-peer token swaps and cold storage compatibility.
Blockchain application connection
MetaMask offers a secure way to connect to blockchain-based applications. You can browse over 2,700 dApps on the Ethereum network alone. A centralized authority does not control these dApps, and the data is spread across multiple nodes, making them difficult to hack.
Some popular dApps that are on the Ethereum blockchain are:
Axie Infinity
Opensea
Uniswap
Gitcoin
AAVE
MakerDAO
Compound
Rarible
Token swaps
The MetaMask wallet comes with the ability to trade tokens with other users. This P2P token swap does not depend on a custodial platform or exchange. Instead, the swap takes place right from your wallets. Token swaps on MetaMask lower costs, save time and limit slippage in price.
Cold crypto storage
Cold storage, also known as cold wallets, is a type of cryptocurrency storage that is not connected to the internet. It won't protect you from popular crypto scams, but it is very safe and keeps your private keys and data offline.
A MetaMask crypto wallet is considered hot storage or a hot wallet since it's based online. MetaMask allows you to transfer ownership of your cryptocurrency to cold storage devices, also known as hardware wallets.
The cold storage companies that are compatible with MetaMask are:
Lattice
AirGap Vault
Keystone
Ledger
Trezor
You will need to transfer your cryptocurrency to cold storage via the browser extension, as MetaMask does not allow you to move crypto this way through its mobile apps.
EIP-1559
Ethereum Improvement Proposal 1559 (EIP-1559) was released on August 5, 2021. It's an upgrade to how Ethereum miners process network transactions. In cryptocurrency, a miner is a computer network that processes transactions in exchange for a fee. Before the application of EIP-1559, the Ethereum blockchain used a first-price auction system where miners would process the transactions of the highest bidder. First-price auctions often required users to wait for extended periods or overpay for their Ethereum transactions to complete.
The EIP-1559 upgrade introduces changes to Ethereum's transaction fee mechanism, replacing the first-price auction with the fixed-price sale. This change in Ethereum allows you to calculate the fee that a transaction will cost, which consists of a base fee and a tip. The base fee will depend on network traffic, while the tip is an optional payment that you can add to speed up and incentivize the processing of your transaction.
The EIP-1559 upgrade works for all MetaMask users regardless of the platform. MetaMask also includes advanced options to customize your gas fees. You can change your gas settings by clicking the Settings tab, Advanced and then Advanced gas controls.
MetaMask Crypto Wallet pricing
MetaMask is free for anyone to use but charges additional fees for some of the services on the platform. With a MetaMask wallet, you can receive digital assets for free, but buying, selling and swapping assets will result in a fee.
Swapping assets entails a service fee of 0.875%. The blockchain network will also require a gas fee, consisting of a base fee and an optional tip you can send to miners to prioritize and expedite the transaction. If you use a MetaMask wallet, you can customize your gas fee to control your spending.
MetaMask Crypto Wallet financial stability
MetaMask was created by ConsenSys AG, which is valued at over $7 billion as of its last funding round in March 2022. To better understand ConsenSys AG and MetaMask's financial stability, we looked at the most recent Year in Review report for MetaMask Institutional, the company's Web3 wallet for organizations.
The report asserts that 2022 was an exceptional year for MMI, despite the volatility present in the crypto market. Moreover, the total value locked or assets deployed in MMI increased by roughly 8% week-over-week for the entire year and the number of signed organizations increased by 4X.
As always, remember that the cryptocurrency industry is unstable. Be cautious and do plenty of research before investing in crypto.
MetaMask Crypto Wallet accessibility
The MetaMask crypto wallet is accessible to anyone with an internet connection that installs the wallet's extension on Google Chrome, Microsoft Edge, Mozilla Firefox or Brave. You can also download a MetaMask wallet app for iOS or Android devices.
Availability
MetaMask is a non-custodial wallet, meaning it does not store private keys or personal data on a centralized server. Non-custodial wallets are available worldwide.
Contact information
MetaMask does not offer live support or a phone number to reach a customer service representative. The best way to contact a representative of MetaMask is to go to their Support page and click on "Start a Conversation" or email their customer service team at support@metamask.io.
User experience
MetaMask currently has over 21 million active users each month. It has grown in popularity in recent years due to its seamless compatibility with Ethereum assets and dApp access. Its features may be complicated for investors new to the crypto industry, so MetaMask is recommended for intermediate to advanced crypto investors.
MetaMask Crypto Wallet customer satisfaction
There are only three MetaMask wallet reviews on the Better Business Bureau site, with a customer review rating of 1 out of 5 stars. More than 33,000 reviewers on the App Store rated MetaMask, giving it an average of 4.7 out of 5 stars. The app earned an average of 4.4 out of 5 stars on Google Play from more than 174,000 reviews.
MetaMask Crypto Wallet FAQ
What is a MetaMask Wallet?
MetaMask is an open-source hot wallet that is free to download and use. Metamask wallets allow you to buy, sell and trade ERC-20 tokens and NFTs on the Ethereum blockchain. They also provide access to the Web3 ecosystem of dApps and Ethereum-based DeFi ecosystems.
How do I use MetaMask Wallet?
You can install the MetaMask wallet as a browser extension or an app on an iOS or Android device. After creating an account, you can buy, sell or trade NFTs and cryptocurrency based on the ETH blockchain.
Is MetaMask Wallet safe?
Although hot wallets are always online and at risk of being hacked, MetaMask is a safe wallet for storing cryptocurrency. It's a non-custodial wallet that does not store user data on a central server. This means you are responsible for protecting your own private key (the 12-word seed phrase) and other private data.
One common scam to be aware of is hackers creating fake versions of MetaMask. If you download an unofficial version of MetaMask, your coins will likely be stolen when you transfer them into your wallet. To prevent scams like this, download MetaMask from its
official websitet
.
How we evaluated MetaMask Crypto Wallet
To evaluate the MetaMask crypto wallet, we looked at its features, security, usability, costs and customer support compared to its competitors.
Summary of Money's MetaMask Crypto Wallet review
The MetaMask crypto wallet is an excellent option if you are interested in investing or accessing anything on the Ethereum blockchain. With features that allow you to easily connect to dApps and swap crypto assets without using an exchange, MetaMask has become one of the most used crypto wallets worldwide.
Some features may be too complicated for those new to the crypto space, but the MetaMask crypto wallet is a great asset for intermediate to advanced investors. Download a MetaMask crypto wallet for free from their website and see if it suits your needs.