Student Protesters Nationwide Demand Free Tuition, $15 Minimum Wage, No Student Debt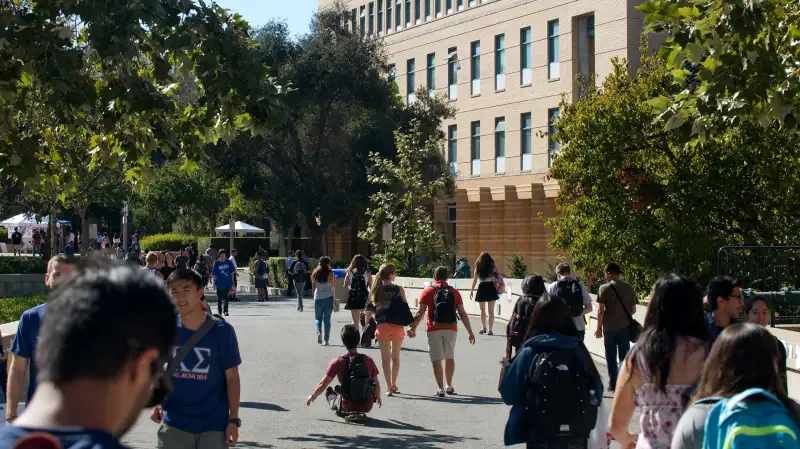 Steve Zylius—UC Irvine Communications
Fed up with rising student debt and the continuing climb of tuition costs, college students across the country are planning to walk out of classrooms today to demand change.
Students on more than 100 campuses said they plan to protest—from the University of California system on the West Coast to private colleges around the Boston area in the East. The event, called the Million Student March, was organized mainly through social media, so it's unclear how many students will show up to participate.
The students are pushing for a $15 minimum wage for student employees on college campuses, free tuition at public universities, and the abolition of student debt.

The goals were inspired by a comment U.S. Senator and Democratic presidential candidate Bernie Sanders made earlier this year, when he said it'd take a million students marching to make elected officials care about higher education, Kevin Sabo, a UC Berkeley student told the Daily Californian.
"If a million young people march on Washington they [say] to the Republican leadership, we know what's going on, and you better vote to deal with student debt. You better vote to make public universities and colleges tuition free, that's when it will happen," Sanders said during an interview with Yahoo's Katie Couric in June.
And indeed, the marchers' demands share a lot in common with Sanders' ideas. He's been a vocal supporter of a higher minimum wage and has a proposal to make tuition free at public colleges through a tax on Wall Street transactions.
Even with all the attention on making college more affordable, a nationwide $15 minimum wage for campus employees and free tuition at public colleges are lofty goals. Abolishing the country's more than $1.2 trillion in student debt is an even bolder demand. But there are advocates pushing to make student debt easier to discharge in bankruptcy court and a group of students from the now shuttered for-profit Corinthian College who are refusing to pay their debt. One of the national organizers for the Million Student March, Keely Mullen, told other media outlets than many students planning to protest today attended for-profit colleges.

NEWSLETTER: COLLEGE_PLANNERSign up for COLLEGE_PLANNER and more View Sample
Mullen is a Northeastern University student who estimates she'll graduate with about $150,000 in debt. While student debt no doubt is challenging more households than ever before (more than 40 million Americans have some), it's important to bear in mind that Mullen's debt load is an outlier. Six-figure student debt usually belongs to people who have gone back to school for graduate or professional degrees or attended expensive for-profit programs. The average undergraduate debt is a (still hefty) $30,000 or so.
Finally, while student activists may be passionate about free tuition at public colleges, parents in a recent survey by Money and Kaplan Test Prep were less enthusiastic. Yes, making two years of college free for everyone was the most popular of five potential college affordability solutions, but only 45% of parents supported the idea.
Want more college-related content from Money? Check out our news and advice page on the new Money College Planner website.
Read Next: The Million Student March Protesters Say They're Just Getting Started