This Map Shows the Last Time Your State Raised Its Minimum Wage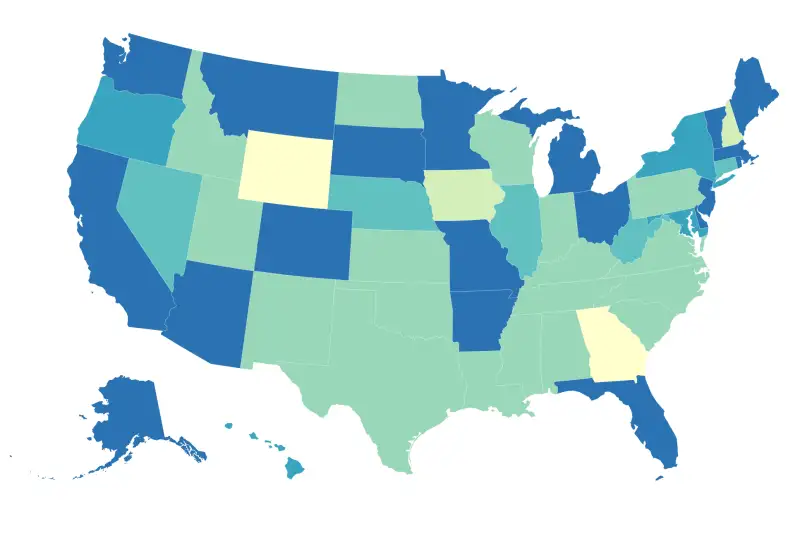 A new year means a new paycheck for millions of Americans.
There has been a minimum wage increase in 20 states as of 2019, raising pay for more than 5 million workers. The minimum wage also increased in 24 cities as well as the District of Columbia, and other states like Oregon will see minimum wage increases throughout the year. The boosts vary in size — from as small as a 5¢ bump in Alaska to a $2 increase in New York City — and will hike annual pay for impacted employees by $90 to $1,300, according to the Economic Policy Institute, a think tank that focuses on low- and middle-income Americans.
Still, the minimum wage looks quite different from state to state. For example, the 2019 Florida minimum wage is $8.46, while the state minimum wage for Arizona is $11 in 2019. More than half of U.S. states have increased minimum wages on the state level through legislative efforts, ballot measures, and inflation adjustments in recent years. Twenty-one states use federal minimum wage standards to determine compensation for relevant employees.
But, at $7.25 per hour, the federal minimum wage hasn't increased since 2009. In lieu of federal policy, states, cities, and businesses have implemented changes on their own. From Alaska's bump to $9.89 to San Francisco's push to $15, the increases push beyond the constraints of a $7.25 per hour wage — especially in cities and states with high costs of living. The national Fight for $15 movement has incentivized states, cities, counties, and businesses to reach that threshold. As of Dec. 31, 2018, New York City reached $15 and the rest of the state will hit that mark in the coming years. The California minimum wage will reach $15 in 2023, as will Massachusetts.
What's the minimum wage in your state? The map below shows the minimum wage by state and the last time it increased.
Historically, this type of change on the state level could reflect an opportunity to raise the federal minimum wage. Back in 2006 and 2007, state minimum wage hikes picked up steam and the federal government raised the minimum wage not too long after, says Dave Cooper, a senior economic analyst at the Economic Policy Institute. But prior to those raises in 2007, 2008, and 2009, the federal minimum wage hadn't increased in a decade, Cooper notes. "Now, we're in a similar situation," he says.
Businesses have used minimum wage bumps to attract and retain employees amid a tight labor market. Last year, Amazon hiked its minimum wage to $15 per hour — which affects workers in fulfillment centers located in states like Alabama and Indiana. Target employees will earn $15 per hour by 2020, and Walmart employees are hoping their employer will follow suit.
This year could mark a change in the federal minimum wage. Democrats have regained control of the House, and raising the federal minimum wage is a priority. While historically Democrats have been in favor of wage hikes, the initiative has seen bipartisan support from Americans in recent years. Critics of these wage hikes say it could lead to job loss, and they worry about government involvement in determining wages and where the money would come from.
Over the last two decades, Cooper says, economists have found that raising the minimum wage has benefited the welfare of workers, increased spending power, and that the impact on job loss "is not economically meaningful." Cooper warns prolonging wage hikes could make it more difficult to catch up with the cost of living down the road.
"The longer we put off raising the minimum wage, the bigger the gap we have to try to make up to get the same purchasing power," Cooper says. "The longer we wait to take action, the larger this problem becomes for future lawmakers and future generations."