These 18 States Just Raised Their Minimum Wage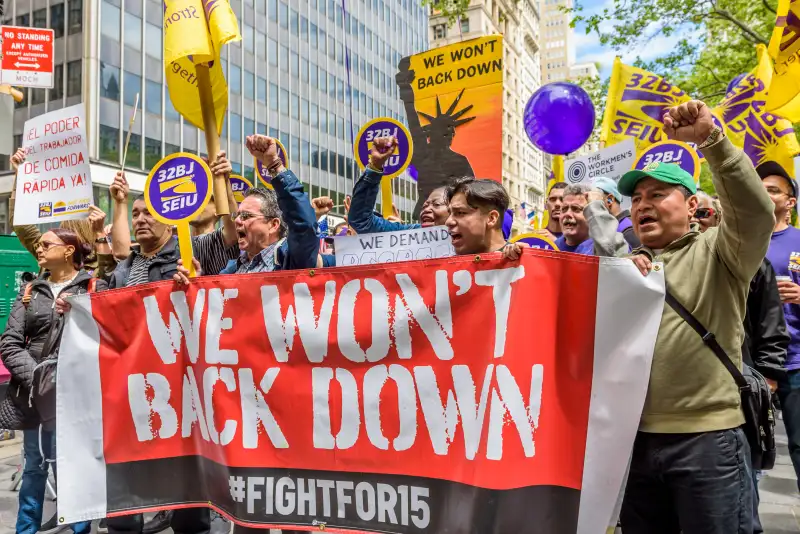 Erik McGregor/Pacific Press—LightRocket via Getty Images
Minimum-wage workers across the country have good reason to celebrate the start of the New Year: about 4.5 million of them just got a raise.
18 U.S. states and 20 cities increased their minimum wage on January 1, with bumps ranging from $.04 for workers in Alaska to $1 for workers in Maine.
Washington, which hiked its minimum wage from $11 to $11.50 an hour, now has the highest minimum wage in the country.
Several cities and counties are sending wages even higher than the state floor. In California, cities like Mountain View, Sunnyvale, and Palo Alto raised the minimum wage to $13.50 or higher. In New York City, the minimum wage is now $12 for small businesses and $13 for businesses with 11 or more employees.
Over the last several years, labor advocacy groups like Fight for 15 have called for higher wages for fast food, retail and other traditionally low-paying jobs. This new round of wage increases, many of which are the result of new legislation passed by voters, will eventually reach $15 an hour once they are fully phased in, according to the National Employment Law Project.
The federal minimum wage has stayed at $7.25 an hour since 2009, a figure the Economic Policy Institute estimates should be close to $19 today, factoring in inflation and cost of living.
Here are all the states that rang in the New Year with a wage increase, and how much more money employees can expect to see on their paychecks:
Alaska
Increase: $.04
New Minimum Wage: $9.84
Arizona
Increase: $.50
New Minimum Wage: $10.50
California
Increase: $.50
New Minimum Wage: $11.00
Colorado
Increase: $.90
New Minimum Wage: $10.20
Florida
Increase: $.15
New Minimum Wage: $8.25
Hawaii
Increase: $.85
New Minimum Wage: $10.10
Maine
Increase: $1.00
New Minimum Wage: $10
Michigan
Increase: $.35
New Minimum Wage: $9.25
Minnesota
Increase: $.15
New Minimum Wage: $9.65
Missouri
Increase: $.15
New Minimum Wage: $7.85
Montana
Increase: $.15
New Minimum Wage: $8.30
New Jersey
Increase: $.16
New Minimum Wage: $8.60
New York
Increase: $.70
New Minimum Wage: $10.40
Ohio
Increase: $.15
New Minimum Wage: $8.30
Rhode Island
Increase: $.50
New Minimum Wage: $10.10
South Dakota
Increase: $.20
New Minimum Wage: $8.85
Vermont
Increase: $.50
New Minimum Wage: $10.50
Washington
Increase: $.50
New Minimum Wage: $11.50