The New Mommy Blogger: Instagram Famous, Highly Paid, and Sponsored By Minute Maid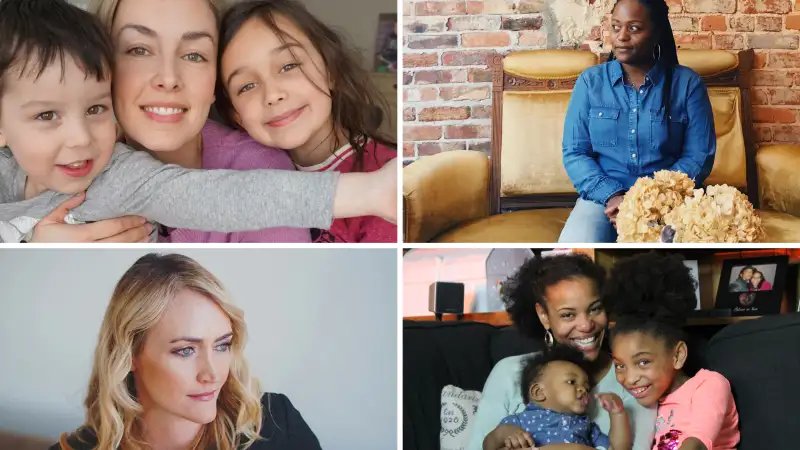 (clockwise from top left) courtesy of Amanda Muse; courtesy of LaShawn Wiltz; courtesy of Brandi Riley; Angie Monson
Before LaShawn Wiltz had more than 25,000 followers on Instagram, she had a blog.
Wiltz was part of the "mommy blogger" revolution that formed over the last decade as current, future and experienced mothers took to the internet to share their unfiltered experiences with motherhood, careers, families and everything in between. Wiltz launched a blog titled the "Chronicles of Pookah's Mom" in 2009, but, with the rise of new social media platforms and other forms of online storytelling, as well as her own lifestyle changes with the growth of her son, the blog has evolved.
"Everyday Eye Candy" still chronicles her life — but now, she makes a full-time salary through online advertising, sponsored content and a $150-per-person course she offers online for aspiring Instagram influencers. Just a few months ago, Wiltz, 42, quit her full-time job as a nurse to have a more flexible schedule to support her son and husband — a decision that would not have been possible, she said, without the income she earned through her "Everyday Eye Candy" platforms.
Waltz is one of many parents who have turned their blogging into full-time jobs. These bloggers began the rise of the social media influencer as the market for sponsored content grows and online writers find new ways to monetize their work, marketing professionals told Money. Now, these women aren't just blogging — they're also on Instagram, YouTube, Twitter, Facebook, Pinterest with tens of thousands to millions of followers and fans following their daily routines. "It's basically like word of mouth on steroids," said Danica Kombol, the president and founder of Everywhere Agency, which works with brands to partner them with influencers.
Mommy blogging, for lack of a better term, has shifted from storytelling and advice to the development of a vast coalition of female entrepreneurs and influencers set on not just making money themselves, but helping others do the same. These content creators now host workshops, run consulting platforms to help aspiring entrepreneurs earn cash and attend conferences to provide insight on the ever-changing market. Indeed, the term "mommy blogging" is perhaps outdated now when describing what these women do for a living.
And even as the tides shift from simply blogging to creating a multi-platform, profitable brand, more women are looking to get into "mommy blogging." In fact, influencer marketing is expected to grow to a $10 billion industry by 2020, according to Mediakix. The Mom 2.0 Summit, which draws hundreds of bloggers, influencers and marketers from around the country (and world), just wrapped up its 10th annual conference earlier this month with its highest-ever attendance.
"Women are at the forefront of the discussion," John Pacini, a brand marketer and founder of the Dad 2.0 summit said alongside the founders of the Mom 2.0 summit in an interview with Money. "This influencer marketing online began with parents, but as it has grown, so many in this community are now influential to others as well."
Here is how the mommy blogging world has changed over the last decade, and where some of its leaders think the community is headed next.
A focus on sponsored content — and authenticity
Angie Monson—courtesy of Heather Armstrong.
With the growth of sponsored content, veteran bloggers and new ones, alike, are grappling with similar issues: Will it look like I'm a sell-out? How do I balance my authentic content and the sponsored kind? What if I don't actually like the product? How do I protect my children?
"I was so worried about the public perception of, 'Am I selling out with sponsored content?'" said Brandi Jeter Riley, who created her blog "Mama Knows It All" eight years ago. "The reality is it's my job to earn income from this site, and I don't feel ashamed about it."
Brands like Dove, Minute Maid and dog food brands have sought the help from social media influencers and bloggers to promote their products to their loyal followers. It's a vital part of making a living off this kind of content creation now.
But it also poses issues for veteran bloggers like Heather Armstrong, the Salt Lake City-based creator of "Dooce," one of the earliest and most popular parenting blogs. Armstrong, known for her brash sense of humor and honest musings about her personal and parenting life, initially struggled to find an earnest way to use sponsored content while keeping her blog authentic. ("I exploit my children for millions and millions of dollars on my mommyblog," she sarcastically describes herself on Twitter to her 1.5 million followers.) She began her blog in 2001 and it eventually supported her entire family financially — but she has had to adapt and change the platform throughout its 17 years of existence.
"I still have to infuse my irreverent sense of humor," Armstrong, who the New York Times dubbed the "Queen of Mommy Bloggers" in 2011, said. "Most women out there are just posting photos and there's not a whole lot of substance out there aside from my beautiful child frolicking through Central Park."
Armstrong has had demanding contracts with ad networks, and positive experiences with others. She has promoted Canidae, a brand of dog food, for 13 years and is transparent about her partnership with the company in her blog posts. Indeed, her blog doesn't just cover her life as a parent — it also covers other personal elements to her life, like pets, her very public divorce and her experiences with depression. Her authentic storytelling is why she has such a loyal group of followers who, when she paused her blog briefly from 2015 to 2017, begged her to return.
Authenticity is key for brands when they choose which influencers to work with, according to Kombol, of Everywhere Agency. "The really successful influencers share the good, the bad, and the ugly. They also clearly aren't just out there for another sponsored opportunity. We really shy away from working with influencers where every post is a sponsored post and they're constantly shilling for brands."
The more Instagram-based influencers like Wiltz, who began her blog in 2005 and joined Instagram about a year after it launched, are in luck, too. It's the most in-demand platform for sponsorship deals, Kombol said, and authenticity sells on there as well.
"In the beginning, it was all about showing this perfect version of our lives — the highlight reels. Now it's coming back around to sharing real stories and sharing our lives as they really are," Wiltz said. "That is having an impact on how we monetize, what we share and when we share it."
Wiltz has a number of sponsored posts mixed into her Instagram page, including one where she drinks Minute Maid with her son. In another, Wiltz poses with a number of Walgreens beauty products like an exfoliating scrub and lotion — all while using her caption to tell the story of how her mother always washed her face at night and how that taught her the importance of taking care of yourself.
Constantly adapting — and in charge of their own careers
Courtesy of Amanda Mulherin
Amanda Mulherin is not a "mommy blogger" — she's a "mommy vlogger." The 34-year-old launched her YouTube channel "AmandaMuse" in 2012 — a year after her daughter was born — in search of a community. She started making money off of it four years in through campaigns with brands, and she only created a blog to serve as a landing page for all of her platforms. While she still posts videos on YouTube regularly, she also does Facebook Live events and posts sponsored content on Instagram as well.
Mulherin is one of those content creators who is constantly shifting and adapting to whatever form of storytelling is most relevant. So, next up, she's starting a podcast. "In order to stay in the space, you have to think about how people are using technology," she said.
"Try new things and do it well," she added. "You see people fizzle out if they're unwilling to change."
Other women have used their experience in other ways to adapt to new storytelling methods — and their changing personal lives. Riley, who runs "Mama Knows It All," launched her mommy blog when she was a single mother living in Philadelphia in the spring of 2010. It wasn't until she met a group of other "mommy bloggers" in the area that she learned she could make some money off of her blogging. Eventually, the income she earned from her jobs at nonprofits and marketing agencies doubled.
Now, she's married and lives in California and has seen her blog traffic change and develop with the rise of platforms like Pinterest, her top traffic driver.
"I'm in charge of my earning potential," Riley said. "I don't have to wait for someone to give me a paycheck. If I want a bonus this month, I can go sell more products."
Courtesy of Brandi Riley.
After she found success, Riley created "Courage to Earn," a platform she uses to help other female entrepreneurs get paid for their work and learn how to develop blogs with potential for profit.
Isabel Kallman, who abandoned her Wall Street gig years ago to launch "Alpha Mom," has found that being her own boss has allowed her not only to do fulfilling work, but also balance parenthood. She spoke to Money on the phone just after hiking eight miles in Zion National Park with her son on a Monday. "I always wanted to create my own schedule," she said. "Before, I had to be at a trading desk at 6:30 a.m."
"Now," she added, "I'm able to be in Utah hiking with my son. That's unbelievable."