Why I Gladly Paid $2,000 to Become a Beginner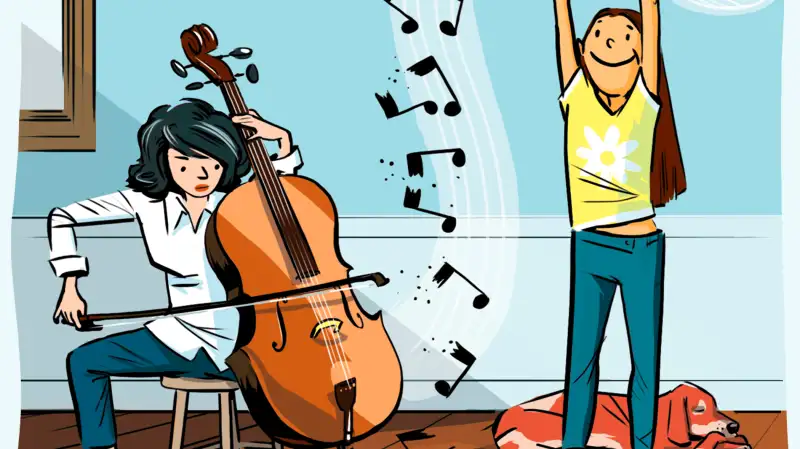 Illustration by Dave Urban for Money
Last year I spent $1,000 on a high-quality used cello. Then I invested $500 more on repairs and a new bow and case. I also signed up for $70 weekly private lessons. The running total: about $2,000 to date. It's the most money I've ever spent purely on myself.
"Fantastic!" my friends said when I told them about my purchases. "How long have you been playing?"
I had intended to take it up. I played piano as a child and throughout high school, and I told everyone that when I turned 70, I would start the cello and spend my retirement playing Bach.
Fast-forward 30 years: I'm a 47-year-old working mother/stepmother of two teenage girls. I spend my days running the communications team for a nonprofit organization, and in my few off-hours I write fiction and memoirs.
One day I listened in as my daughter and stepdaughter explored the exciting activities awaiting them as they prepared to start high school. "Basketball sounds fun," one said, "but everyone else has played since they were 10."
"Why should I join the band?" said the other. "It's not like I'm going to make a living as a musician."
I was taken aback by their timidity in the face of opportunity. When did my kids absorb the message that high school extracurriculars were about pre-professionalism, not pleasure? I never had the talent to be a working musician, but from childhood to today, music was part of my life.
Then I realized it wasn't.
While I still thought of myself as musical, my kids knew nothing about my passion for making music. I realized that I couldn't wait until I was 70. In a world where 14 is considered too old to start something new and teenagers are pressured to find a career path before they leave high school, becoming a beginner felt like a necessity, not a luxury.
So now I'm playing Bach. Badly. And I love it.
Also making music: The child who balked at joining the band. Encouraged (I can only hope) by my own flight of musical fancy, she signed up to play the baritone sax. It's now her favorite extracurricular activity.
Anne Burt is chief communications officer for Facing History and Ourselves, a nonprofit education organization.
Do you have a purchase you consider Money Well Spent? Email us about it and what it means to you at wellspent@moneymail.com.