20 Places With Special Brunch and Dinner Deals for Mother's Day 2018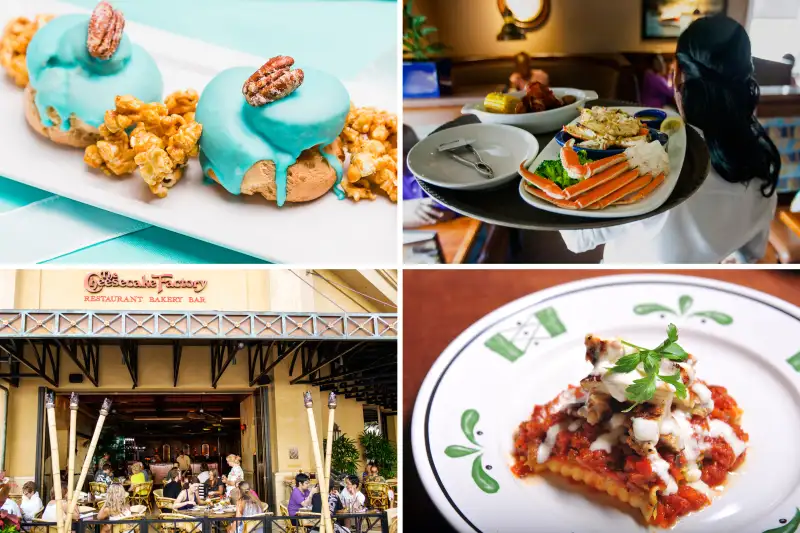 (clockwise from top left) Heather Kennedy—Alamo Drafthouse; Getty Images (3)
Happy Mother's Day 2018!
The big day is Sunday, May 13, and if you haven't made reservations for Mother's Day brunch or dinner yet, don't freak out. There are plenty of restaurants with Mother's Day deals this year.
In addition to Mother's Day 2018 brunch menus and dinner specials, many of the big restaurant chains have gift card deals right now that come with bonuses—typically for free food in the future. Better yet, there are plenty of Mother's Day freebies out there for Mother's Day 2018 too.
Many restaurants open on Mother's Day early to accommodate customers who want to treat mom to a Sunday brunch deal before noon. So check Mother's Day restaurant hours in advance at your preferred establishment because you may be able to get a table earlier than you'd thought.
Here are the best Mother's Day 2018 brunch deals we could find, as well as some Mother's Day dinners, special menus, and takeout promotions.
Select Alamo Drafthouse Cinema theaters around the country will host special Mother's Day brunch showings of movies like "Breakfast at Tiffany's" and "The Sound of Music" on Sunday. Among the brunch menu items are warm quinoa breakfast cereal and a pairing of chocolate truffles with a white hot chocolate shot.
Throughout the entire month of May, including Mother's Day 2018, Boston Market customers can buy a whole rotisserie chicken for $2.99 with the purchase of any family meal.
On Saturday, May 12, and on Sunday, May 13, Bravo Italian has a Mother's Day 2018 special menu available until 3 p.m. with items like bread pudding French toast, filet mignon, and a prosciutto frittata. A similar Mother's Day menu is available this weekend at the Brio Italian chain, owned by the same company.
Brunch is served from 10 a.m. to 2 p.m. every Saturday and Sunday at the Cheesecake Factory, including Mother's Day 2018. Lemon-ricotta pancakes, eggs benedict, fried chicken and waffles, and more are on the menu. Customers also get a $10 bonus for buying a $50 Cheesecake Factory e-card by May 13.
On Saturday, May 12 (but not Mother's Day itself), Chicken Salad Chick has a Perfect Pair special, with two scoops of chicken salad, egg salad, or pimento cheese for $5.99.
Fleming's locations open at the special time of 10 a.m. on Mother's Day 2018 for a three-course brunch deal. Selections include Fleming's signature surf and turf eggs benedict and cinnamon apple brioche french toast, with prices starting at $47 for adults.
Moms who dine at the Brazilian steakhouse chain Fogo de Chao on Mother's Day get a dining card good for free lunch, brunch, or dinner on their next visit. Note: Kids 6 and under are always free at Fogo de Chao, and kids 7 to 12 pay half the adult price.
On Saturday and Sunday, Luby's restaurants have Mother's Day specials including citrus salmon for $13.99 and Texas ribeye steak with six shrimp for $15.99. Both entrees come with bread and two sides. Luby's has a variety of fresh-baked desserts available to-go this weekend as well.
The Mother's Day brunch at participating Marie Callender's locations features a carving station, create-your-own omelets, a Belgian waffle bar, and fresh baked goods.
McCormick & Shmick's has a wide variety of options like eggs benedict, bananas foster French toast, and swordfish casino for Mother's Day brunch or dinner.
A three-course Mother's Day menu, available from 11 a.m. until closing at Mimi's Café, costs $18.99 for adults and $8.99 for kids. Adult entrées include slow-roasted turkey, fire-grilled shrimp brochette, and quiche lorraine, with a choice of molten lava cake or chocolate chip bread pudding for dessert.
For Mother's Day 2018, Morton's is featuring a steak and lobster entrée for $59.
The Mother's Day 2018 menu at 99 Restaurants, available on Saturday and Sunday, features fresh strawberry margaritas, lobster bisque, prime rib, and baked chocolate chip cookie skillet for dessert.
Olive Garden restaurants open early (10:30 a.m.) on Sunday, May 13, for Mother's Day 2018, and if you purchase a $50 gift card, it comes with a $10 bonus card good for use in June.
The Queensland Meal—"fit for a queen," according to Outback—includes an entrée like garlic shrimp topped filet or a seven-ounce grilled salmon, plus an individual-size cheesecake for dessert. It's available through May 15, and prices vary by location.
Red Lobster opens on Mother's Day 2018 at the special time of 10:30 a.m. If you buy a $75 gift card to the restaurant chain, you'll get a pair of bonus offers—each good for a free appetizer and $10 off two entrées valid later this summer.
Romano's Macaroni Grill locations open early on Sunday (9 a.m.) for a special Mother's Day brunch, with options like avocado toast and sweet berry French toast. A prix fixe two-course dinner menu is available as well for $25, featuring entrées like salmon piccata and chianti steak.
Many Ruth's Chris locations open at noon on Mother's Day 2018, with specials such as Ruth's Surf & Turf starting at $49.95. Moms who dine at Ruth's Chris on Mother's Day get a $25 dining card for use in the future too.
Shoney's has an all-you-can-eat buffet on Sunday priced at $12.99 for adults, and all moms get a free slice of strawberry pie.
Throughout Mother's Day weekend, a special featuring a 10-ounce ribeye and four jumbo grilled shrimp, with soup or salad and a choice of a side, costs $21.99 at Texas Corral.