Nathan's Famous Is Selling Hot Dogs for 5 Cents on Saturday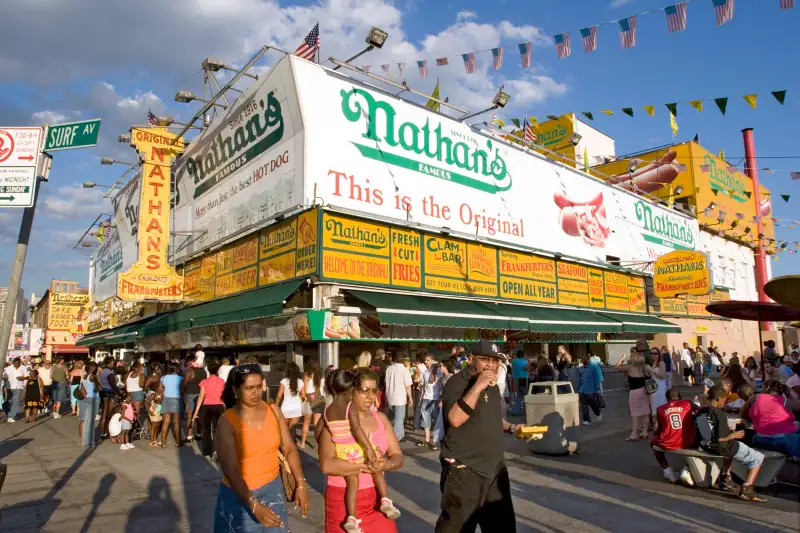 They might often coexist side by side on the grill, but this weekend the barbecued meat rivalry of hot dogs versus hamburgers is heading to the next level. While May 28 is regularly celebrated around the country as National Hamburger Day, Nathan's Famous is stealing a little of this food holiday's thunder by also declaring Saturday, May 28, as 5¢ Hot Dog Day.
You probably have a pretty good idea of what happens on this day: Yes, Nathan's will be selling hot dogs for 5¢ apiece. That was the original regular price charged for a hot dog, and Nathan's is bringing it back in honor of its 100th anniversary.
The promotion is highly limited, however: The 5¢ deal is being offered only at Nathan's original location—the corner of Stillwell and Surf avenues in Coney Island, Brooklyn—and it's only valid from 11 a.m. to 2 p.m. There's a two-hot dog limit per person as well. Take note, though, that Nathan's promises: "Commemorative Certificate available for all who attend!" (We added the exclamation point because, come on, it's totally called for.)
If you can't make it to Coney Island, or refuse to go anywhere near that Nathan's because there are sure to be insane lines full of people eager to drop a dime on a pair of dogs, take note of two other deals being offered nationally by Nathan's. Register here and you'll get coupons valid for a buy-one-get-one-for-5¢ hot dog offer at participating Nathan's locations around the country, and for a buy-one-get-one-for-5¢ pack of Nathan's hot dogs at supermarkets all over. These coupons, mind, you are good through June 30, 2016.
As for National Hamburger Day, inevitably some restaurants are promoting burger deals, but in all honesty they're not on par with the summer's freebie days, when everyone gets free donuts or Slurpees with no purchase required.
Read Next: All the Free Stuff Veterans & Active Military Get for Memorial Day Weekend
More likely, the burger deals you'll see on Saturday, May 28, are like those offered by Ruby Tuesday, which is giving a free burger with the purchase of an entrée—for people who have signed up to receive e-coupons via the restaurant's "So Connected" club. For more National Hamburger Day promotions along these lines, check out a roundup from GoBankingRates.