Here's How Much Money It Takes to Become a National Spelling Bee Champion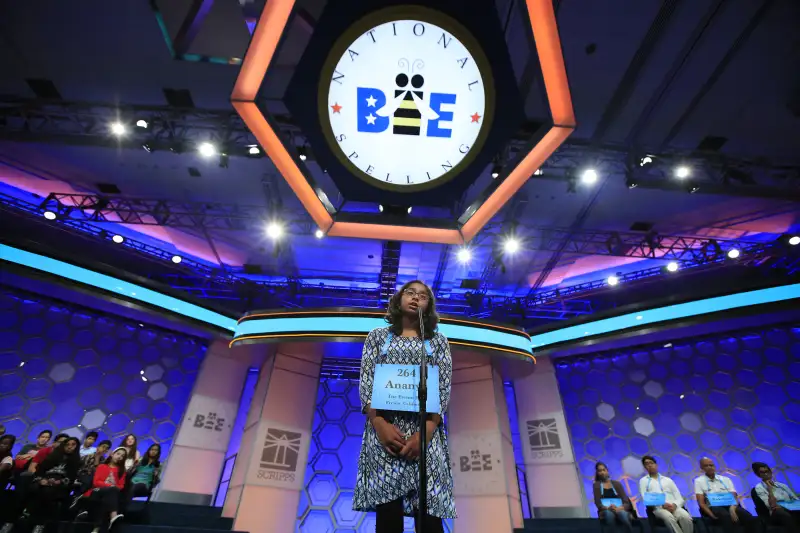 Can you spell G-L-O-R-Y?
That's what 519 kids and tweenagers in the Scripps National Spelling Bee are fighting for this week in Washington, D.C. And while young competitors' dreams will be made and broken on the honeycomb-themed stage Tuesday, Wednesday and Thursday, there's a lot more than bragging rights riding on their performance. In many cases, parents have invested thousands of dollars in their kids' bids for bee stardom.
In fact, money may matter more than ever at the 2018 bee due to a new rule concerning qualifications for the nationally televised contest.
Previously, you had to win a regional bee in order to compete at the national bee, but this year, anyone who won a school-level bee could apply for a wildcard. About 240 kids were accepted this way, and unlike spellers on the traditional bee path, they had to pay a $750 entrance fee out-of-pocket, according to the Omaha World-Herald. They also had to cover travel and lodging.
Bottom line: If you want to raise a champion speller, you'd better be ready to pay up.
Cash for Cram Sessions
When Mira Dedhia decided she wanted to try for the bee in seventh and eighth grade, her mom knew she could save on one thing: coaching. Whereas the Washington Post reported that some people spend up to $200 an hour for spelling lessons, Mira's mom Lekshmi Nair had the knowledge to do it for free.
Nair, a radiologist who competed at the national bee three decades ago, coached Mira herself for her two appearances. They'd sit in Nair's office together, cramming for three hours every day after school and up to seven hours on the weekends.
"It was intense," Nair tells Money, and it came with an unexpected expense. Because she was busy with Mira almost every night, Nair had to pay for child care for her younger daughter. Nair's relatives often watched the little one free of charge, but she had several babysitters on call.
Nair also says she spent about $2,000 on paper and digital study materials for Mira, mostly from Hexco. The Texas-based company has a monopoly of sorts on the spelling market — on its website, Hexco brags that the last 20 consecutive national bee champions have used its materials, and 82 percent of the words in the 2017 bee were in its products. Prices range from $9 to $219 for items like the New Bee Prepared guide, which explains contest rules, history and advice, and the Webster Detector, which tracks words that get changed and added in the dictionary.
"There's so much stuff," Nair says. "Once [Mira] showed me that she was coming back in eighth grade and really serious, I went ahead and spent that money."
It paid off: Mira placed third at the national bee last year.
But Mirle Shivashankar, an IT expert who coached his daughters Kavya and Vanya to their respective victories in 2009 and 2015, says people don't need fancy materials to score well. He quizzed his kids directly from the dictionary, which he says "has everything a person needs to understand about etymology and word roots."
In order to devote himself to tutoring them, Shivashankar quit his hobbies — he was just learning to play golf at the time — and devoted his spare time to spelling research.
"What I gained from the time I spent with my kids was invaluable, as well — [it's] not money, but something that I can treasure throughout my life," Shivashankar adds.
BYO Bee Cheerleaders
After winning a regional bee, spellers typically get a sponsor — often a newspaper — that covers travel to D.C. and hotel accommodations for them and one adult. That was the case for Mira and the Shivashankars, but both families went above and beyond.
The first year Mira made it to the national bee, Nair and her husband tagged along, which meant paying out-of-pocket for one extra flight. The second year, they went even bigger. They brought a "whole cheering squad," Nair says, inviting their younger daughter and both sets of grandparents.
"It was a splurge, for sure. I just wanted all the grandparents to be there," Nair adds. "She'd been working so hard."
Each person's flight was about $270. Then, for a little over $2,000, Nair booked a three-bedroom condo unit near the Gaylord National Resort and Convention Center for everyone to stay in. They skipped expensive tourist attractions, but Mira did get a new Urban Outfitters top for the finals.
For some families that raise multiple spellers, the Bee Week is an annual pilgrimage. Mark Hoffman tells Money he attended five times between his two daughters, Jordan and Sophia, trips made possible by the generosity of sponsors.
Similarly, the Shivashankars have been going to the bee for 12 years now. They pay for the extra plane tickets so they can all fly together to D.C. for the contest and its related activities, which include a welcome barbecue where the spellers team up for a scavenger hunt, do crafts, play games and eat burgers.
His family is attending this year even though they don't have any spellers in the contest. Kavya is part of the bee staff, and Vanya helps with ESPN's coverage.
"We're still stung by the Bee Week, because we keep going out," Shivashankar says. "For what we're getting out of this whole experience, the amount of money we might have paid... $1,000, $2,000 each trip is nothing."
Tasos Katopodis/EPA/REX—Shutterstock
Turning Prizes Into Profit
National bee champions do enjoy a hefty return on investment: They go home with a $40,000 cash prize, a $2,500 U.S. savings bond and a small library of reference books.
But Kavya and Vanya didn't blow their winnings on anything crazy. According to Shivashankar, their prize money "went straight to the 529 plan" for college, with one exception. He let them get a puppy, a yellow Labrador named Champ.
How much other spellers earn depends on how far in the competition they get. This year, finalists who get eliminated in rounds four through six win $500 gift cards. People who get out in round seven or finish in seventh place get $2,000. The sixth place winner gets $2,500; fifth, $5,000, and fourth, $10,000. The third place speller wins $20,000, and the runner-up gets $30,000.
The prize sums fluctuate from year to year. Back in 2015, runner-up Cole Shafer-Ray earned only $7,500. He put the money to good use, launching a small coaching business at thespellingchamp.com. As of last summer, the website was getting 10,000 hits a week.
"It's not a very saturated market," the 17-year-old says. "There's not a whole lot of options, and the main competitor, Hexco, has very high prices. I'm like the only legitimate competitor."
In December, Shafer-Ray released The School Spelling Bee Supplemental, a list of 1,200 hand-picked words he currently sells for $35. But in his clients' eyes, his most valuable offering is experience: He advertises on the site that he has "been around the spelling scene long enough to know exactly what and what not to study."
To that end, Shafer-Ray offers Skype tutoring sessions at $100 an hour. He has 10 students he virtually coaches once or twice a week, teaching them language patterns and assigning homework as part of a personalized plan. His customers also get access to a 90,000-word master list that's not sold separately.
But as a high school junior who also plays varsity soccer and leads the Young Democrats club, Shafer-Ray can't get to everyone. He says has 500 people on his coaching waitlist, and that's one reason he's planning to continue expanding his business by hiring more ex-spellers.
In the meantime, he's saving his spelling-related earnings — and occasionally treating his friends to lunch.
"It's been really lucrative this whole time, and I haven't had to get a job at McDonald's or anything," he adds.