Today Is National Taco Day 2018! Here's Where You Can Get Free Tacos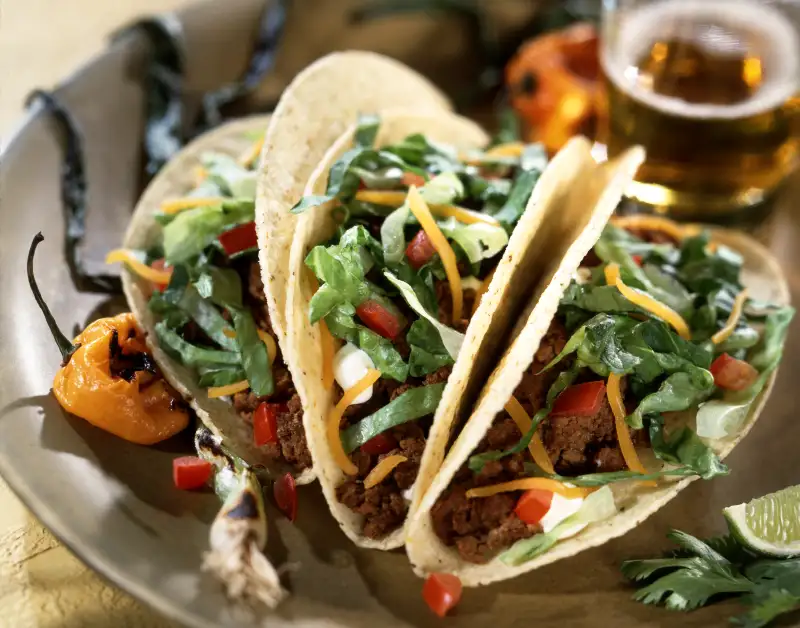 Free tacos and endless tacos are among the tasty deals you'll find on National Taco Day 2018 — which is Thursday, October 4. That's today!
Chuy's, Del Taco, El Pollo Loco, and Chronic Tacos all have free taco deals today, while other big taco chains like Taco Bell and On the Border have special National Taco Day promotions offering cheap tacos you won't want to miss.
Here's where to find free tacos and other deals for National Taco Day 2018.
There are no free tacos at Taco Bell on Thursday. But Taco Bell does have a decent National Taco Day 2018 deal: the National Taco Day gift set, featuring a choice of four tacos for $5.50.
California Tortilla customers get buy-one, get-one-free tacos all day on Thursday for National Taco Day 2018. You can select from a range of tacos including blackened fish, Korean BBQ, and "California Sunset" with the deal. Note, however, that there is a limit of five free tacos per person.
Chronic Tacos will leak a code word on its social media pages that will give you a free taco for National Taco Day 2018 on Thursday.
You must earn your free food at Chuy's on National Taco Day 2018: Anyone who dresses up as a taco on Thursday gets a free meal at Chuy's. Everyone else can get $1 tacos and $1 off Modelo Especial beers on National Taco Day at Chuy's.
For National Taco Day 2018, Del Taco has a special deal offering buy-one, get-one-free shredded beef soft tacos. Show this Del Taco coupon to take advantage of the deal, valid on Thursday, October 4, only.
Use this coupon at El Pollo Loco on National Taco Day 2018 and you'll get a free chicken taco with any food or beverage purchase.
Enter your name and email address and you'll get a coupon good for a free Baja Street Taco on Thursday at participating Greenleaf's Beyond Great Salads locations.
Customers at Jimboy's Tacos will get a free original ground beef taco on Thursday with the purchase of another taco at regular price. Jimboy's Tacos is based in northern California and has roughly 40 locations — all in California and Nevada.
Members of Moe's rewards program can get one free taco with the purchase of two other tacos, and the deal is valid from October 4 to 7.
Unlimited tacos cost just $8.99 at On the Border Mexican Grill & Cantina on October 4 for National Taco Day 2018. For that price, you can get as many ground beef or chicken tinga tacos as you like.
At Rubio's on Thursday, you can get a free fish taco with any beverage purchase. Show this coupon to get your free taco.
On National Taco Day 2018 at Taco Bueno, you'll get a free Texas Street Taco with the purchase of any adult entrée.
Through Friday, October 5, members of Taco John's rewards app can get one free crispy beef taco per day. No purchase required.
The special National Taco Day 2018 deal at Tijuana Flats is two tacos, chips, and a drink for $5.99.