NBA Finals Game 7 Ticket Prices Shoot Up an Extra $1,000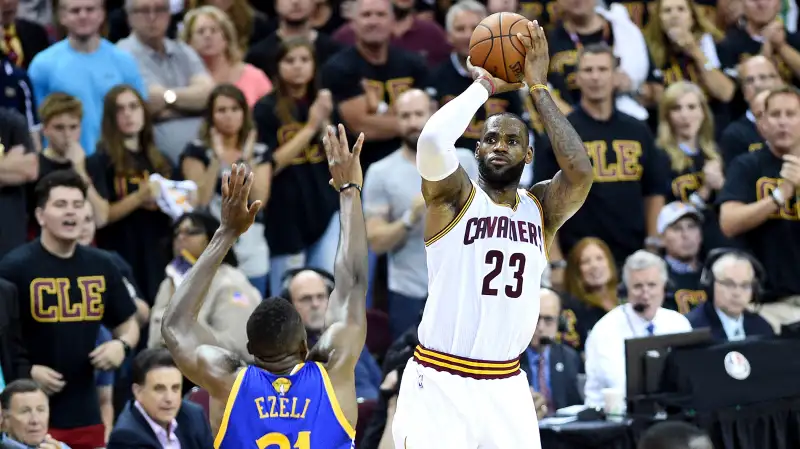 Bob Donnan—USA Today Sports/Reuters
After the Cleveland Cavaliers beat the Golden State Warriors in back-to-back games, the NBA Finals are tied 3-3. The winner of Game 7, hosted by the record-setting Warriors at Oracle Arena on Sunday night, will be crowned league champions.
Now that we are down to just one, winner-takes-all game, both the hype and ticket prices are soaring to new heights. When the series got under way, ticket prices on the secondary market were averaging $1,582 over all seven games, and $1,722 for games at Oracle Arena.
According to the ticket resale and research site TiqIQ, seat prices jumped after the Cavaliers won Game 5, and have popped extra high after the Cavaliers' Thursday night win forced a Game 7 to be played. As of Friday, the average list price for Game 7 tickets was a whopping $2,792. That's over $1,000 more than what the average list price was for all Oracle Arena games before the series started.
These are list prices, mind you. The average sales price of late is $1,943 according to TiqIQ. (It's lower than the current list price because it includes tickets sold before Game 6.) Another site, SeatGeek, reports that the average price paid for Game 7 tickets is up to $2,153, compared to $1,417 for the last game played at Oracle Arena, Game 5.
The cheapest seats in the house are currently being listed for between $850 and $1,000 at resale sites such as StubHub, Vivid Seats, and TiqIQ. These prices are higher than the last two NBA Finals Game 7s: Celtics-Lakers seats averaged $1,812 and the cheapest get-in ticket was $612 in 2010, while the Spurs-Heat averaged $1,347 and the cheapest ticket was $440 in 2013.
The prospect of an intense, history-making basketball game isn't the only reason ticket prices are high for Sunday's matchup. The Warriors, who play in Oakland just across the bay from San Francisco, have drawn a particularly popular following among Silicon Valley tech executives as well as celebrities like Jake Gyllenhaal, MC Hammer, Chrissy Teigen, and John Legend.
Read Next: 7 Movies That Are Secretly All About Money
These are people who can afford to pay big bucks for tickets. That's nice for resellers, who are asking as much as $60,000 for a single courtside seat to Game 7. Again, that's only a list price. The highest paid price for a Game 7 ticket—so far—is "only" $10,100, according to TiqIQ.