Check Out the Surprising NBA Rookie Whose Jersey Is Selling Like Hotcakes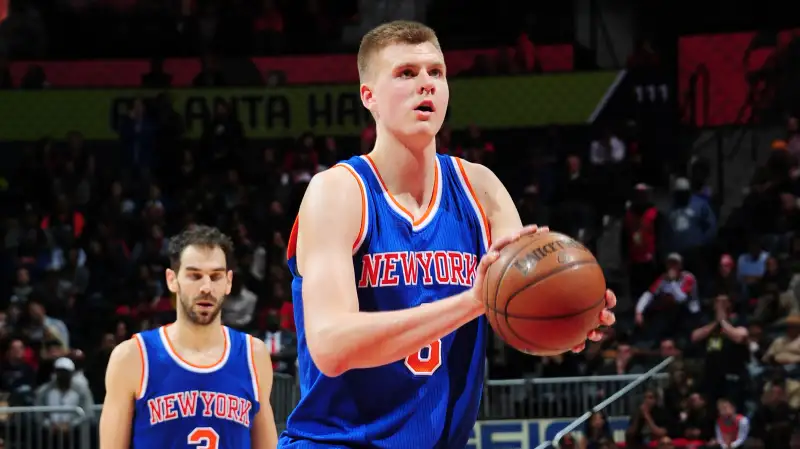 Scott Cunningham—NBAE/Getty Images
It's not "Linsanity." But it's in roughly the same ballpark—or court, if you'd prefer. And specifically, that court is New York City's Madison Square Garden.
Generally speaking in sports, it's easy to predict which players will have the hottest-selling jerseys—most obviously, reining MVPs, recent world champs, and all-time greats.
Occasionally, however, an exciting, out-of-nowhere player captures the imagination of fans, who quickly clamor to associate themselves with the hot new thing. In the past, we've seen sudden surges in jersey sales of the likes of T.J. Oshie, Colin Kaepernick, and Jeremy Lin, who became heroes on the national stage after surprisingly grabbing glory as stars of the U.S. Olympics hockey team, San Francisco 49ers, and New York Knicks, respectively.
Now it's time for another Knicks' upstart to shine. We speak of Kristaps Porzingis, the 7'3", 20-year-old rookie center from Latvia who was booed when the Knicks selected him with the #4 pick in last June's draft. Today, however, after an exciting breakout performance during the first half of the NBA season, Porzingis is being celebrated for coming in #4 in terms of jersey sales in the league.
As early as mid-November, not long after Porzingis scored 29 points in a home game against the Charlotte Hornets and his status as an MSG favorite soared, the (New York) Daily News noted that the rookie's No. 6 jersey was sold out at many stores and websites, including the NBA's online store. The Knicks were only a dozen games into the season at the time.
Read next: These NBA Teams Have Cheaper Tickets Than the Top College Basketball Squads
The supply of Porzingis jerseys has since been replenished, and sales have remained incredibly strong. Thus far in the 2015-2016 season, only the unstoppably popular trio of Stephen Curry, LeBron James, and Kobe Bryant are selling more jerseys than the previously unknown Porzingis. As ESPN noted, Porzingis is the only rookie in the top 15 for jersey sales, and he is outselling established superstars like Kevin Durant (#5), Russell Westbrook (#7), and Knicks' teammate Carmelo Anthony (#15).