New Cars Just Saw the Biggest Price Drop in a Decade: Report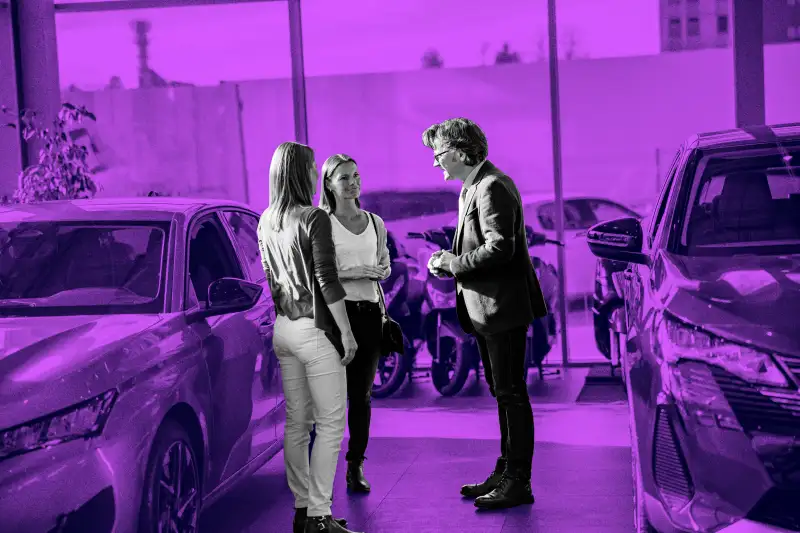 In a refreshing turn of events, new car prices are falling as dealership lots start to fill up.
Average new vehicles prices just had their largest January-to-June drop in the past decade as the auto market seems to be moving past a particularly awful period for buying cars marked by supply shortages and soaring costs.
The average price of a new vehicle was $48,808 in June, which is $865 lower than the average transaction price in January, according to a new report from Kelley Blue Book.
That means prices are down 1.7% since the start of the year. This is the first time car prices have declined over an extended period of time since they started to boom when the industry ran into supply shortages in 2021.
"A year ago, the industry was looking at transaction prices that were consistently up 10% to 12% year over year. With no inventory in place, it was inflation gone wild," Michelle Krebs, executive analyst at Kelley Blue Book's parent company Cox Automotive, said in the report.
Prices are coming down as the supply of new vehicles picks up while high auto loan rates suppress demand. New vehicle inventory was 1.95 million at the end of June, which is an increase from 1.75 million in January, according to Cox.
Top 10 car brands with biggest price drops in 2023
From January to June, average transaction prices fell the most for these 10 makes of vehicles:
Tesla: $7,166 ($62,272 to $55,106)
Land Rover: $6,882 ($106,834 to $99,952)
Lincoln: $3,038 ($68,274 to $65,236)
Volvo: $2,718 ($59,825 to $57,107)
Mercedes-Benz: $2,233 ($84,874 to $82,641)
Fiat: $2,201 ($32,730 to $30,529)
Volkswagen: $1,934 ($39,473 to $37,539)
Buick: $1,594 ($39,224 to $37,630)
Polestar: $1,558 ($64,057 to $62,499)
Nissan: $1,244 ($36,635 to $35,391)
New car prices drop as inventory rises, especially for EVs
Electric vehicles are the segment of the car market seeing the biggest price declines since the start of the year. According to Krebs, the decline in EV prices "has been a key driver of overall, industry-wide price moderation."
The average transaction price for EVs was about $53,400 in June, down from more than $61,000 in January. Price cuts from EV makers like Tesla have brought transaction prices down, but inventory is also very high for EVs.
Kelley Blue Book reports that at the current pace of sales, it would take 103 days for the total inventory of EVs in the U.S. to sell, which is nearly double the supply for new vehicles in general (53).
A year and a half ago, the supply for new vehicles was just half of what it is today. While 53 days is still a bit shy of the 60-day target that the industry has historically considered normal, the rebound means that buyers are in a better position to find a deal because dealerships and automakers are under more pressure to move metal.
The car market is improving for buyers
Two things are happening at the same time that are helping buyers: Automakers are increasing their incentive spending and dealerships are agreeing to sell cars with larger discounts off sticker prices.
Kelley Blue Book reports that the average incentive spend from manufacturers was $2,048, or 4.2% of the purchase price, in June, following nine consecutive months of increases. Incentives can take the form of special financing deals or cash rebates.
New cars are also now selling for more than $600 below sticker price on average, according to data from Edmunds. While the situation varies by brand, the overall trend is toward buyers having greater ability to score a discount at the dealership.
New vehicle prices are still more expensive than they were a year ago. But average prices are up only by 1.6% over the past 12 months. That's a great improvement from this time last when, when the year-over-year increase was 12.4%.
More from Money:
Car Dealers Have Way Too Many EVs (and That's Good for Buyers)
Money's Best Autos of 2023, From Sports Cars to SUVs