Why New Parents Deserve to Splurge on Themselves Sometimes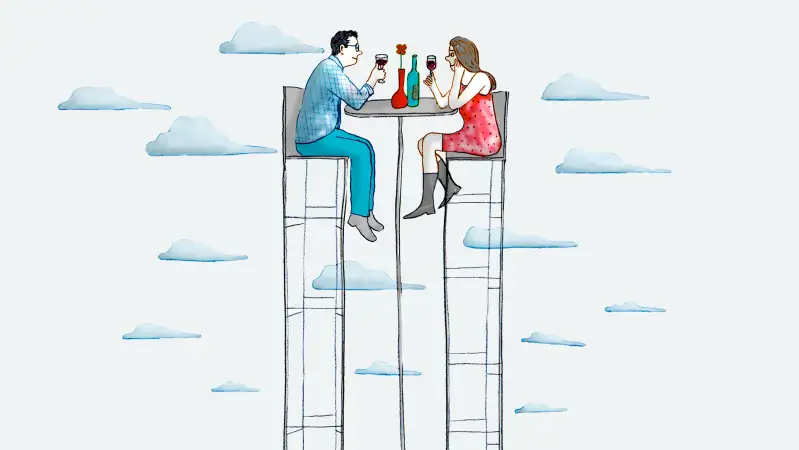 Part of the joy of raising an infant is accumulating his toys and books and play mats and teethers and clothes and pacifiers and chairs and bottles and strollers and carriers and … well, you get the idea. Clutter is a part of life, and the fact that Luke, our 6-month-old son, is gathering enough junk to take over our apartment means he's becoming a person. I own, therefore I am.
Still, there is one tiny section of our tiny Brooklyn home that's off-limits to Luke's stuff. It's an alcove just big enough to hold a circular marble table and two tall cushioned chairs. If the rest of our home is a Gymboree, this patch of paradise is the Four Seasons.
We carved out this island of adulthood a few weeks ago, buying the $200 marble table secondhand and plucking the marked-down chairs off the Internet for $150.
Spending $350 on ourselves might not sound like a big deal, but Luke's goodies aren't cheap, so most of our discretionary spending is earmarked for the little guy. My wife is a teacher and I'm a journalist. We're in the early stages of our careers and must make rent while still chipping away at our student loans. In our world of limited sleep and vanishing funds, a vacation, dinner out, or even a night at the movies is a rare treat.
Yes, we could have used the dining set we already owned. But our old furniture felt as though it belonged to cohabitating grad students, not a married couple. My wife and I tied the knot a few months before Luke's birth, so our friends and family look at us more as new parents than as newlyweds. That's usually the way we see ourselves too. Marriage, though, requires as much attention and devotion as parenting. You can easily get lost in the wonder of watching your son explore the world around him and forget that less than a year ago you stood in front of the people you love and pledged to be with each other forever.
Now, after Luke falls asleep, Ali and I sit down in our new cream-colored chairs. We rest our glasses of wine on the table and talk about our day. And for a moment, it's only us.
Taylor Tepper is a reporter at Money. His column on being a new dad, a millennial, and (pretty) broke appears weekly. More First-Time Dad: