How the NFL Draft Is Un-American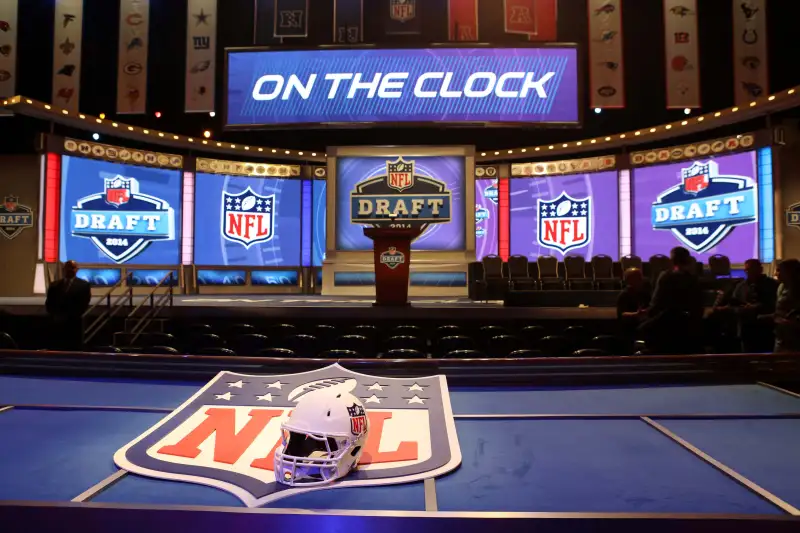 Adam Hunger—USA Today Sports/Reuters
Football fans seem to like the idea of the NFL draft. (This year's starts on Thursday evening at Chicago's Auditorium Theatre and will continue into the weekend.)
It gives them hope. Each year, the teams with the worst records get to draft young new players with (theoretically) the most talent, meaning that a bad team (theoretically) won't forever be bad. What's more, because the draft is supposed to promote parity and good competition, in which any team can pull out a victory on Any Given Sunday, it helps generate sustained fan interest with each coming year—and every game day during the season and playoffs.
Yet many researchers have pointed out that drafts do not achieve competitive balance, especially not in a sport like football that requires so many players on the field. (Losing teams are "rewarded" with only one legitimately great prospect in each draft.) Think about it: If high draft picks are all that is needed to turn a bad team around, how does one explain the Jacksonville Jaguars?
In any event, there is another argument to be made concerning pro sports drafts. There's a line of thinking that says drafts are simply not fair—to the players, first and foremost—that they violate that the concept of a free labor market, and that they are therefore essentially un-American.
On the eve of the NFL draft two years ago, not one but two well-researched, well-thought-out stories published within days of each other were entitled "Abolish the NFL Draft." The Reason.com post noted, "The sports draft is an anomaly of the American labor market." After all, "In most industries new hires are free to seek employment wherever there's an opening." Yet an aspiring employee who wants to play in the NFL is able to negotiate a contract with only the team that has drafted him.
As the far more irreverent "Abolish the NFL Draft" post published at Sports on Earth put it, "If the human resources department of your company came up with the idea of a draft, they'd be fired on the spot." Without the draft—described as an "industry-wide system that prevents potential employers and employees from freely selecting each other"—"pro football will start to look like the real world," in which firms and potential employees would court each other and all parties would have the freedom to make choices.
As things currently stand, draftees have no such freedom to decide where they want to work. They also face tons of other restrictions, including how old they must be before they're eligible to be drafted (i.e., be hired for what they do and earn money), and how much money they can earn due to NFL collective bargaining agreements severely limiting the salaries of young players. College football is routinely described as a "free farm system" and an "unpaid farm system" for the NFL, in that young players who aspire to professional football careers have no choice but to work (yes, it's work) without compensation until they're deemed old enough to be drafted.
Basketball players seeking employment in the NBA face essentially the same set of restrictions—restrictions that are, again, unheard of in virtually every other line of work. A story in the new issue of The Atlantic about Michele A. Roberts, the new head of the NBA players union, noted that the league utilizes "a litany of anticompetitive measures—the draft and the salary cap, as well as a de facto prohibition on new franchises and an age minimum, which essentially allows owners to postpone signing players while they develop in the unpaid minor league that is Division I college basketball."
"Talented people and prestigious institutions generally get the pick of the litter," an ESPN post about the NBA draft explained. "This is how the labor market works… But it's not how it works in the NBA, where the most gifted young players are assigned through the draft to teams, regardless of personal preferences or market value." Think about how the draft scenario differs compared to how companies normally woo and hire prized prospective employees:
Age restrictions in the NFL and NBA are partly intended to stop young, and presumably naïve, athletes from making bad decisions and ruining their chances to get college degrees. One law journal makes the counterargument this way: "Eighteen-year-old high school graduates who wish to pursue a professional career in these leagues are barred from doing so, even though they can vote, as well as fight and die for their country."
In The Atlantic story, Roberts, the NBA union executive director, says that the idea that a worker should accept wages below market value is just plain "un-American."
A more "American" sports league would have a free and unfettered labor market, with no draft, no team or player salary caps, and no age restrictions. The irony is that just such a league exists, only it's in Europe, and the sport is one that is often criticized as low-scoring and not American enough: soccer. It's the English Premier League, which like most European soccer leagues has no draft or salary. And for better or worse, the EPL has been known to welcome players as young as 16 years old.