All the Books That Inspired the 2018 Oscars Best Picture Nominees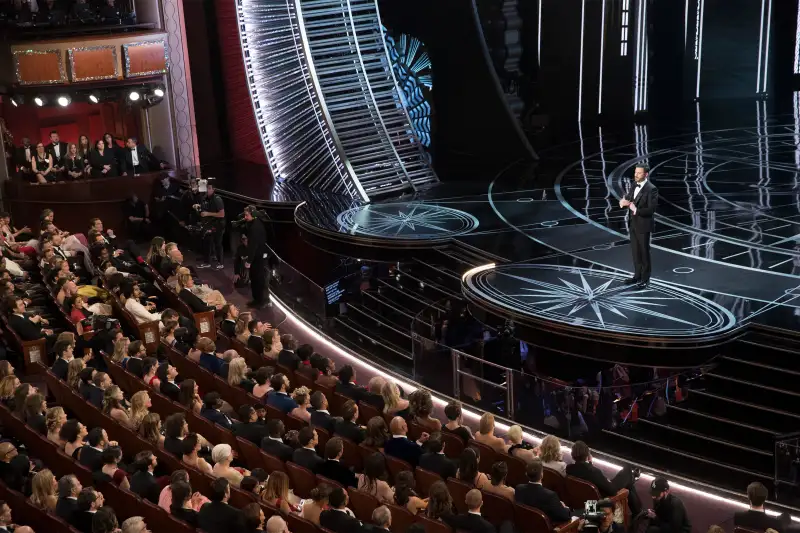 Patrick Wymore—ABC via Getty Images
The Academy Awards are this Sunday, March 4, with the broadcast set to start on ABC at 8 p.m. ET. A great way to get into the spirit of the Oscars is to check out some of the books that inspired — or were inspired by — this year's crop of Best Picture nominees. From World War II epics to genre-bending social commentaries to coming-of-age tales, here's what you need to order or download for a deeper understanding of the past year's most acclaimed films.
"Call Me By Your Name"
This movie, based on the 2007 novel of the same name, won critical acclaim for its deft handling of what could be polarizing subject: A gay teen falling in love with an older doctoral student while becoming aware of his own sexuality while spending the summer of 1983 in Italy with his family.
"Darkest Hour"
Written as both a book and screenplay, this historical drama brings the reader into late World War II-era England and Winston Churchill's efforts save the United Kingdom from the Nazis in 1940. (The earlier evacuation of British forces from France at Dunkirk is also the subject of a second Best Picture nominee this year; see below.) Gary Oldman won accolades for his portrayal of Churchill in the movie, while author Anthony McCarten explained to Entertainment Weekly that the book delves into Churchill's mental process as he sought for ways to inspire an entire nation.
"Dunkirk"
While there isn't a book based on Christopher Nolan's sweeping depiction of Allied troops fleeing France as advancing Nazi forces bore down on them in May of 1940, there are gripping non-fiction accounts of this harrowing World War II operation. The Miracle of Dunkirk: The True Story of Operation Dynamo uses interviews with hundreds of veterans to bring the reader face-to-face with the extreme peril these 338,000 British, French, and Belgian soldiers faced as they were evacuated in the nick of time.
"Get Out"
Jordan Peele of comedy duo Key & Peele took a darker turn in "Get Out," which critics praised for using horror and comedy to deliver sharp social commentary about racial dynamics in America. Peele — who said of his work, "At the end of the day, call Get Out horror, comedy, drama, action or documentary, I don't care"— curated for the Brooklyn Academy of Music a roundup of 13 "social thriller" movies that inspired his own film. Peele's list ticks off a number of horror or "dark comedy" flicks you might have watched from between your fingers years ago. Why not revisit these stories by getting lost in the print version of, say, Rosemary's Baby, The Stepford Wives or Misery?
"Lady Bird"
This coming-of-age story features the titular "Lady Bird," the flame-haired, rebellious Sacramento teen Christine butting heads with her mother and grappling with feelings of insecurity. It drew positive comparisons to books like The Diary of a Teenage Girl (which was first published in 2002 before being re-released and made into a movie three years ago), and even The Catcher in the Rye, along with teen drama classics of a generation ago like "The Breakfast Club" and "Sixteen Candles."
"Phantom Thread"
Writer-director Paul Thomas Anderson is said to have been inspired to make this period drama about an obsessive couturier and his stilted relationship with his girlfriend-slash-muse by the life of Cristóbal Balenciaga. The 2013 biography The Master of Us All: Balenciaga, His Workrooms, His World gives readers an inside glimpse into the workings of the famed Spanish designer's mind, while Balenciaga: Shaping Fashion focuses on his work, influence on the world of fashion and devoted celebrity fans.
"The Post"
Like many of this year's Best Picture nominees, "The Post" turns a dramatic lens on a historical drama. Steven Spielberg's ripped-from-the-headlines tale chronicles The Washington Post's publisher Katharine Graham's quest to publish the leaked Pentagon Papers and expose the government's miscalculations and missed opportunities regarding the Vietnam War. Get the back story on this tale of journalistic intrigue in Graham's bestselling memoir, Personal History, which details how Graham took the reins at the Post, becoming its first female publisher after her husband's suicide, and the monumental political and business stakes of her decision. If you want more real-life stories of government secrets, The Doomsday Machine, written by Pentagon Papers whistleblower Daniel Ellsberg himself, pulls back the curtain on America's Cold War-era nuclear ambitions.
"The Shape of Water"
Guillermo del Toro's elegantly bizarre film of a mute woman and the sea monster she falls in love with wasn't adapted from the book of the same name in any conventional sense — but then, fans of Pan's Labyrinth know by now to expect the unexpected when it comes to del Toro. Co-author Daniel Kraus (also del Toro's collaborator for Trollhunters, the book that inspired the Netflix series) wrote the book while del Toro wrote the screenplay — the two working on the same story, but independently. "We were working simultaneously, but I didn't want any more information than what he was contributing. We wanted it to be able to exist on its own," Kraus explained to io9.com. So even if you saw the movie, you might find some plot elements in the book The Shape of Water (which will be released March 6 and can be pre-ordered now) that surprise you in this genre-bending tale.
"Three Billboards Outside Ebbing, Missouri"
Like Jordan Peele's "Get Out," this Oscar contender takes a darkly comedic approach to wrestling with social injustices: sexual violence, police corruption, small-town bigotry. Writer-director-producer Martin McDonagh keeps readers of the companion book on a similar emotional roller coaster, as grieving mother Mildred Hayes (Frances McDormand in the Hollywood version) seeks justice for her murdered daughter.
We've included affiliate links into this article. Click here to learn what those are.