Papa John's Founder John Schnatter Is Stepping Down as CEO. Here's How Much He Made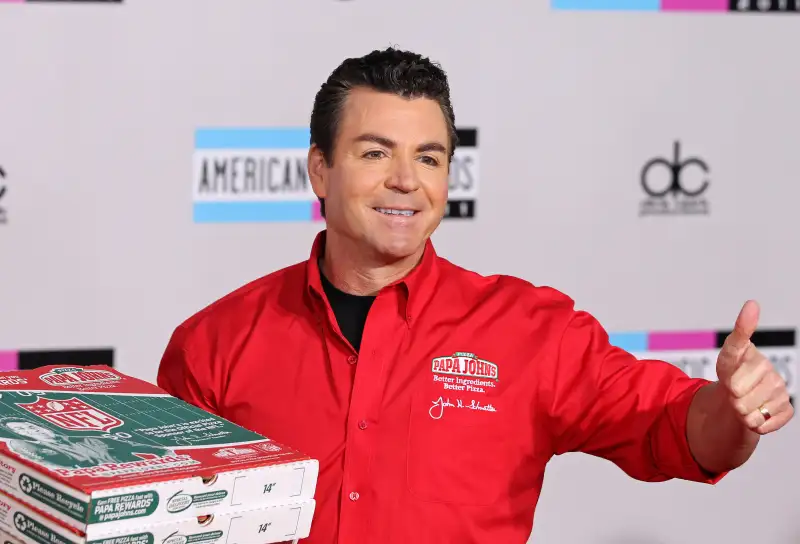 Papa John's founder John Schnatter will step down as chief executive on Jan. 1, the pizza chain said Thursday. Schnatter's decision to relinquish the role may come as a surprise to those who recognize him as "Papa John" in the chain's promotions.
Though no reason for Schnatter's resignation was given, the move comes nearly two months after the pizza magnate, who founded the chain in 1984, made controversial statements blaming protesting NFL players for falling pizza sales on an earnings call.
"The NFL has hurt us by not resolving the current debacle to the players' and owners' satisfaction," Schnatter said in a November call with investors, according to Bloomberg. "NFL leadership has hurt Papa John's shareholders." The pizza chain apologized for the comments in a Twitter post several weeks later.
Schnatter is not leaving Papa John's entirely. The founder will stay with the company as a chairman, the press release said, while Steve Ritchie, a former franchise turned Chief Operating Officer, takes Schnatter's place as CEO.
Here's what we know about John Schnatter's business and net worth.
John Schnatter's Money
According to Forbes, Schnatter was worth $1 billion as of March 2017, riches that landed him at number 1,940 on the Forbes World's Billionaire List. That's an increase of $290 million from his estimated fortune of $710 million in January 2016.
Forbes' numbers don't account for Papa John's recent sales slump -- nor for Schnatter's controversial comments response last November. They appear to have cost him dearly, according to Business Insider, which pegged his net worth at just $801 million last month.
Despite his overall fortune, Schnatter's annual salary is comparatively modest, just over $3.5 million, according to the United States Securities and Exchange Commission.
The founder also cited this figure when he slammed "immoral" executive salaries in a 2017 interview with Business Insider."I haven't taken a raise probably in two, three, four years," Schnatter said in the interview. "The board gets upset because I won't take a raise, but I've got plenty of money."
Kathy Kmonicek—Invision/AP
Papa John's Pizza Empire
Papa John's Pizza has come a long way from the renovated broom where Schnatter originally set up shop, shortly after graduating from Indiana's Ball State University in 1983. Today, the pizza chain employs approximately 23,100 employees at over 5,000 locations worldwide, according to the company website.
As of Friday, the company's stock traded at $56.88. According to the company's website, Schnatter himself still owns more than 9 million shares -- a stake worth upwards of $500 million.
Taro Yamasaki—The LIFE Images Collection/Getty Images
The Pizza Magnate's Big Purchases
John Schnatter's primary residence is a mansion fit for a pizza king. According to Curbed, the 40,000-square-foot Louisville, Ky., home includes an underground garage with 22 parking spaces, a detached 6,000-square-foot carriage house and a golf course, and is surrounded by a man-made lake.
Taro Yamasaki—The LIFE Images Collection/Getty Images
In 2010, Schnatter bought two five-bedroom Utah penthouses and a third unit with four bedrooms at St. Regis Deer Crest Resort for $23 million, according to The Wall Street Journal. According to the Journal, Schnatter planned to sell one of the penthouses while keeping the others "for his family and friends."
Real estate isn't the only big personal purchases the multimillionaire has made. "Papa" John reportedly insured his pizza-making hands for $15 million in 2015, and bought back his prized 1971 Camaro for $250,000 in 2009, 25 years after selling it for for $2,800 when times were tough.