This Guy Is So Good at HQ Trivia They Might Hire Him to Write the Questions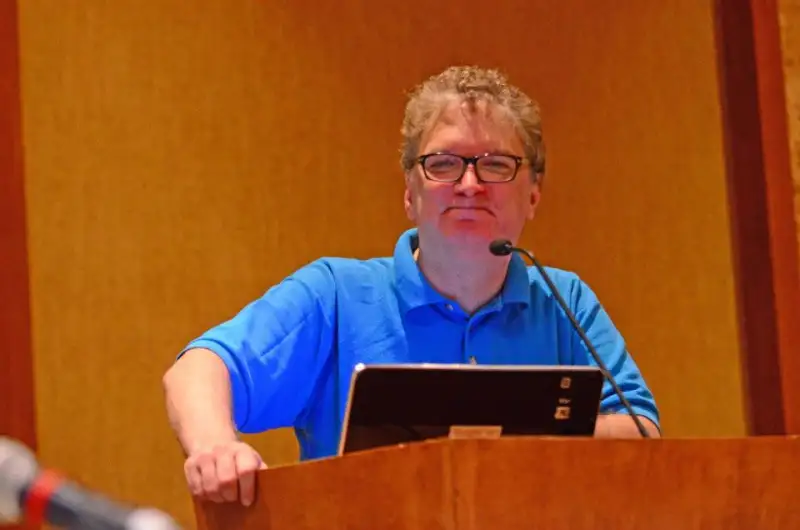 Paul Paquet has sat high among the ranks of HQ Trivia's leaderboard for almost as long as the app has existed.
He's already won at least a half a dozen rounds of the popular, live trivia app, accumulating $633 in cash prizes — which ranks among the top 20 on HQ Trivia's leaderboard. But Paquet isn't just lucky. He's a professional trivia question writer who has made a career out of the game. And now, HQ Trivia now wants him to join their question-writing team, he told Money.
Paquet operates a popular bar trivia league that occurs weekly at 25 to 30 bars and restaurants in Ottawa, Ontario, where he lives. He also runs the website "Trivia Hall of Fame," where he offers trivia games, posts interviews with Jeopardy winners like Ken Jennings and former Who Wants to Be a Millionaire contestants and writes a nationally syndicated trivia column.
"There aren't many jobs where you can drink on the job. But I do," Paquet said. "I run trivia pubs, so I can have a beer while I work. Not a lot of people can say that."
He has now written more than 100,000 questions in his career, which spans about two decades. The amount of facts he knows — obscure or not — is perhaps mind-boggling to the average HQ Trivia player, but Paquet has his weaknesses. Questions about sports and video games sometimes stump him, he says. But if it's about comic books or geography, Paquet's got it.
Paquet wasn't always in trivia full time. He used to work in public relations for the Canadian government — hence his residence in Ottawa — but found opportunities along the way that directed him toward trivia. It all started when he wrote questions for a client in the 1990s and, still owning the rights to them, found ways to repurpose them for cash. With those questions, he's done everything from creating a competitive pub trivia league in Ottawa, which celebrated its 20th anniversary in July 2017 to creating a popular trivia website.
It's easy to imagine Paquet dominating a round of Jeopardy!, but he hasn't had his chance yet. He and his wife, Laura Paquet, auditioned for the show back in 2003, and she got on. (That was, of course, just before Ken Jenning's 74-game streak on the show.) And as for Who Wants to be a Millionaire? Paquet can't compete since he's Canadian.
He can play HQ Trivia, though. And he does as often as he can. Paquet has taken note of the app's strategy — and its boundaries. "I can see the parameters they're working against," he told Money. "It's difficult to have fun questions that are very short. All the tricks I use to make questions fun require a lot of space."
But soon, Paquet's reign on HQ Trivia may come to an end. Since the app has reached out to him, he may have to stop playing if he were to start writing questions for it. Until then, he's been scrambling to play as many games as he can — and using up his extra lives. A representative for HQ Trivia said she could not comment on potential recruits or the identities of the app's players.
He's also not giving up on the old-school bar trivia nights he hosts — and thinks many other longtime players won't stop showing up just because of the meteoric rise of HQ trivia. They show up week after week to hang out together — and his regulars include everyone from a group that met in high school to couples who met and fell in love while playing one of his trivia games.
"A lot of the ways people used to have connections don't exist now, and trivia nights are one of the places where you can see your friends, make new friends or form fun rivalries," he said.
But he will need to change up his style for the new gig with HQ Trivia — especially when it comes to his questions. They often require more than just 10 seconds to come up with an answer, which is how long HQ Trivia gives its players.
Paquet also knows how important it is to keep his audience in mind when coming up with questions — and fortunately, his regular crowd at trivia night has given him some good practice for HQ's players, as most of them skew younger.
"I make sure the questions are about Cardi B, and not Moody Blues," he said.
This story has been updated to clarify that Paquet has not been hired by HQ Trivia yet.