$3.14 Pizzas and Other Deals You Can Snag on Pi Day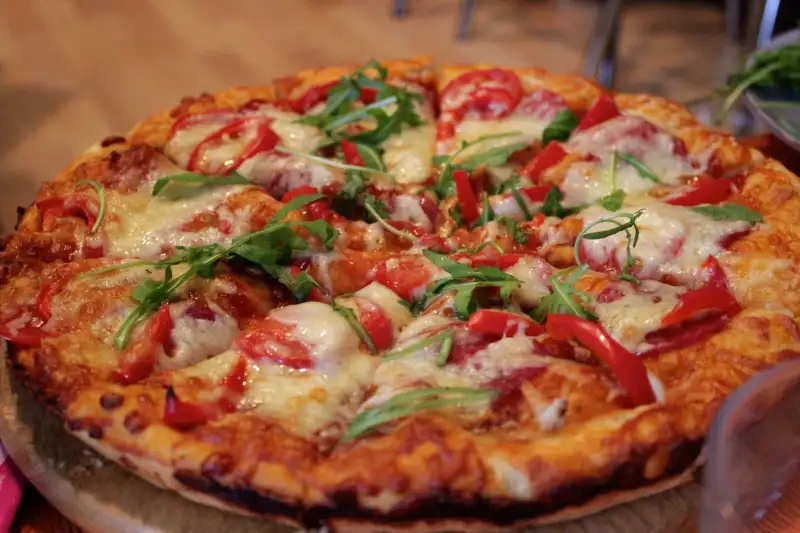 Svitlana Pavelko / EyeEm—Getty Images/EyeEm
This Tuesday is Pi Day—March 14, or 3.14—an altogether awesome day if you love math or, more likely, discounts on pizza and pie.
Pi Day is a celebration of the mathematical constant π, the ratio of a circle's circumference to its diameter, which starts with 3.14 and goes on endlessly. You don't have to be passionate about geometry to enjoy Pi Day, though. It's become tradition on this day for restaurants and supermarkets to offer pizzas and other kinds of pies for $3.14 apiece. Here's where to find the deals:
Bertucci's: A small pizza is just $3.14 when you buy a large brick-oven pizza from Pi Day, March 14, through Thursday, March 16.
Blaze Pizza: Whole pizzas go for $3.14 each on Pi Day at this fast-casual chain with nearly 200 locations nationwide.
Bojangles: An order of three sweet potato pie pastries costs $3.14 on Pi Day.
Boston Market: Show the coupon that will be posted at BostonMarket.com on Tuesday and you'll get a free chicken pot pie on Pi Day with the purchase of any meal and a drink.
Hungry Howie's: Medium one-topping pizzas are selling for $3.14 each with the purchase of Howie Bread on Tuesday. Enter the code 314DAY when placing orders online to take advantage of the deal, at participating locations only.
Pieology: Sign up for the chain's PieLife membership program and any choice of Pieology's customizable pizzas is priced at $3.14, or more than 40% off the usual price, on Pi Day.
Pi Pizzeria: Buy one large pizza, and a second costs $3.14 on Pi Day. And there's a very special bonus deal if you're a "Pi Baby," born on March 14 — you get a large pizza totally for free, no purchase required, on Tuesday.
Stevi B's Pizza Buffet: The unlimited pizza buffet, which is usually priced at $5.29 and up for adults, is available to all customers for $3.14 apiece on Tuesday at this chain — which has 29 locations mostly in the Southeast.
Urban Bricks Pizza Co.: This fast-casual chain's eight locations in Texas and Florida are offering $3.14 pizzas on Tuesday.
Villa Italian Kitchen: Print the linked coupon or show it on your phone and you'll receive a full-size Neapolitan cheese pizza for $3.14 on Pi Day.
Whole Foods Market: Save $3.14 off the regular price of any take-and-bake pizza, or any large pie from the bakery.
Your Pie: Each pizza, craft beer, or combo order costs $3.14 on Pi Day.