How Pot Shops Are Becoming More Like the Apple Store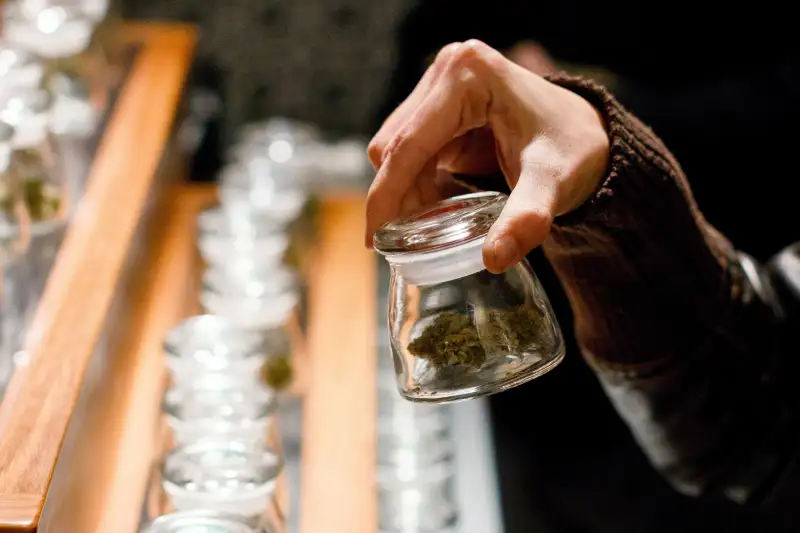 When legal pot shops first opened up in America, there wasn't a ton of thought given to retail design and aesthetics. Understandably so: Compared to the old pot-buying experience—stealthily purchasing a dime bag on the street corner or in the basement of your friendly neighborhood drug dealer—any store could look fancy and inviting.
Now that recreational marijuana has become fully established in Colorado, Washington, and Oregon, and medicinal marijuana stores appear in many other states, however, it's clear that legal pot is a big business and won't be getting shut down anytime soon. So it makes sense that the places selling it should look like sleek, professional retail businesses too.
And that's exactly what's happening to pot shops around the country, the Denver Post reports. For example, The Clinic, a cannabis dispensary with locations in Colorado, Illinois, and Nevada, just spent a little over $1 million to design and build a new flagship store in Denver. The retail hub has an "art-meets-science aesthetic," the Post explains, with skylights, tons of natural light, earth-tone counters, and artfully displayed product samples.
"Let's be industry-agnostic here," Clinic president and CEO Scott Thorn says of his new store. "We wanted to create a retail experience that measured up to stores in any industry. We wanted to be able to translate our brand into a physical and operational environment."
The concept is no different than the thinking behind the design of the Apple Store: It's meant to be inviting, engaging, and classy—all qualities that tend to make shoppers stick around longer and buy more.
Read Next: Legal Weed & 11 Other Things Americans Are Suddenly Buying More Than Ever

While shops like The Clinic and Good Chemistry, also in Denver, have the look of chic laboratories, Paper & Leaf, located in Bainbridge Island, Wash., feels more like an art gallery, with rustic, earthy accents reflecting the setting's natural beauty. According to the shop's website, Paper & Leaf features "a high-end, comfortable atmosphere and professional attitude that invites inquiry, discovery and conversation."
And no matter if we're talking about the Apple Store or a pot shop, the proprietors hope the atmosphere also invites customers to spend some good money.