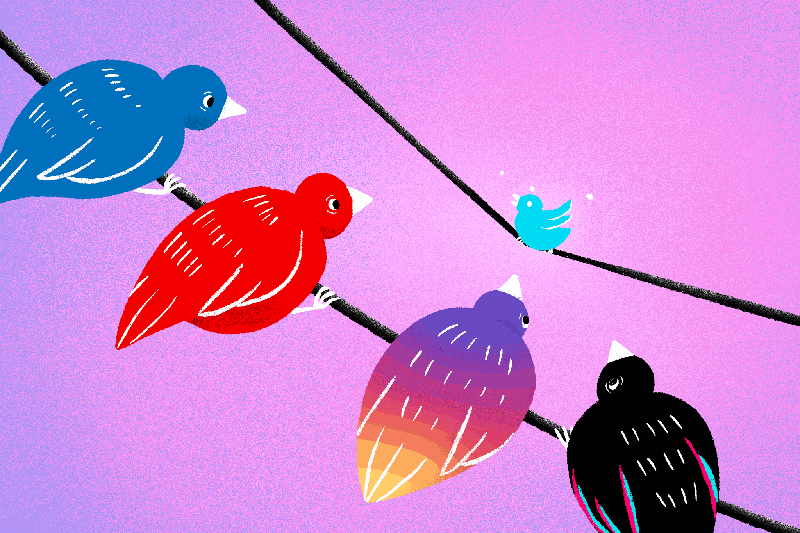 Twitter is having a rough year.
The social media giant has struggled to recuperate from plunging advertising revenue and failed product launches for months, and the coronavirus pandemic only made things worse.
When lockdown measures began, Twitter's ad revenue dipped another 27%, the company says, losses that account for tens of millions of dollars. As a result, Twitter is the only social platform whose revenue is expected to decline in 2020, according to Debra Aho-Williamson, principal analyst for eMarketer.
To get back on track, Twitter is now exploring the possibility of implementing a paid subscription model.
Details on what that might look like are scarce, but a recent survey commissioned by the company suggests it could feature upgradeable options like the long-requested "edit button," recruiting tools, and the ability to block ads for a monthly fee. Whether Twitter's 330 million active users will actually pay for those tools remains to be seen, but it's definitely going to be an uphill battle.
"I can't imagine a world where people pay for exclusive features on Twitter," says Michael Stelzner, founder of Social Media Examiner.
Chris Messina, a product designer and technologist who invented the hashtag in 2007, also has some reservations. Twitter ads aren't particularly disruptive, so an ad-free version probably wouldn't convince anyone to throw down some dough. "Adding frivolous features that are not very meaningful to a membership model would just feel like it's not improving in the right direction," he says.
Monetizing tweets isn't impossible — plenty of tech companies have survived subscription-based rollouts, after all. Some have even thrived.
As Twitter weighs its options, here's a look at who's doing "premium" right.
LinkedIn Premium
Fees: $30 to $120 per month
Active Users: 706 million
If you're interested in building an online portfolio, growing your career, and connecting with like-minded professionals — chances are you already have a LinkedIn account.
Unlike other social media networks, LinkedIn's revenue mainly comes from the services it offers through LinkedIn Premium, which has four monthly tiers ranging from $30 to $60 for job seekers, $80 for sales and marketing professionals, and $120 for recruiters.
Leveling up to Premium gives users access to customized salary information and over 16,000 expert-led online courses designed to help users improve their skills in software development, management, data science, and business. LinkedIn reports that someone is hired on the platform every seven seconds.
Patreon
Subscription Fees: The average pledge is $7 per month
Active Users: 3 million
Patreon connects musicians, writers, and other creators with people willing to pay for their content.
"Patrons," as they're called, pledge monthly payments set by the creators themselves — often grouped into different tiers of membership ranging from basic access to premium services and perks. (Patreon takes a 5% to 12% cut of every pledge.)
A photographer, for instance, could offer regular vlogs or reels showcasing their work at one fee, and premium content, like one-on-one video conferences, for another. As patrons pay for exclusives, they're also incentivizing creators to produce even more content. Some creators—like graphic novel illustrators—reward their patrons with exclusive prints and other unique perks.
Substack
Fees: 10% of all subscription revenue
Subscribers: 100,000+
The newsletter is having a moment. For news outlets, it's a trendy way to deliver content straight to a reader's inbox. (Exhibit A: Money's own Dollar Scholar and Retire With Money newsletters.) For indie writers, it's a helpful tool for promoting new work.
Substack is kind of like a newsletter publisher/ Writers choose how much they want to charge readers and retain the rights to their work. The platform has user-friendly tools to help them build an online space to host content. Some have garnered thousands of paying subscribers and turned their part-time writing careers into a lucrative business.
YouTube Premium
Fees: $12 to $18 per month for up to five family members (iOS users pay a bit more to cover Apple's commission)
Subscribers: 20 million+
We all know YouTube. New movie trailers, streaming political debates, bizarre b-roll synced to the songs you loved in high school …
Over 2 billion logged-in users visit YouTube each month, and over a billion hours of video is viewed on the platform every day, according to the company.
So how does YouTube Premium enhance an already universally popular platform? As a subscriber, you get an ad-free experience, and all videos can be downloaded for offline viewing. You also get access to Google Play Music and YouTube Music Premium, two of the biggest music streaming services out there, as well as streaming series and movies via YouTube Originals, and exclusive content from famous YouTubers across the globe.
Spotify Premium
Subscription Fees: $5 to $15 per month
Number of Active Users Each Month: 299 million
Since its launch in 2008, Spotify has redefined the way users experience music. The breadth of the platform allows listeners to discover and share over 60 million tracks (if an album exists, it's probably on Spotify).
60% of Spotify Premium users start as non-paying users; wooed by the ability to listen to music on-demand, offline, and ad-free. Most of Spotify's revenue comes from these premium subscriptions, which are set up in four different tiers: "Student" ($5/month), "individual" ($10/month), "duo" ($12/month), "and family" ($15/month).
Spotify rolled out a podcast feature in 2018, and has recently inked deals with big names like Joe Rogan and Michelle Obama. The company is currently experimenting with several new products, like a Group Session feature that allows Premium users to collaborate on playlists.
Amazon Prime
Fees: $13 per month
Amazon Prime changed the online shopping game.
One monthly subscription gives you access to the largest e-commerce platform in the world, and a laundry list of streaming entertainment services — Prime Video, Prime Music, and, most recently, Twitch Prime. Depending on your zip code, you might also be able to shop locally for household or grocery items through Amazon's Prime Now service.
Amazon Prime memberships cost $119 annually, but students and EBT cardholders get discounts.
Medium Partner Program
Fees: $5 per month or $50 per year
Subscribers: 120 million
Medium is a social publishing platform that helps journalists, authors, and bloggers share insights with a wide network of readers. (Sound familiar? Evan Williams, one of Medium's founders, was also part of the group that launched Twitter.) It also has a suite of online publications, like The Startup, which has more than 650,000 followers.
The company's "Partner Program" allows people to earn money based on the engagement their pieces draw from fellow Medium members.
Earnings are largely determined by the number of people that read each piece — and how long they spend reading them. Medium users typically make between $20 to $3,000 over an article's lifetime, though only about 6% of writers earn more than $100 per piece, according to the company. To date, there's no limit on how much money a story can earn each month.
Medium has a free version, but you won't get paid for your work, and as a reader, you'll be subject to a paywall.
As a member, you'll get to edit, create, and read as much Medium content as you want — ad-free, and from any device. Medium also offers its members basic SEO tools, so you can reach a wider audience by adding descriptions to your story, news article, blog, or series. Members can customize their story URLs, too.
More From Money:
How to Boost Your Chances of Being Approved for a New Credit Card: A Step-by-Step Guide
The Best Labor Day Mattress Sales
Everything Students Need to Be Successful at Distance Learning