The One Thing Prince George Won't Get for His Birthday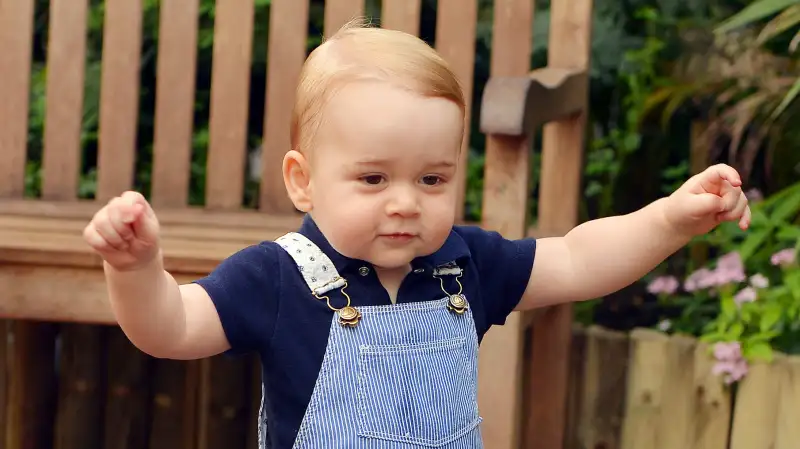 Today Prince George, the first son of Prince William and Kate Middleton, turns 1 year old. By all accounts his first birthday party will be tasteful and reserved for a select group of friends and family. The pomp quotient will be at a minimum.
Of course, when your great grandmother is the Queen of England, your dad is a prince, and you are third in line to become the king, the term "friends and family" takes on new meaning. Likewise, a small get-together at the house is something else altogether when that house is a 20-room apartment.
My son, whom I write about in this space most Mondays, is not the third in line to become the King of England, and isn't currently the prince of anything. (Don't tell his mother.) While Luke is only narrowing in on the second half of his first year, it is difficult not to feel a touch of parental inadequacy when you compare yourself to royalty.
For instance, we don't have $41 million to bestow upon Luke. Nor can the Family Tepper abscond from muggy New York City to New Zealand and Australia for a summer vacation—although we did trek down to St. Petersburg, Fla. Luke will never be named the "World's Most Eligible Infant," despite his killer combination of Byronic looks and joie de vivre (at least in this journalist's unbiased opinion). And that's because he's the child of relatively ordinary parents.
Yes, there is a whole stratum of experiences forever beyond Luke's grasp because he wasn't born into higher stock.
At the same time, though, there is one thing that we can give Luke that no royals can give their offspring. He will, by and large, live a normal life. And Prince George will not. Which is unfortunate.
With the castles and private jets and rapacious attention of an unrelenting populace comes a responsibility to become a symbol of, well, something. (I'm American and don't understand the particular psychology of fetishizing kings and queens and princes.) When every move is studied and photographed and judged and written about, I imagine it would be hard to have a childhood.
The other day Luke and I went to the park. We were surrounded by lots of other families, and we took our place in an open spot in the shade. Luke spent the half hour seated upright, pulling up blades of grass and then toppling over. Our dachshund sat nearby, so when Luke was done with the grass he pet our dog for the first time. I took a picture of the scene and sent it to my wife.
That is where the picture stayed (unless, of course, I chose to use it for this column). The only people who will care that Luke has taken his first steps are his family, not the entire English-speaking world.
While we will never be able to give Luke a palace, we can at least give him that.
Taylor Tepper is a reporter at Money. His column on being a new dad, a millennial, and (pretty) broke appears weekly.
More First-Time Dad: