See the 5 Dresses That Helped Princess Diana Raise Millions for Charity Before She Died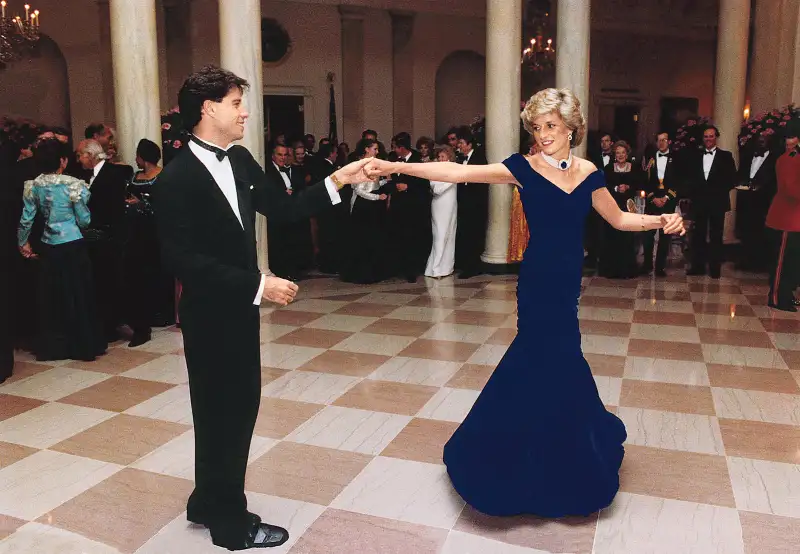 RONALD W. REAGAN LIBRARY/AP—RONALD W. REAGAN LIBRARY/AP
Princess Diana, who tragically died 20 years ago this month, left behind a remarkable philanthropic legacy that broke tradition and inspired her children to follow in her footsteps.
The Princess of Wales touted a slew of charitable causes including a nonprofit that addressed youth homelessness in the United Kingdom, the National AIDS Trust and an international charity that provides care to patients with leprosy, among many others.
Diana used her royal status to benefit charitable causes — and in some cases, quite literally gave the clothes off her back to those in need. Just two months before her death on June 25, 1997, Diana auctioned off 79 of her decadent gowns to benefit cancer and AIDS causes. The 79 cocktail dresses raised $3.25 million for the Royal Marsden Hospital Cancer Fund and AIDS Crisis Trust in an auction organized by Christie's International in New York City.
More than 1,100 of the city's wealthiest socialists, including the late comedian Joan Rivers, attended the auction. The dresses spanned Diana's shifting taste in fashion, ranging from short and sleek frocks to long, sleek princess-like gowns. At the time, Rivers told the New York Times that she looked forward to going "to all the bar mitzvahs and see" who would be donning one of Diana's dresses.
While the princess did not attend the auction in person, she requested the results of the event be sent to her. "She wants a fax so that the butler can bring it with the breakfast tray," Meredith Etherington-Smith, then the creative director for Christie's International, told the New York Times.
The princess, then divorced from Prince Charles and living in Kensington Palace, offered a number of her iconic gowns for consideration, ranging from the blue velvet dress she danced with John Travolta in at the White House in 1985, to "the Elvis dress" that would eventually be featured on People magazine's cover following her tragic death on Aug. 31, 1997.
While each of the gowns initially bought for about $5,000, most of them sold for much more — averaging around $41,000, though some successful bids ballooned above $150,000. In addition to the $3.2 million raised from the gowns alone, sales from catalogues and associated fundraising events made another $2.5 million for charity, Christie's International said.
Of the 79 gowns, five of them captured stunning bids. Here's how much the five top-selling gowns netted at auction:
Blue velvet gown: $222,500
Princess Diana donned this silky blue velvet dress designed by Victor Edelstein when she attended dinner at the White House under the Reagan administration in 1985. When the dress sold, it broke Christie's auction record of $145,000 for a garment, according to the Times.
"Elvis Dress": $151,000
Georges De Keerle—Getty Images
Known as the "Elvis dress" that the Princess of Wales wore during her official visit to Hong Kong in 1989, the gown would later be featured on People magazine's tribute covers following her untimely death. The gown was designed by Catherine Walker, who was responsible for creating more than 1,000 outfits for the princess, including the black dress she was buried in.
Silk banquet dress: $90,500
Princess Diana Archive—Getty Images
Also designed by Victor Edelstein, this cream-colored silk dress was seen during the princess's official visit to the Élysée Palace in Paris in 1988. There, she attended a banquet hosted by former French President Francois Mitterrand.
White chiffon dress: $85,000
Tim Graham—Tim Graham/Getty Images
During her trip to Rio de Janerio, Princess Diana wore this white chiffon gown designed by Gina Fratini to a charity gala ballet performance. The gown includes pearlized sequins and beads.
Beaded halter mini dress: $77,300
Tim Graham—Tim Graham/Getty Images
Princess Diana wore this Catherine Walker halter neck dress at a gallery opening in Hyde Park in London in 1995. The dress was embroidered with glass beads.