How a Hard-to-Open Package Inspired a Million-Dollar Business Idea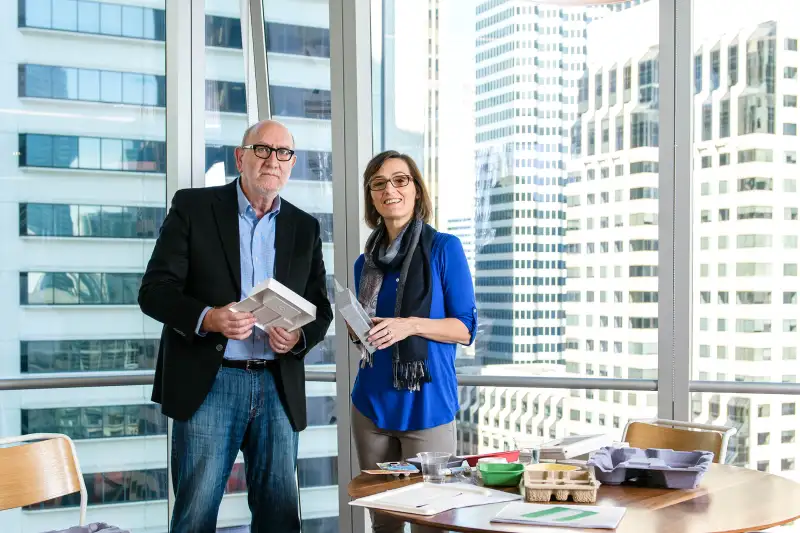 Dave Lauridsen—Dave Lauridsen
In this series of "Passion Plays," learn how aspiring entrepreneurs turned their interests into innovative and rewarding second-act businesses.
---
Paul Tasner and Elena Olivari
Ages: 70 and 50
Hometown: Greenbrae, Calif., and San Francisco
BUSINESS: PulpWorks, a designer and manufacturer of eco-friendly packaging
---
The idea
Six years ago Paul Tasner had some time on his hands. After a 35-year career managing supply chains at companies like Clorox and California Closets, he had recently lost his job at Method Products, which makes environmentally friendly soaps and household cleaners.
Then 64, Tasner despaired of finding another high-level full-time position. So he hatched a business idea, inspired in part by his stint at Method, where he had undergone a late-in-life conversion to environmentalism. Says Tasner: "I felt a passion to make a difference for people and the planet."
His other inspiration was his wife's recent purchase of a pair of shears designed to get into those hard-to-open plastic packages in which many retail products are sold these days. Ironically, the scissors themselves were similarly packaged, and extricating them was a frustrating ordeal. "Ridiculous," he says.
An engineer by training, Tasner set out to learn all he could about recycled, biodegradable—and easier-to-open—packaging.
The groundwork
While molding recycled goods into packaging isn't new—egg cartons are a familiar example—Tasner knew that most marketers wouldn't want to display their wares in something so drab. But his research led him to processes and materials that could be combined to turn paper, cardboard, and sugarcane fiber into a thin but sturdy, glossy-white packaging material.
Read next: How This Teacher Turned Her Love for Peanut Butter Into a Winning Business
Hoping to build a green manufacturing facility, he conducted another search—this time on LinkedIn—and connected with Elena Olivari, an architect committed to sustainability. "I was looking for a new job that would give me a stronger feeling of purpose," she says. "When Paul briefly explained why he was writing to me, my wishes were answered." Teaming up to form PulpWorks, they spent $25,000 to design and build a prototype package—a smooth and colorful alternative to plastic—then applied for a patent on the product they dubbed Karta-Pack.
A change of direction
Tasner and Olivari spent nearly all of 2012 pitching venture capitalists in order to raise the $17 million they calculated they would need to build a Karta-Pack factory. They got nowhere. Tasner never imagined that investors wouldn't want to do well by doing good. "You're never too old to be naive," he jokes.
Their frugal ways—and support from their families—helped them carry on. (Tasner says his wife, a registered nurse with her own health care startup, "never blinked an eye about supporting PulpWorks.") Each partner had contributed $50,000 in nonretirement savings at the get-go, investing thefunds "in slow drips" to develop prototypes, apply for a patent, and travel to trade shows and meetings with potential investors. They worked then (and still do) in home offices, meeting once or twice a week. And once it sunk in that they wouldn't get their $17 million, they revised their business plan to one requiring little upfront cash. Instead of building a plant, they'd outsource production, licensing the design to other manufacturers.
The new approach worked, helping PulpWorks land contracts with companies including Burt's Bees, LeapFrog Enterprises, and T-Mobile. A big help was the professional network that Tasner built up over decades in the same industry. "We don't always have the perfect person to sit down with," he says, "but we always have someone who can at least open the door to us and point us in the right direction." Revenue is expected to hit $1 million in 2016, and the business carries no debt. Tasner and Olivari now each take salaries of about $5,000 a month.
"I've spent almost my entire life doing exactly what we're doing here with PulpWorks," Tasner says. "But I've done it for employers, not for myself. It's an amazing feeling."