How This Dog-Lover Turned Her Dream Into Six-Figure Earnings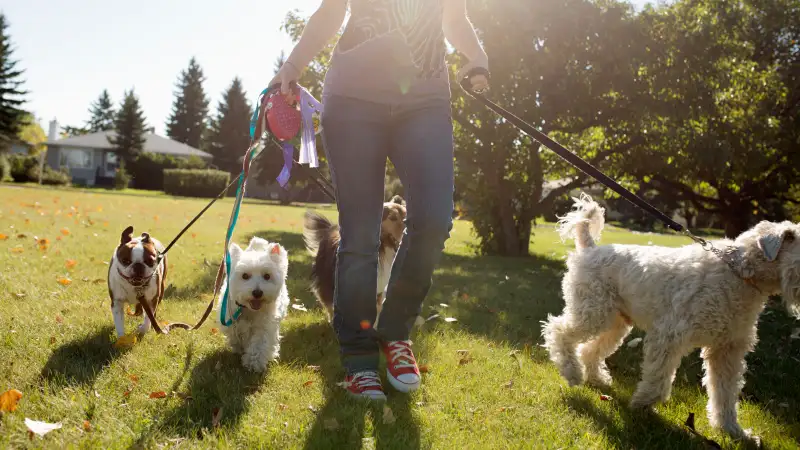 When Ilene Wellner was 11, her Yorkshire Terrier, Pucci, died while the family was away on a ski trip. "I loved her so much, and, when she died, I was horrified," recalls Wellner. "I thought I killed her because I went away."
Wellner, 45, now operates her own professional pet care service, Dog Gone Walking LLC, located in Wynnewood, Pa., on the suburban Main Line outside of Philadelphia. Her mission makes that childhood memory resonate: to help out while pet owners are not home or able to care for their dogs.
Her deep love of animals has clung to her. As the years passed, she and her family adopted dogs from local shelters. She spent her free time going to dog shows and reading every book she could get her hands on about dogs and dog training. "I always loved dogs, but I didn't know there was anything I could do as a job with dogs," she says.
After graduating in 1992 from the University of Wisconsin-Madison, she worked in marketing and married a fellow alum. On maternity leave in 2004, she got an inkling of a demand for her future business. Some neighbors asked "if I could help while they were at work," caring for their dogs, says Wellner. "Then another neighbor asked, and another."
She did return to work in a job share, with a three-day a week schedule. "It was a steady pay check, but the work was dull and didn't allow for any creativity, so it felt stifling," says Wellner.
She began volunteering with rescues and shelters such as the Main Line Animal Rescue and PAWS (Philadelphia Animal Welfare Society). "I loved it," she recalls. Wellner looked for jobs with animals, but she found that there were no paid openings that were a match for her location and skills.
In May 2009, a drunk driver rear-ended her car. Afterward, it hurt her back to sit, but not to walk. So she naturally gravitated to opening her own dog walking business.
The opportunity was there: Dog care is a growing industry. This year, for example, Americans will spend an estimated $62.75 billion on their pets, up from $50.95 million five years ago, and more than double the amount spend in 2002, according to the American Pet Products Association, a nonprofit trade group. Meantime, according to the survey, 54.4 million U.S. households now own a dog.
On March 2010, she launched her own dog walking business with $5,000 pulled from savings. "I knew I didn't want to go into debt to do this, so I started small." Most of those funds went toward building her website, developing a logo with a graphic designer, and purchasing insurance and bonding coverage.
That first year, she paid herself $12,000. Her business has grown since then to revenues of $285,000 last year, and is profitable. Her pay has ramped up to around $130,000 annually. Overhead is low, as she runs the firm out of her house. Her team now includes 10 to 13 dog walkers. They include moms, chefs, music recorders, writers, vet students or vet techs, nurses, animal lovers, and pet owners.
Wellner and her team oversee 30 to 50 dogs a day. They might take a pooch out for potty duty ($18), head off for a walk ($22 for a half-hour), or to socialize in a supervised playgroup ($45). She also offers overnight stays in clients' homes ($85) when they're traveling, and offers cat sitting and house visits for feeding and care.
To ramp up her education, she shadowed an animal behaviorist for a number of years and went on appointments with her. "We're learning from the dogs, and they're learning from us.," she says. "It is a very pure and special thing."
One lesson she learned: Canines have an intuition about humans. "If a dog is darting ahead and yanking at my shoulder, it might be because I'm in a hurry and a little frantic—even if I didn't realize I was in that state," she explains.
For now, she keeps her services restricted to the vicinity of the Main Line. This allows her the ability to back up a walker, or take care of a client's dog herself, if there's an emergency. Some dog walkers require their customers to provide their pet insurance policy information to ensure the pets are fully covered in the event of unexpected incidents.
Staying near home isn't an issue in terms of building her clientele, though. "There are so many dogs in this community, you can't have too many dog walkers," she says. "I regularly have to turn people down."
To help with monitoring her charges, Wellner recently updated from using email to communicate with walkers and clients to an automated system with an app. Dog owners can even receive a GPS check-in and check-out location from the sitters. This provides a time stamp for verification of visits and a place for sitters to send a personal note recounting the details of their walk.
For Wellner, the inspiration for her work has never changed. "My personal favorite is just walking the dogs, and I typically handle 35 walks a week myself."