How Two Deodorant Entrepreneurs Won Big on 'Shark Tank'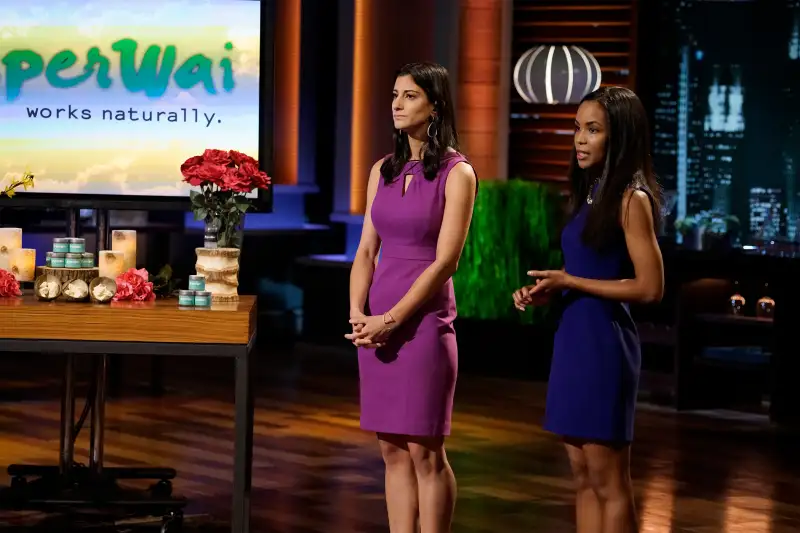 It takes chutzpah to stand before the bigwig panel on ABC's reality show Shark Tank and take their withering criticism without flinching. Or, importantly, breaking a sweat.
And for the founder of a natural deodorant company, PiperWai, that's a good thing. The TV show, where budding business owners compete to gain funding from a brace of well-known investors, is a lot like a trial. But in an episode that aired last December, Jess Edelstein stood her ground, even amidst comments suggesting she wasn't "self-aware."
The young entrepreneur weathered skepticism from Shark panelist Mark Cuban, who made his fortune in tech and now owns the Dallas Mavericks basketball team, about the potential market for the product. And she endured the incredulity of Kevin O'Leary, a big player in everything from educational software to media, that her product could compete with powerhouse deodorant brands.
Read next: How This Teacher Turned Her Love for Peanut Butter Into a Winning Business
O'Leary had a point. The deodorant business in the U.S., which is expected to top $4 billion in 2019, is dominated by two behemoths, Procter & Gamble and Unilever Home & Personal Care. Together, their sales make up 60% of the overall market in 2014, according to Euromonitor International.
And then it happened. Shark Barbara Corcoran, founder of real estate broker Corcoran Group, anted up an offer of $50,000 for a 25% share of Edelstein's business. She said that she was sold on the "enthusiasm, dedication, and thoroughness" of the pitch.
It was a huge moment for Edelstein. She developed the product in her Philadelphia kitchen, and co-founded the fledgling firm in March 2014 with her best childhood friend, Sarah Ribner, 26. The two women had their initial business venture together when they were in fourth grade selling lemonade at a neighborhood stand.
Like so many entrepreneurs, they set out to satisfy a personal need. "I wanted to wear natural deodorant that didn't contain aluminum, an ingredient most other brands rely on to block sweating," says Edelstein, 27, who sold residential real estate to pay her bills while growing the company. Ribner recently received her MBA from Columbia University.
Her goal was to create a natural deodorant that worked, didn't easily melt, or irritate her sensitive skin. "I researched body odor and relied on trial and error in my kitchen," she says. "I mixed some ingredients together and came up with a concoction that worked really well for me."
Eight months and more than a hundred test batches later, she gave the product to Ribner to try during a trip to Central and South America, where she was volunteering as a tutor for a month. It passed the test in the sweltering South American heat.
"Sarah convinced me that this was something people needed, and I had to sell it," Edelstein recalls. "But I countered that I would only sell it if she went into business with me as my partner."
After Ribner's return to Philadelphia from Latin America, she and Edelstein refined the formula, which incorporates activated charcoal powder as the key ingredient. The product can absorb hundreds of times its own weight in moisture, Edelstein says. Other components include cocoa butter, Shea butter, and vitamin E to keep it soft on the skin. It also has magnesium hydroxide, baking soda, and a proprietary blend of 11 essential oils. The result: a gray cream with a citrus/minty smell. To apply it, you rub a pea-sized amount onto your armpit until it's clear.
Read Next: Lawyer Turned Distiller Gives New Meaning to Entrepreneurial Spirit
They came up with an exotic name for the company: PiperWai, a combination of Edelstein's family dog's name, Piper, and a South American tribe, known as the Wai Wai.
The duo sent out samples to friends and family. "The feedback from our beta testers was overwhelming positive," Edelstein says.
Edelstein and Ribner's parents gave their daughters a $2,000 loan to purchase raw materials to produce the initial jars to sell, to incorporate and to develop the website. The two young founders keep costs down by not taking a salary for two years. Lately, they started to draw pay.
Within a few months, the duo shifted production to a community kitchen, Greensgrow Farm, in Fishtown, Pa., where the deodorant was handcrafted, and jars were filled with a pastry piping bag–300 containers at a time of the two-ounce frosted glass jars, whose label is an environmentally minded green.
Then last spring, PiperWai raised $27,000 through an Indiegogo crowdfunding campaign. The funds were spent on website redesign, and allowed the women to ramp up production, moving to a professional cosmetics manufacturing facility just outside of Philadelphia
Even before the TV appearance, they enjoyed success, albeit at a modest level. "We made it back quickly, and repaid the loan," says Edelstein. "We were profitable after six months."
"Every single day, people would tell us: 'You should go on Shark Tank,'" Edelstein says. "So we applied online to be invited to make our pitch. To be honest, we were shocked when the producer called us and said we had been picked."
The pair practiced their presentation, and watched every episode of the hit television show. They read the Sharks' books, and prepared answers to anticipated questions.
Their homework paid off with Corcoran's offer.
But after the broadcast, the sweating began. There was a sales rush beyond expectation, and the backlog of orders ballooned. Corcoran had figured the company would see a bump of around $20,000 in post-show sales. But in the first month after the airdate, sales jumped to $1.8 million from around $130,000 for the previous 12 months. Six months later, PiperWai now has revenue closer to $3.5 million.
The bulk of customers for the deodorant jars, which sell for $11.99 plus shipping, buy online. Nearly 100 brick-and-mortar boutique retailers now carry the deodorant on their shelves, with a waiting list of over 500. The product costs Edelstein and Ribner $2.74 per jar to produce, and they are working to get the costs down by moving to a larger U.S. manufacturer this summer.
The surge in revenue, paired with the investment from Corcoran, will be used to develop a stick applicator product, says Edelstein. "Eventually we want to have a full range of natural products."