The 'Queer Eye' Guide to a Richer Life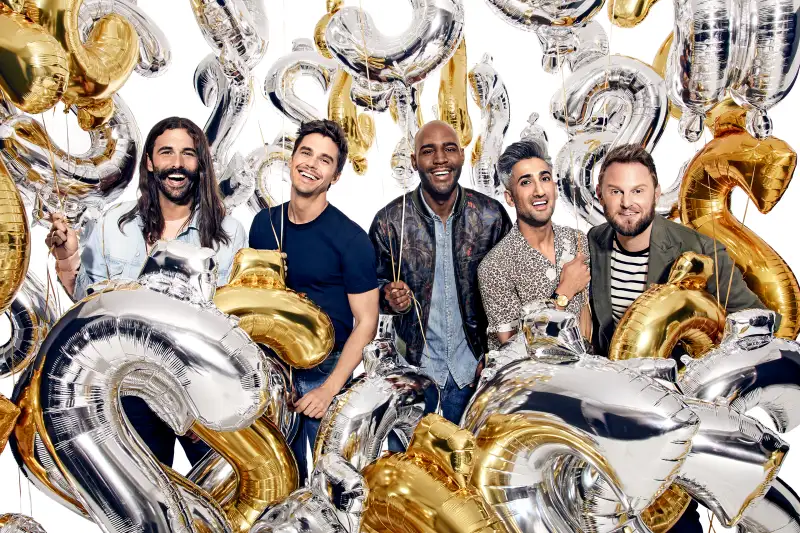 Photograph by Art Streiber for Money; Grooming: Samantha Fryling/Art Department and Juanita Lyons/Celestine; Styling: Michael Cioffoletti/Art Department
It's like a meteorological event. When the cast of Queer Eye enters a room, the atmosphere changes.
On each episode of the popular Netflix makeover show, now in its second season, the "Fab Five" torpedo into the life of a good-natured but delightfully hapless Average Joe (or Jill) and begin to unravel self-sabotaging ideas about how to eat, dress, and live. By the end, a life is transformed, and everybody—everybody—is crying.
The Five's uncompromising positivity, along with the sheer joy they take in one another's company, is intoxicating. Wherever they go, a frenzy of belly laughs and bear hugs follow—it's hard to avoid getting sucked into the vortex.
Their job descriptions are simple enough—each is an expert in grooming, design, food, culture, or fashion—but the philosophy they espouse is nothing short of revolutionary. They don't swoop into people's lives, hammer them with pep talks about interior design and eating healthy, and expect it all to stick. Instead, they lay out a series of small steps; a sustainable chain of progress that continues long after the cameras have stopped rolling.
The Queer Eye credo isn't about flagrant spending, either. Living your best life doesn't mean switching from olive to truffle oil or using only salon-grade hair products. It's about the intangibles: showing up for your family, creating lifelong friendships, feeling confident in your own skin, and living comfortably within your means.
This, more than anything, is Queer Eye's secret sauce. The Fab Five's guide to life is as attainable to the home viewer as it is to the show's own subjects—a ragtag group of Georgia locals who, over the course of a week, become remarkably comfortable with five gay guys fussing with their hair, rolling up their collars, and holding their freshly manicured hands. It might call for some lifestyle changes, but it's feasible. On any budget.
Skeptical? We asked each of the guys to prove it.
Bobby Berk: Be Frugal and Functional
Photograph by Art Streiber for Money; Grooming: Samantha Fryling/Art Department and Juanita Lyons/Celestine; Styling: Michael Cioffoletti/Art Department; on Bobby: Ring Jacket olive sport coat, Sunspel striped tee shirt, APC dark rinse jeans,To Boot grey slip ons.
Bobby Berk's love affair with affordable home design started when he was about 18 years old, sparked by a life-altering trip to Target.
The retailer had teamed up with the architect Michael Graves, who stocked Target's housewares section with something extraordinary: conventional kitchen items that were as beautiful as they were practical.
"It was teakettles, soup ladles, and spatulas that were designed really cool," Bobby recalls. "And I remember walking into the aisles and for the first time in my life going, 'Huh, the things in your life that are functional can also bring you joy.' "
On-screen, the 36-year-old is tasked with reviving spaces that, in the world of high design, are rather unconventional (a double-wide trailer, a college student's first apartment, a tiny home with six tiny kids). This isn't unfamiliar territory. Bobby was raised by working-class parents in Missouri, and interior design didn't exactly top his own family's list of priorities.
At the beginning of his career, Bobby bounced between retail and restaurant jobs in the Midwest. In 2003 he moved to New York City with about $100 in his pocket, and just a few years later launched Bobby Berk Home, an online furniture brand. Today, Bobby lives in California with his husband and runs an interior design firm. But those penny-pinching days in New York made a lasting impression.
"Living there for years with small spaces, all [my] furniture needed to do double time," he says. "It needed to be seating, it needed to be storage, it needed to be this, it needed to be that. So when I think about design, I think about how things are going to work in a home and how people are going to interact with it daily."
On Queer Eye, Bobby is characteristically thrifty. His home transformations, done in just a few days, create living spaces that are modern but not stark. Snazzy decor might look great in a Pottery Barn catalog, but that doesn't mean it will work for the average family (or the average family budget). So when he refreshes a home, Bobby weighs aesthetics and practicality with the same tape measure.
"I want it to feel very personal, but it also needs to function," he says.
Often, he pairs quality, mid-range pieces from CB2 and West Elm with inexpensive staples. And he loves a good Ikea hack: On the new season of Queer Eye, he made a row of Billy bookcases "look like $10,000" with a little crown molding and some baseboards.
"I'm all about the highs and lows," he says. "I'm not a designer that thinks you need to spend a lot of money. You can get the look you want between thrift stores and stores like Ikea and Target."
Antoni Porowski: Teach Yourself to Save
Photograph by Art Streiber for Money; Grooming: Samantha Fryling/Art Department and Juanita Lyons/Celestine; Styling: Michael Cioffoletti/Art Department; On Antoni: James Perse navy tee from Bloomingdales, APC jeans, His own Adidas sneakers.
Antoni Porowski, Queer Eye's 34-year-old food and wine expert, is the perfect poster child for "starting small."
He doesn't teach people how to flambé or harp on the merits of using maitake mushrooms over portobellos.
Instead, he takes the foods they already eat and steps them up a bit. For a busy dad, Crock-Pot chili. For a NASCAR-loving, pickle juice–drinking cop, grapefruit salad. For an adorable, sort-of-out gay guy who grew up making tamales with his stepmom, arepas.
Makes sense, right? Not to the Internet.
After the first season of Queer Eye hit Netflix, an Antoni Burn Book snaked its way through the social media peanut gallery, fueling a debate over whether or not the Canadian import actually knows his way around a kitchen. (In an attempt to settle the matter, the New York Times announced in a headline earlier this year that, yeah, "Antoni Porowski Can Cook.")
Truth be told, haters gonna hate. Like most of us, the people on Queer Eye don't have the time or wherewithal to make a restaurant-worthy meal every night. The simple dishes Antoni vouches for are replicable, fast, and, to someone like season one's Tom, who had never seen the inside of an avocado before Antoni sliced one open, transformative.
"With everybody, it's really learning how to do that one simple thing," Antoni says. "If you have a medjool date, and you put in a bit of blue cheese and an almond and wrap it with bacon, you're covering salty and sweet, texture and crunch, sticky and smooth. With this one little bite, you can learn about all these different rules of cooking, and you can apply them to a stew, to a soup, to a salad, to anything at all."
This—a monologue about finger foods—is quintessential Antoni. When I asked him what he liked to eat as a kid, he didn't say "hot dogs" but rather "golden-crispy," "butterfly-cut" hot dogs "with Gruyère cheese or maybe a bit of Parmesan freshly grated, dipped in ketchup mixed with a bit of cayenne." He's not being a snob—these are all items you can buy at your local Trader Joe's. The dude just loves food.
Antoni never set out to be a food expert, though. Born in Montreal to Polish parents, he moved to New York City in his twenties to pursue a career in acting. To pay the bills, he took a bunch of food-service jobs (busboy, sommelier, sushi instructor) but found the restaurant world exhausting.
Cooking was a different story. For as long as Antoni can remember, preparing a meal—and all the little rituals that go with it—has been a reliable source of comfort.
"I come from a pretty dysfunctional family, but dinnertime was when we all shut up…the one time we actually got along," he says.
If you want to step up your home cooking game, Antoni says you don't need a bunch of fancy QVC gadgets to get started. Just find some cooking videos on YouTube, or better yet on PBS, and jump right in.
After all, the point isn't to learn how to chop an onion at record speed, or to school all your friends on the benefits of sous vide cooking.
"It's about the language," he says. "For some people, it's a way of communicating with someone. For others, it's about cooking for themselves and learning that there's nothing pathetic about that. It's the greatest form of self-love out there."
Tan France: Get Organized
Photograph by Art Streiber for Money; Grooming: Samantha Fryling/Art Department and Juanita Lyons/Celestine; Styling: Michael Cioffoletti/Art Department; On Tan: AllSaints leopard print shirt from Bloomingdale's, Acne blue jeans, His own Adidas sneakers.
The first thing you need to know about Tan France is that he is, without a doubt, the spiffiest reality TV star to walk God's green earth. (Sorry, Honey Boo Boo.)
I don't know how many Instagram photos he's added since I wrote this sentence, but I'm positive there's pomade-perfect hair and a crisp, not-quite-tucked-in shirt in every single one of them.
The second thing you need to know about Tan France is that it takes him two minutes to get ready every morning. Two minutes!
Turns out, the secret to polished style isn't about waking up early to primp and preen, or sinking a ton of money into designer clothes. It's about organization.
"A lot of men and women don't like to prioritize fashion," he says. "When your clothes aren't organized, it's even harder. You don't know what your options are. Everything is in disarray. Organization makes it so much easier to put on an outfit."
Queer Eye's subjects are, by and large, not organized. Tan changes that. With just a few tailored shirts and a handsome, well-fitting suit, the 35-year-old stylist leaves them suddenly—stunningly—confident. And, perhaps more important, with a neat closet.
Raised in Doncaster, England, Tan's introduction to the fashion world sprang from early visits to his grandfather's clothing factory. "I thought I wanted to be a machinist," he says. "I thought that was the most glamorous job in the world."
Instead, Tan launched his own fashion lines. He started his first company, Kingdom and State, in the U.K., and moved to the U.S. in 2015 to tap the American market.
Times were tough in those early days stateside. Tan couldn't afford to give himself a salary, so he took a side gig as a receptionist to pay for groceries and rent. But even back then he made fashion a priority.
"If I didn't look appropriate, who was going to take me seriously?" he says.
Today, Tan takes Queer Eye's subjects through the same thought process. He knows fashion doesn't come intuitively to everyone. Still, it's a lot easier (and cheaper) than most people think. On the show, shopping trips to Target, and sites like ASOS.com, prove that any budget and a style icon can yield a fresh look.
"Let's say [your style icon is] Justin Trudeau," Tan says. "He's a person who dresses great, [has] a great job, a great life. Every time you go shopping, think, 'What would Justin Trudeau wear?' That's how you get yourself off the ground."
Karamo Brown: Find Your Party, Save Your Penny
Photograph by Art Streiber for Money; Grooming: Samantha Fryling/Art Department and Juanita Lyons/Celestine; Styling: Michael Cioffoletti/Art Department; On Karamo: John Varvatos denim shirt, Dreis Van Noten bomber jacket, Blue Frame jeans, To Boot tan Chelsea boots
Of all the Queer Eye roles, Karamo Brown's is the hardest to define. He's the show's "culture expert," which puts him in the driver's seat for a lot of tactful, kick-in-the-ass conversations about commitment, social skills, and cleanliness. He does a deep dive on how these personality traits bleed into all areas of a person's life.
Luckily, Karamo, 37, can connect with just about anybody. He's genuine and charming. And even when he's dropping truth bombs— like season one's heart-to-heart about police brutality— it's without a hint of pretension. Karamo gets you, man. Karamo gets everybody.
The second season opens with a testament to this superpower. Tammye, a sweet Georgia mom, cancer survivor, and the show's first-ever female makeover, needs help finishing a community center. But the real story, the play within the play, revolves around her son, Myles.
Myles is a young gay man who, over the course of several years, has persuaded his deeply religious mother to embrace his sexuality. But growing up, he was bullied for being different, and that's left some residual emotional scars. His mind is cluttered, and so is his living space; by the time the Fab Five arrive, his bedroom looks apocalyptic.
Then Karamo steps in. And, like everyone who finds themselves on the receiving end of a Karamo wake-up call, Myles promptly gets his act together.
"Sometimes all we want is someone to say, 'I acknowledge what you're going through, I see you for who you are, and I'm willing to listen,' " Karamo says. "We all want to connect."
A former cast member of MTV's The Real World, he's uniquely qualified for this job. Karamo brings an outsider's perspective to everything he does, informed by a lifetime of volunteer and social services work and the decade he's spent as a single parent.
As a first-generation American, he says money didn't come easily for his immigrant family. Still, his parents managed to put multiple kids through college.
Karamo mastered the art of frugal living early on, he says. In college, when he couldn't afford the $50 football tickets his friends bought every weekend, he took concession jobs so he could still watch the games. Now he encourages others to toe the line between "fun" and "responsibility." On Queer Eye, he's a witness to the power of spending on experiences over things—paintball, drinks with pals, the perfect proposal.
"Look around," he says. "There are other ways into this party. You can have the fun but still save your penny."
Jonathan Van Ness: Take Care of Yourself
Photograph by Art Streiber for Money; Grooming: Samantha Fryling/Art Department and Juanita Lyons/Celestine; Styling: Michael Cioffoletti/Art Department; On Jonathan: Gramicci rose sweatshirt from shopwittmore.com, MSGM denim jacket with racing stripes, His own All Saints jeans, His own Saint Laurent boots
You can't talk about the Queer Eye outlook on life without nodding to "self-care," a deceptively simple buzzword into which Jonathan Van Ness, the show's 31-year-old grooming expert, has breathed new life.
For the uninitiated, self-care is a blanket term for literally anything that helps you maintain mental, emotional, and physical equilibrium. To some people that means taking the occasional bubble bath. To others, it's making pancakes before church on Sundays.
Thanks to Instagram (and the hashtags #selfcare and #selfcaresaturday, which have a collective 6 million posts and counting), the phrase has been largely overrun by the wellness crowd's definition of it. But Queer Eye is bringing self-care back to the people, and Jonathan is its leading evangelist. If there's a scene with a mani-pedi, or firefighters wearing hydrating face masks, Jonathan is there, and he's totally psyched about it.
To be fair, Jonathan is psyched about a lot of things: figure skating, Game of Thrones, RuPaul, the R&B singer SZA, gymnastics, yoga, his cats, The Great British Baking Show.
He says he's always been like this—"unabashedly excited" about whatever he happens to be into. And for as long as he can remember, he's been really into hair.
Originally from Quincy, Ill., Jonathan studied at the Aveda Institute in Minneapolis and moved to Scottsdale after graduating, where he spent the first five years of his career doing "chunky, piano key, Kelly Clarkson highlights." (If you're from a landlocked state, you'll remember this as the only acceptable way for women to color their hair in the early 2000s.)
In 2009, he moved to Los Angeles and got an $8-an-hour assistant job at a salon owned by the stylist Sally Hershberger. To make ends meet, he worked seven days a week for a year and a half, driving the six hours from L.A. to Scottsdale, and then back again, to meet old clients for weekend appointments.
Like the rest of the Fab Five, Jonathan comes from the same tireless, "pull yourself up by the bootstraps" background as his subjects. And, true to the Queer Eye ethos, his advice prioritizes building a relationship with a stylist—someone willing to work with your budget, style, and hair type—over spending a bunch of money at the salon.
"I want to meet people where they're at," he says. "I love a collaborative moment."
Almost overnight, he's become the entire country's gay best friend, and it's a relationship that doesn't turn off with the cameras. Everywhere Jonathan goes, and every time he logs on to a computer, he's peppered with questions about oily skin, male pattern baldness, and everything in between. He tries his best to answer them, but he's resolute in his commitment to self-care. So while Jonathan is a natural people pleaser, and currently one of most sought-out grooming experts there is, his best advice doesn't have anything to do with hair. It's about priorities—and being comfortable with setting aside a little time, and a little money, for yourself.
"At the end of the day, I need to be in silence a little bit," he says. "Or watching a little TV show. Or cooking a gorgeous dinner. Self-care is personal…It's okay to take care of yourself by saying no."