Quicken Loans VA Loans Review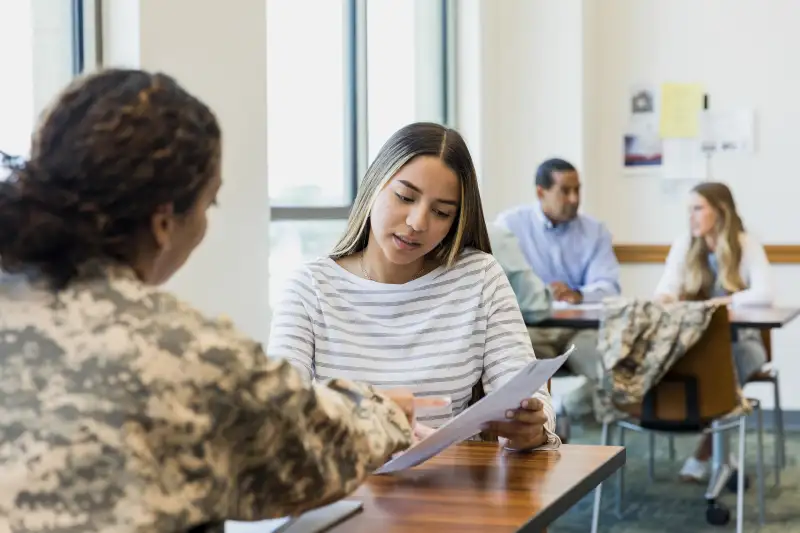 If you're looking for a VA loan, Quicken Loans presents an appealing option with competitive interest rates and top-notch customer service. VA loans are a specialized type of loan guaranteed by the U.S. Department of Veterans Affairs that offers more favorable terms than many other types of loans. Only veterans, active duty service members, and their families are eligible for VA loans. Although they require a funding fee that goes directly to the VA, they often have lower interest rates, looser eligibility rules, and don't require a down payment.
Quicken Loans created an online mortgage application process and changed our perception of what a mortgage banker is. The company established Rocket Mortgage in 2015 and adopted it as its corporate name in 2021. Rocket's home loan website has earned high ratings for ease of use and responsive customer service. The company offers a variety of loan types, including VA loans, jumbo loans, cash-out refinance loans, and purchase loans. Although Quicken Loans has a mainly online presence and lacks physical branches, the benefits of their customer service and convenient loan application process more than make up for the lack of physical locations.
Best for customer service
One of Quicken Loans' greatest advantages is its customer service.
The company is often ranked in one of the top two positions for customer service satisfaction from multiple J.D. Power surveys. Quicken claims to service 99% of its loans, meaning it does not pass off the customer service and administrative duties to another lender. This allows Quicken's customers to enjoy a level of consistent service that other lenders might not be able to provide.
In addition to this, a single loan officer is assigned to each customer throughout the loan process, which helps streamline communication and paperwork while providing highly personalized assistance.
Quicken Loans VA Loans pros and cons
Pros
Strong selection of VA loan types
Good third-party reputation
User-friendly website and processes
Cons
No physical branches
Doesn't offer VA renovation loans
Pros explained
Strong selection of VA loan types
Through Rocket Mortgage, Quicken Loans offers a wide variety of VA loan types. These include VA purchase loans, VA streamline refinance loans (also known as VA Interest Rate Reduction Refinance Loans or IRRRLs), VA cash-out refinance loans, VA jumbo loans up to $2 million and joint VA loans for married couples (only offered for IRRRLs or VA Streamlines). Between all of these loan types, nearly every kind of VA loan is offered by Quicken.
Good third-party reputation
Quicken gets high marks for customer satisfaction and enjoys a reputation as one of the country's best mortgage lenders. The Better Business Bureau (BBB) rates the company A+, the highest grade it awards. Quicken has successfully closed out over 357 consumer complaints on its BBB profile over the past 12 months, and it responds to nearly every review posted on the BBB website.
In addition, the company has had a relatively low number of complaints filed with the Consumer Financial Protection Bureau (CFPB) over the last year in relation to the huge number of loans it has processed. This is significant, as it shows that Quicken is doing a good job at managing customer relations and resolving problems before they escalate to the point of needing to be reported to the CFPB.
User-friendly website and processes
Quicken's user-friendly website provides an easy and convenient way to apply for a VA loan. The website is easy to navigate, and the loan application process is straightforward and simple. In addition, Quicken Loans offers borrowers the option of applying online or by phone.
Cons explained
No physical branches
Quicken Loans and Rocket Mortgage do not have any physical branches, meaning customers must do all their loan-related activities online or over the phone. This may be an issue for customers who prefer an in-person experience when dealing with a lender.
Doesn't offer VA renovation loans
At this time, Quicken Loans does not offer any VA renovation loans. These loans, also known as VA rehab loans, are used to finance the purchase and renovation of a home all in one loan. As such, borrowers who need additional funds for home repairs and renovations may want to consider a different lender that offers this type of loan.
Quicken Loans VA Loans plans/offerings
Quicken Loans offers a variety of VA loan options and plans, including loan refinancing, jumbo loans, cash-out refinance and purchase loans. The following sections will provide a more in-depth look at each of these plans.
Loan refinancing
Quicken Loans offers VA loan refinancing for those who already own a home and want to save money by lowering their interest rate or changing their loan term. This is an excellent option for veterans and active military members who have built up equity in their existing homes or want to make some loan payments more manageable. Through an Interest Rate Reduction Refinance Loan (IRRRL) or Streamline Refinance Loan, Quicken Loans can help you refinance your home loan to a more favorable rate with no appraisals and limited paperwork.
Jumbo loans
Quicken Loans has been ranked among the best jumbo mortgage lenders. The company provides jumbo VA home loan products for veterans and their family members looking to purchase a more expensive home. A jumbo loan is a loan that exceeds the maximum allowable conforming loan limit (which varies from county to county) as set by the Federal Housing Finance Agency (FHFA).
As of 2023, Quicken's jumbo VA loans require a minimum loan amount of $726,200 and stretch to $2 million. Due to the higher loan amounts, Quicken's jumbo VA loans require a minimum 640 credit score to qualify. For loans over $1.5 million, 10% equity and a minimum credit score of 680 are required.
Cash-out refinance
With a VA cash-out refinance, you can access your home's equity for other purposes, such as debt consolidation, home improvements or education expenses. Quicken Loans allows VA loan qualifiers with credit scores of at least 620 to borrow up to 100% of their home's value with a cash-out refinance. Those who have credit scores between 579 and 619 may be able to borrow up to 90% of the home's value. For more information on equity loans and refinancing, see our surveys of the best home equity loans and best reverse mortgage lenders.
Purchase loans
In addition to the three loan products above, Quicken Loans also offers purchase loans for veterans looking to buy a new home. Quicken has often been placed among the best VA loans. As with any other VA loan, purchase loans offer veterans the chance to buy a home with no down payment, low interest rates and no private mortgage insurance (PMI). Quicken Loans requires a minimum credit score of 580 to qualify for VA purchase loans.
Quicken Loans VA Loans pricing
When using a VA loan, origination fees cannot exceed 1% of the loan amount. Quicken Loans typically charges an origination fee on VA loans that skews towards the higher end of that 1% limit. Competitive interest rates significantly offset this fee, which eclipses the origination fee in terms of the total cost over time.
In addition to the 1% origination fee, borrowers can also expect to pay a funding fee of up to 3.3%, which goes to the Department of Veterans Affairs. The funding fee is a one-time charge and may be included in the loan amount or paid as a closing cost. The fee size varies depending on whether you have used a VA loan before and how much of a down payment was used. Most first-time VA borrowers end up paying a 2.15% funding fee.
Quicken Loans VA Loans financial stability
Quicken Loans is one of the US's largest and most respected lenders. With millions of customers served since its founding in 1985, Quicken Loans is a trusted partner for veterans and their families. The company has received strong credit rating scores from the top credit rating agencies such as Moody's, S&P and Fitch. This indicates Quicken Loans has a strong balance sheet and is financially sound with the ability to weather economic downturns.
Quicken Loans VA Loans accessibility
Quicken's unique online-only Rocket mortgage business is built on the principle of easy access to application information and assistance. Customers seeking a more conventional in-person relationship with a mortgage lender may want to consider a bank, credit union or mortgage company with a physical office.
The company's online platform makes it easy for customers to apply for a loan and get pre-approved in minutes. In addition to its online application platform, you can speak to a dedicated team of VA loan experts via phone or chat with a live representative directly from their website.
Contact information
To speak on the phone with a representative about a new loan, you can call (800) 251-9080 during the following times:
Monday through Friday from 8:00 a.m. to 10:00 p.m. ET
Saturday from 9:00 a.m. to 8:00 p.m. ET
Sunday from 10:00 a.m. to 7:00 p.m. ET
To speak on the phone with a representative about a loan in process or one that has closed, you can call (800) 863-4332 during the following times:
Monday through Friday from 8:30 a.m. to 9:00 p.m. ET
Saturday from 9:00 a.m. to 4:00 p.m. ET
Quicken Loans live chat representatives are also available on their website during the following times:
Monday – Friday, 7:00 a.m. – 12:00 midnight ET
Saturday – Sunday, 9:00 a.m. – 12:00 midnight ET
If you prefer to send an email, you can do so at Help@QuickenLoans.com.
User experience
An excellent user experience is one of the hallmarks of the Quicken Loans experience. The company's website and app are well-designed and easy to navigate, making it simple for veterans to get the necessary information. Quicken Loans also offers a variety of educational resources to help veterans better understand their VA loan options and make informed decisions. Representatives are knowledgeable and friendly, going out of their way to ensure applicants and borrowers have a great experience. When all these factors are put together, it's easy to see why Quicken Loans is well known for having one of the best user experiences in the industry.
Quicken Loans VA Loans customer satisfaction
Quicken Loans has earned a strong reputation for customer service. It has strong ratings from the top credit rating agencies, a loyal customer base and an A+ rating with the Better Business Bureau. Furthermore, it has topped several customer service satisfaction surveys from J.D. Power.
It's also worth mentioning that the company has a 4.6 out of 5-star rating from over 19,600 reviews on top online review sites, indicating that customers are overwhelmingly satisfied with their experience working with Quicken Loans. In addition, the company has replied to all of the negative customer reviews on these sites and typically responds within 24 hours.
Quicken Loans VA Loans FAQ
What is the average minimum credit score needed for a VA loan?
The minimum credit score for a VA loan depends on the lender. Most lenders require a credit score of 620 or higher. Quicken Loans cites a credit score of 580 or higher as being mandatory to qualify for its VA loans. Other qualifications include the following:
A certificate of eligibility from the VA, which the company can help applicants obtain.
A debt-to-income ratio of a maximum of 60%.
Sufficient funds to cover the VA's funding fee, which can be rolled into the loan.
Is Quicken Loans trustworthy?
Yes, Quicken Loans is a reliable lender. They have strong ratings from the top credit rating agencies and an excellent customer service record. Furthermore, the company has provided millions of home loans and has earned a strong reputation for fair and transparent lending practices.
How long does it take to close on a house with Quicken Loans?
It typically takes 30-45 days to close on a house with Quicken Loans. This timeframe can vary depending on the type of loan, the borrower's credit score, and the length of time it takes to gather all necessary documentation. If all the paperwork is in order, Quicken Loans is generally known to close loans quicker than the industry average.
How we evaluated Quicken Loans VA Loans
We looked at a variety of factors when evaluating Quicken Loans VA loans, including:
Customer service based on customer reviews and third-party analysis
User experience, including customer reviews as well as our own usage of the website and product
Loan products and services offered, including credit score requirements and overall cost
Customer reviews, lender ratings and the company's track record for closing and servicing loans
Summary of Money's Quicken Loans VA Loans review
Quicken Loans offers a comprehensive range of VA loan products and services to veterans, active-duty military personnel, and their families. We found the company's origination fees slightly higher than the industry average. However, their competitively low interest rates make them a sound option in terms of the overall cost. Combined with Quicken Loans' exceptional customer service, convenient user experience and high customer satisfaction ratings, it stands out as one of the best lenders for veterans.